Von Miller is the outside linebacker for the Denver Broncos. He has not appeared in a game since 2020 because of an offseason ankle injury that left him sidelined for one year. His full name is Von B'Vsean Miller Jr. Born in March 1989 to athlete parents he also has a younger brother. But while we know a bit about his family, how much do we know about Von Miller's girlfriend?
Before we get to his relationship status, let's talk a bit about his early life and education. He played college football at Texas A&M where he earned All-American honors. He also won the Butkus Award for most outstanding college linebacker in the nation.
The Broncos drafted him second overall in the 2011 NFL Draft. Miller is considered one of the best defenders in the league. He is an eight-time Pro Bowl player. Following the end of the 2015 NFL season, he won the Super Bowl MVP after his team defeated the Carolina Panthers in Super Bowl 50.
Is Von Miller Single?
As of September 2021, Von Miller is single. He split with his girlfriend Megan Denise. She is a celebrity model and actress. Von Miller and Megan met in July 2018 at the ESPY Awards Ceremony in Los Angeles.
They often posted combined pictures on social media. But she no longer wears the diamond ring Von gave to her.
Let's talk more about his relationship with Me'Gan Denise.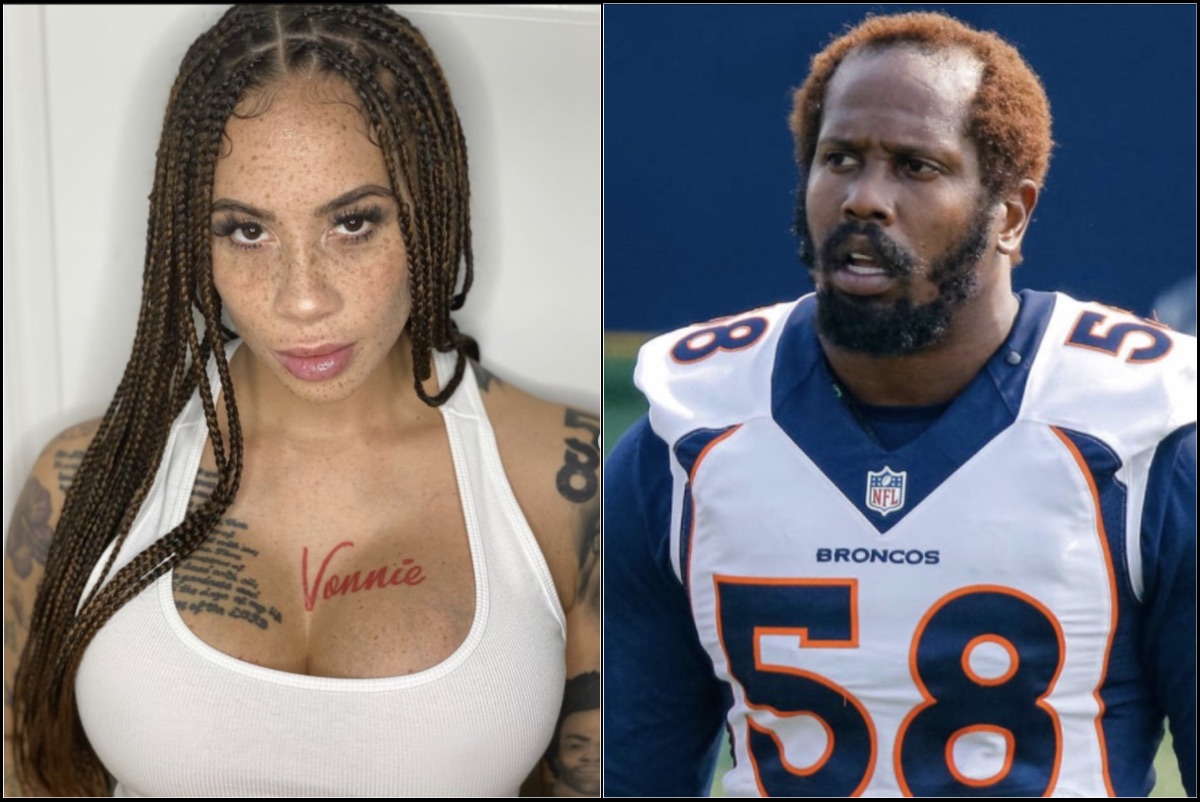 Who is Me'Gan Denise?
Von Miller's girlfriend Me'Gan Denise is a dancer, former stripper at a club in Las Vegas. She worked in a Las Vegas night club owned by American boxer Floyd Mayweather.
There is no info regarding her exact birth date. What we do know is that she was born sometime during the 1990s. She has not shared info about her private life, parents, siblings, or education.
Me'Gan started working at the club in 2017. That job helped her grow her Instagram account. Following a few years working as a stripper, Megan started working as an Instagram model.
She has expanded her career into acting and owns a clothing line as well. Her Instagram bio reads, "A medical esthetician, certified laser specialist and cryo skin specialist".
With more than 1 million followers on her Instagram profile, Megan is quite popular. And she has a TikTok account as well.
Fans recognize her by her online alias Megan X. Before dating Von Miller, she was in a relationship with rapper, singer, and songwriter Lil Yachty. She also had an affair with Antonio Ethan Gates Jr. in 2011. While they did not confirm it, at the time Antonio was married to model Sasha Dindayal.
Before rising to fame, she worked as a dancer at the strip club Girl Collection. As of September 2021, she has a net worth of close to $500,000.
https://www.youtube.com/watch?v=swO9m2vPpQY
Was There Domestic Abuse?
In January 2021, Von Miller's girlfriend released a statement in wake of a reported criminal probe. She tried to clear the air after news broke that the NFL star is under criminal investigation.
The news came just a week later after Denise shared screenshots of private conversations with the NFL star.
In her statement, she said, "In light of recent media reports regarding my relationship with Von, I feel that I need to address a couple of things. First and foremost, at no point in our relationship was there any type of physical abuse or violence by Von, whatsoever. For anyone to say otherwise or speculate such, is wrong."
And then she continued, "With regards to my (previous) social media posts, a part was misconstrued and taken out of context. I do regret making a private situation public, and in doing so, bringing unwanted attention to both Von and myself." "Von and I are excited to be welcoming our baby into the world, and are committed to raising our child with love and compassion, together as a family".
The timing of the probe was quite inopportune. The Broncos were in discussion with Miller about contract restructure.
Von Miller Sends Abusive Texts to Ex-Girlfriend
Denver Broncos Von Miller had to endure a lot of social media backlash after his former girlfriend revealed a shocking conversation between the two.
His ex-fiancée Megan Denise had some serious accusations of verbal abuse by the NFL star during her pregnancy. They have had an on-and-off relationship for the last few years, but the private conversations cast a stain on everything.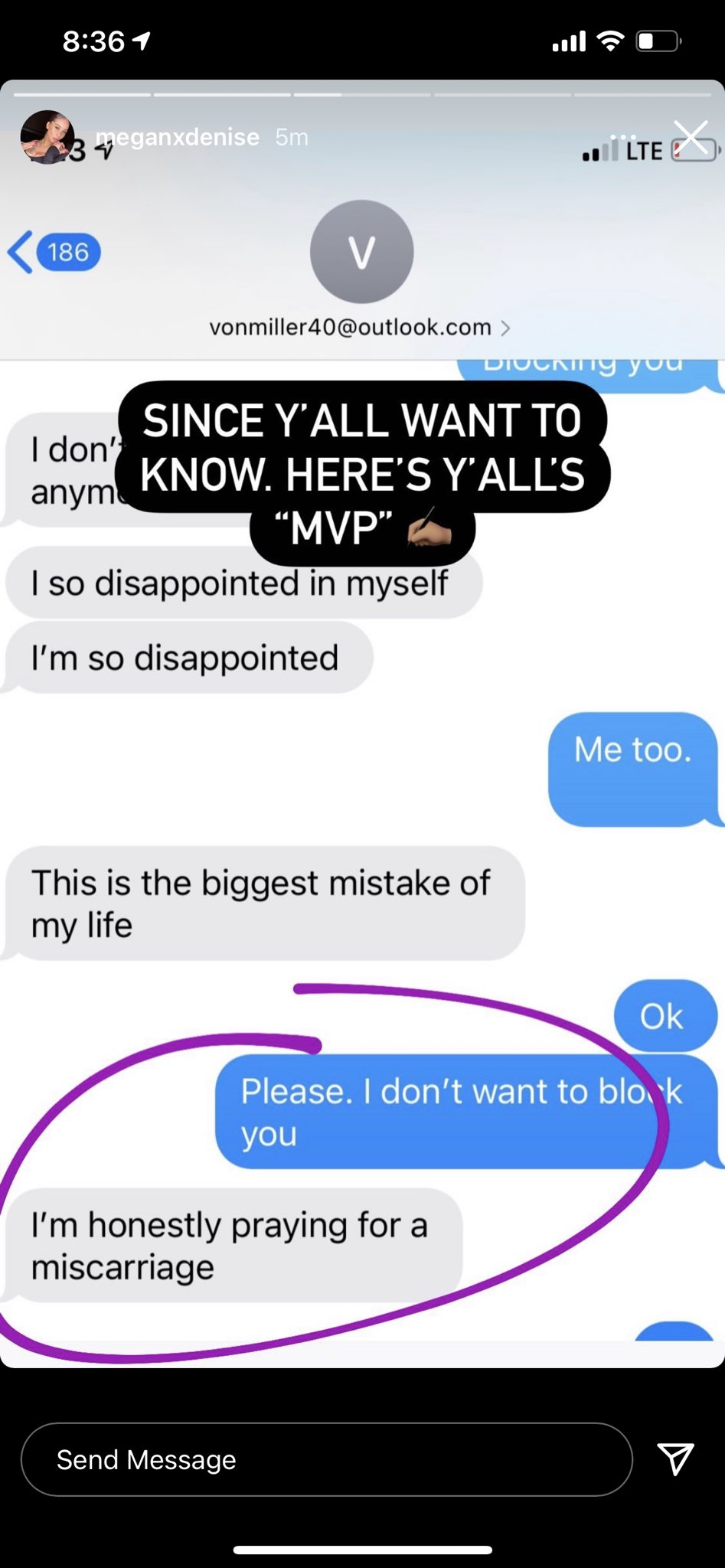 Von Miller Becomes A Dad
In August 2021 Von Miller became a dad. The Bronco star pass rusher skipped training camp to be at the birth of his son. He isn't taking too much paternity leave.
His ex-girlfriend Megan Denise posted on Instagram in the beginning of August, saying:
"Last week being pregnant.
 The long nights with zero sleep…
 The weird cravings…
 Not having control of my body…
 The stress and anxiety of pregnancy itself
 BUT, I would do it all over again for you
See you soon Bubby "