Kansas City Chiefs tight end Travis Kielce is one of the more famous NFL players. He is famous for his stiff arms on the field. But you also have to love his girlfriend, Kayla Nicole. How much do we know about Travis Kielce's girlfriend?
As one of the NFL's biggest stars, the six-time Pro-Bowler often makes it to the media. His team has won the Super Bowl once, and in 2020, he set the NFL record for receiving yards by a tight end. Football runs in his family, as his older brother, Jason, plays center for the Philadelphia Eagles.
In 2016, he became a big television star after starring in the 2016 E! Entertainment Television show Catching Kelce. During the reality dating show, women from all 50 states competed to win his heart. At the time, he chose Maya Benberry. But the two stayed together for only a brief period.
Following the end of the show and conclusion, Travis began dating Kayla Nicole. Since then, she cheers for him during the weekend's big game.
Kayla is an Instagram personality with more than 500,000 Instagram followers. But she is not a household name yet.
Who Is Travis Kelce's Girlfriend?
Let's talk more about the girlfriend of Travis Kelce. She is just hitting her 30s. She graduated with a journalism degree from Pepperdine University in California. And she describes herself as an on-camera host and model.
The former beauty pageant contestant has worked as a reporter for both the NBA and BET. Thanks to her journalism career, Nicole has amassed a massive social media following. That includes almost 600,000 Instagram followers, more than 60,000 followers on Twitter, and half of that on her YouTube channel.
Kayla works as the on-camera host for NBA, BET, Global Grind, XONecole, BallisLife, and more. As a model, she has participated in several beauty pageants. And she has modeled for Rihanna's Fenty X Savage lingerie brand.
Nicole loves dogs, and she regularly posts with Travis's dogs. Many dogs make regular appearances on her social media feed. And we love her for it. You cannot hate a dog person.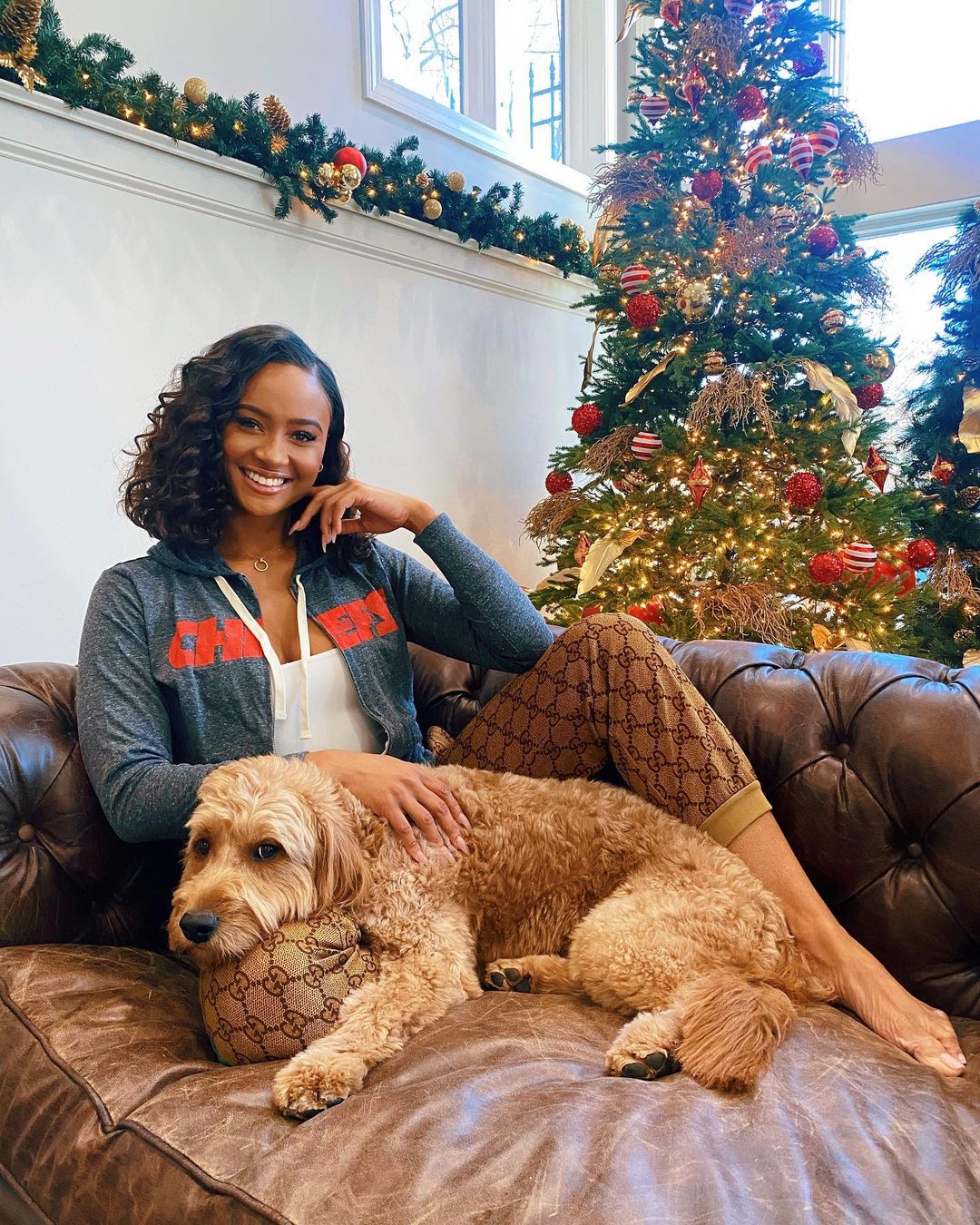 The famous NFL player and his girlfriend Kayla Nicole spend time together in football contexts and outside of the game. They also attend fashion events, something both of them love.
Nowadays, Kayla is a business entrepreneur that owns an inclusive fitness brand. Called Strong is Sexy, she uses her social media presence to promote her brand. For example, she often posts workout videos on her YouTube channel.
How Did Kayla Nicole And Travis Kelce Meet?
During one Q&A session with her Instagram followers, Kayla received the question "how she met Travis Kelce". And she replied, "He Insta stalked me. I DM'd him. The end".
Seems like a normal way to start a relationship these days. More and more people find their soul mate and love story on social media. And Travis started his romantic relationship with Kayla on Instagram.
They went public with the relationship during Travis's then Chiefs teammate Jeremy Macklin's wedding. That was back in May 2017. Since then, the couple has made many appearances together.
On and Off Relationship
It hasn't been smooth sailing for the celebrity couple. While they obviously love each other, and they have great chemistry, these two have had an on-and-off relationship throughout the years.
For example, they were broken up around August 2020. But just a few months later, they got back together.
In February 2021, Kayla told her Instagram followers that she is currently quarantining and getting tested for Covid-19 a few times per week. She was preparing for the Super Bowl, where she would go on to cheer for her boyfriend.
WAG in Distress?
We know the term WAG, right? It means wives and girlfriends of high-profile sportsmen. Well, Kayla was at one point referenced to as WAG in distress.
Everything started when Kayla complained to her followers that she cannot afford designer clothing in an Instagram story post. She then deleted the posts. But in the posts, she revealed that she can barely afford shopping at Zara. Nicole continued questioning how Instagram influencers were able to afford so many designer items without going broke.
And then the trolls started coming out. One wrote, "Kayla Nicole on IG asking other women how they afford designer and nice jewelry while dating a man who signed a 57 million dollar contract".
Fans of her assumed that Travis Kelce, a multi-millionaire athlete, was being cheap with his girlfriend. Critics said Kayla was still living in a struggle while her man is a wealthy baller.
But the on-camera host quickly responded and clapped back on Twitter. She wrote, "Me, my man and my $50 Zara outfit on a yacht in Tahoe sweetie. Y'all concern is beneath me."
That tweet ignited the conversation even more, with some people chiming in with concern for her.
But the athlete responded on Twitter as well, saying, "Y'all crazy if you don't think I'm lookin out for my baby girl…. She's independent…. best believe she straight."
He deleted the tweet afterward because the conversation got out of hand.
Travis And His Girlfriend Got Engaged
In April 2021, Travis and his girlfriend got engaged. And the Internet reacted to the news, with the post quickly going viral.
Travis Kelce's girlfriend Kayla even changed her Twitter to Travis Kelce's girlfriend.
The couple celebrated the announcement with their friends. One of them includes the Mahomes. Travis and his girlfriend are friends with Kansas City Chiefs quarterback Patrick Mahomes and his fiancé Brittany Matthews. Who knows, the two couples might make a joint wedding.
Last summer, NFL star Travis Kelce, and his girlfriend went on a vacation to Lake Tahoe with the Mahomes.
Comments
0 comments