Stefon Diggs is a folk hero in the Vikings country of Minnesota. He might not play for the Vikings anymore, but he will remain a legend there. Many call his walk-off touchdown the Minneapolis Miracle. Stefon is now an American football wide receiver for the Buffalo Bills of the National Football League. He is one of the more popular players. And who is Stefon Diggs's girlfriend?
In March 2020 the Vikings traded Diggs and their seventh-round draft pick to the Buffalo Bills for their first Justin Jefferson, fifth, and sixth-round picks in the 2020 NFL draft.
Diggs now helps the Bills win more games. Let's talk about his life and relationship status.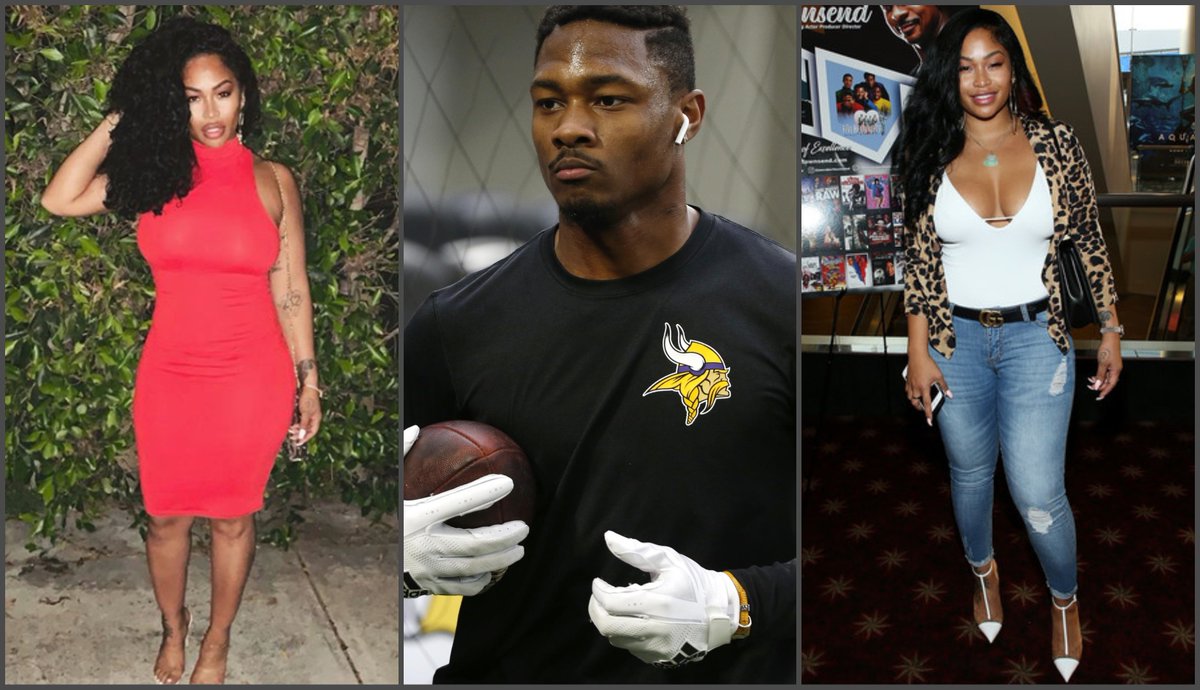 Stefon Diggs Relationship Status
As of October 2021, NFL player Stefon Diggs is single. Born in Gaithersburg, MD in November 1993, he plays a wide receiver for the Buffalo Bills in the NFL. In 2015, the Minnesota Vikings selected him in the fifth round. Coming out of high school, Stefon was ranked as the second-ranked receiver in the nation.
Wide receiver Stefon Diggs is now in his late 20s and remains single for the time being. He has had a relationship previously.
Stefon Diggs's Girlfriend Tae Heckard
While he is single now, Stefon previously dated actress Tae Heckard. The young wide receiver and Tae dated for a while. But the age difference probably did its thing. Tae is in her 40s, making her more than 15 years older than the NFL player.
Stefon started dating Tae in the summer of 2019. Diggs also dated singer Bridget Kelly, and actresses Meghan James and Winter Blanco before.
According to some sources, he dumped Heckard in August because he allegedly likes to keep his options open during the NFL season.
Born in April 1978 in Seoul, South Korea, Tae started her acting career in 2006. She appeared as Tonya in ATL in 2006 and then played Rochelle Davis in Back Then in 2007.
Tae also appeared in the music video for the song I Know What You Want by Busta Rhymes. She made an appearance in the music video for the song Because of You by Ne-Yo as well. And because she dated Nelly for a while, the actress also appeared in his video Grillz.
At the age of five, Heckard move to the US and finished her education there. She attended Stephen F. Augustin State University in Texas and served in the US Army reserves for four years.
In 2015, she dated Brandon Jennings, a famous NBA player. They have a child together, their son Legend Truth Jennings. But shortly after the birth of their son in November 2015, Tae and Brandon split.
Stefon and Tae are not a thing anymore. Yet, they still follow each other on Instagram and other social media. The 40-year old woman still wears his number of that lovely gold necklace he gave to her.
Tae and Buffalo Bill wide receiver dated for almost two years. She even moved to Buffalo to be with him. But sadly, the relationship ended. Recently, Tae uploaded a picture of her son wearing Diggs jersey on her social media account.
Comments
0 comments