Sidney Crosby is a Canadian professional ice hockey player and caption of the Pittsburgh Penguins playing in the National Hockey League. He earned the nickname Sid the Kid and The Next One. The Penguins selected him first overall in the 2005 NHL Entry Draft. The famous star is secretive about his private life. But we do know a thing or two about Sidney Crosby's girlfriend.
Let's find out more. While he has no official social media account to his name, fans manage to dig some information. He likes to keep his private details under wraps. Yet, we do know about his longtime romantic relationship.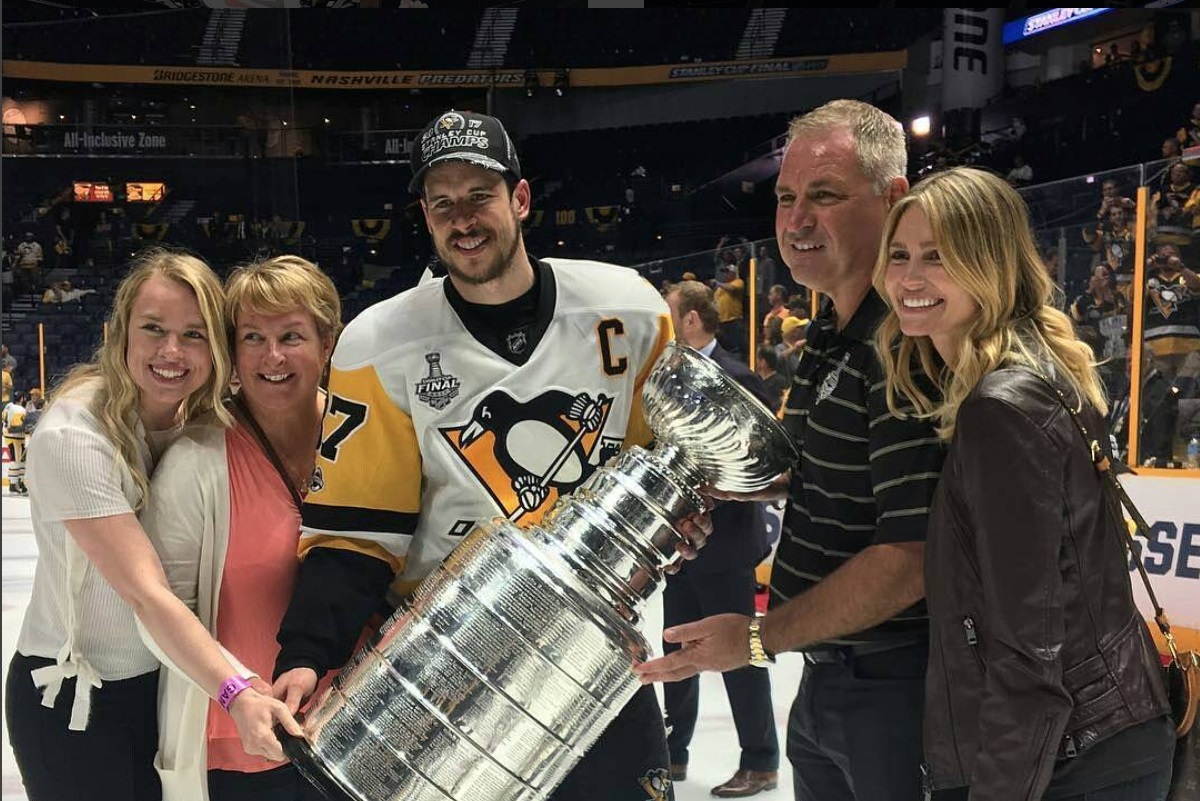 Who Is Sidney Crosby's Girlfriend Kathy Leutner
One of the most striking things about Sidney is his lack of social media presence. His only online presence is the Instagram profile for his charity, The Sidney Crosby Foundation. It is a purely professional social media account. You cannot find any posts outside of the foundation's work.
Born in Halifax, Nova Scotia, in 1987, Sidney is the youngest captain in NHL history to win the Stanley Cup. He led the team to the Stanley Cup Finals in 2008, but lost to the Detroit Red Wings. The next year, he came back as captain and helped the Pittsburgh Penguins win the Cup. In 2009-10, Crosby received the Mark Messier Leadership Award.
Many fans love him for that and some would like to know a bit more about the personal life of the NHL player. And his girlfriend, Kathy Leutner, is also secretive. She doesn't have a single tweet despite having a Twitter account.
According to many reports, Sidney and his girlfriend Kathy have been together since 2008. From afar, Sidney's girlfriend resembles the supermodel Heidi Klum. But she is different. Kathy is a model herself and has appeared in several fashion magazines.
She is an established model, but many people recognize her as Sidney Crosby's longtime girlfriend. And of course, the future wife of the professional hockey player.
Famous for her timeless beauty and charming personality, Kathy was born in Chantilly, Virginia. Her parents raised Kathy and her sister, Jennifer Ann Dybsky.
Both of the Leutner sisters completed their high school education at Chantilly High School. Kathy finished it in 2004. Even at a young age, she wanted to be a model. Right after she matriculated from high school, Kathy decided to pursue a modeling career instead of enrolling in a college. She is a bit sporty as well. Kathy played lacrosse during her high school days.
And while other models start early in their life, Kathy started a bit later. She started modeling when she was already 18 years old. But she didn't take long to appear in ads and publications. As her popularity grew she started working with Fitness magazine. And because of her fit physique and sports background, Kathy served as the perfect model for the magazine.
In 2011 Sydne's girlfriend appeared in the Swimsuit edition of Sports Illustrated as a featured model.
Many fans agree that Kathy and Sidney are a perfect fit for one another. Her career is very closely related to athletics and fitness as well. As a popular fitness model and swimsuit model, she has appeared on the cover of many magazines.
And the only reason we know a thing or two about her is she shows up at his games. Kathy has always supported Sidney's hockey career, cheering for her boyfriend at hockey matches and tournaments. She even attended the Men's Ice Hockey Winter Olympic Gold Medal game between Canada and Sweden to support her boyfriend.
Will They Get Married?
To this day, Sidney Crosby and longtime girlfriend Kathy Leutner remain unmarried. They have been together for more than a decade, but probably want to wait a bit more before they tie the knot.
Both of them live low-key lives. That is why some fans speculate that the couple might have had a secret wedding. So far, there is no update on their marital status and love life.
Between the two, Sidney is the one earning more. Sidney Crosby's net worth is more than $55 million thanks to his $12 million annual salary. Kathy on the other hand has a net worth of $1 million thanks to her modeling career.
But the NHL star is not one to flaunt his money. He wants to live as an average person. His fitness trainer, Andy O'Brien, once said, "He wants to be one of the guys and doesn't really seek to separate himself or get special treatment in any way. The Canadian ice hockey player takes a lot of enjoyment in the regular, simple things in life and having a normal ordinary routine".
The pair rarely appears together in public. But we do not believe in the rumors about a private and secret wedding. We will just have to wait and see when the two lovebirds decide to tie the knot.