| | |
| --- | --- |
| Real Name: | Sharina Hudson |
| Birthday: | 1986 |
| Net Worth | N/A |
| Height: | 170 cm |
| Occupation: | American Small Business Owner, Mistress of Kevin Hunter |
Sharina Hudson came to the limelight after Wendy Williams disclosed the affair between Sharina and her husband, Kevin Hunter. Sharina and Kevin spent years as lovers but didn't reveal it to Wendy. Only when Wendy found out and asked for a divorce, their relationship made it to the public.
Sharina is the longtime alleged mistress of Kevin Hunter, the ex-husband of the talk show host, Wendy Williams. A big part of her story is the alleged 15-year affair with Hunter.
Rumors about the affair grew only bigger after Hudson gave birth to her daughter Journey. Wendy found out about the pregnancy after she hired a private investigator to follow Kevin and Sharina. In 2020, Kevin Hunter and Wendy Williams got a divorce following 22 years of marriage.
Today, we will take a look at the woman who managed to split them up. Who is Sharina Hudson? How much is her net worth? What does she do for a living? When she met Kevin?
Let's take a look.
Quick Bio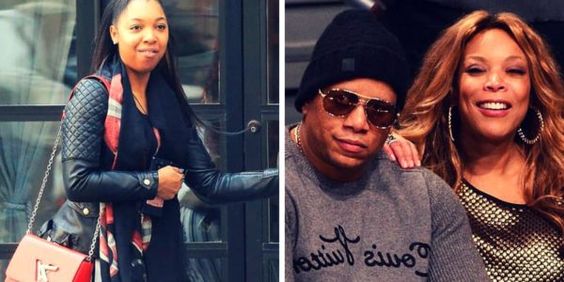 Born in 1986 in North Carolina, Sharina holds American nationality. She belongs to the Afro-American ethnic group. She is a Christian and resides in Morristown, New Jersey. Her Instagram page says "fashion designer" and "vegan guru".
On her Instagram page, she says she will work as a chef for the upcoming Vegan Nose breakfast eatery. The caption reads "Bringing Delicious Plant-Based Pancakes & Raw Creamy Shea Butter," as a tease for the eatery.
She previously worked as a massage therapist. Sharina came to prominence after dating and having a baby with Kevin Hunter, the ex-husband of Wendy Williams.
In the media, Hudson earned the nickname "the woman who stole Wendy Williams' husband". Some tabloids even named her "America's most famous side chick of 2019". That is a fun name to earn, wouldn't you say.
Wendy's fans criticized her for homewrecking, but we have to remember, it takes two to tango.
What we know about Sharina is she previously had a massage business. That business attracted a lot of high-profile clients. Some of them were celebrities.
And probably, Kevin came to her studio and started their affair. Per some sources, the two had a 15-year affair before their relationship made it to the public.
Wendy and Kevin had a 20-year marriage. They got married in 1997 and even have a son together. But what seemed like a happy marriage on the surface, kept secrets behind.
After Hunter's infidelity came to the public, Wendy asked for a separation and divorce from Kevin Hunter. In the beginning, Williams thought she and Hunter can work things out. She didn't file for divorce instantly.
But then came the baby, and Wendy found out about the pregnancy of Sharina. Hudson gave birth to her baby in March 2019, in a Philadelphia hospital. Fun fact: some people say Sharina chose Philadelphia to avoid heavy press presence.
Wendy, on her part, called Sharina "a less than smart person". She even shared some info about her previous career. Williams said Sharina worked as a bottle service girl at a club.
In one interview, Williams said, "She was one of these less-than-smart women who moved to the big city with bright lights and she wanted to be a model. You know how the girls with the sparkler champagne bottles at the club, they get people to spend more money, they dress scantily clad and things like that." Wendy also said she knew about Hunter's affair early on.
The only thing Wendy wants from Hunter is for him to try to keep her daughter as safe from criticism and negative press as possible.
On Valentine's Day in 2021, Kevin and Sharina made their relationship Instagram-official. They posted a photo of them holding hands, with the caption "Queen & Slim … back". Wendy's fans took it to the comments section to express their disapproval of the relationship.
Hunter's mistress, Sharina, for her part, chose to stay away from social media and the public's eye. She is not active on Facebook and Instagram. Unlike most celebrity mistresses, she doesn't even post a picture of herself or the baby.
Kevin Hunter somehow managed to lead a double life for 15 years. According to some sources, he dated Sharina three or four times per week, and sometimes he stayed over. And then he went back home to Wendy as if everything is back to normal.
Some sources even state Sharina was a house friend of Kevin and Wendy.
Net Worth
So, how much is the net worth of Kevin Hunter or Sharina Hudson? Unlike Wendy Williams, Hunter and Hudson do not have a successful career behind them. All they have is their love and the money Wendy left them.
Williams built an empire as the self-described "Queen of All Media". She rose to fame and fortune, and even after the messy divorce, she has a fortune of more than $40 million.
According to some sources, Kevin Hunter fortune is more than $10 million. That is more than enough for him and his mistress to enjoy life for the next couple of years.
After the divorce, Wendy moved into a Manhattan apartment. And she put her New Jersey home for sale. Some sources claim Wendy paid her ex $250,000 for new living arrangements.
Whether that is true or not, the story of Sharina, Kevin, and Wendy, remains one of the most famous Hollywood homewrecking stories.
Comments
0 comments