| | |
| --- | --- |
| Real Name: | Mya Lynn Lesnar |
| Birthday: | April 10, 2002 |
| Net Worth | N/A |
| Height: | 160 cm |
| Occupation: | American Athlete, Daughter of Brock Lesnar |
Mya Lynn Lesnar is the celebrity child of Brock Lesnar, the popular WWE champion. But she is also famous in her own world. Mya is a gifted volleyball player. While many know her because of her father, she tries to carve a career outside of his world.
Her father, Brock Lesnar, dominated the WWE ring singe he joined in 2000. Brock has won three Tag team trophies with his wrestling group. He also set the record for the youngest wrestler in the history of World Wrestling Entertainment to win the WWE championship. He was only 25 years old when he lifted the belt.
Brock has had an accomplished and successful career as a professional wrestler. His daughter is on the path of carving a successful career in sports as well. Albeit, in a different field.
Brock Lesnar's daughter is one of the celebrities that refuses to talk about things like her family and career. There are very few details regarding her personal life. Yet, we have managed to find out some information about Mya Lynn Lesnar and her life. Let's read about it.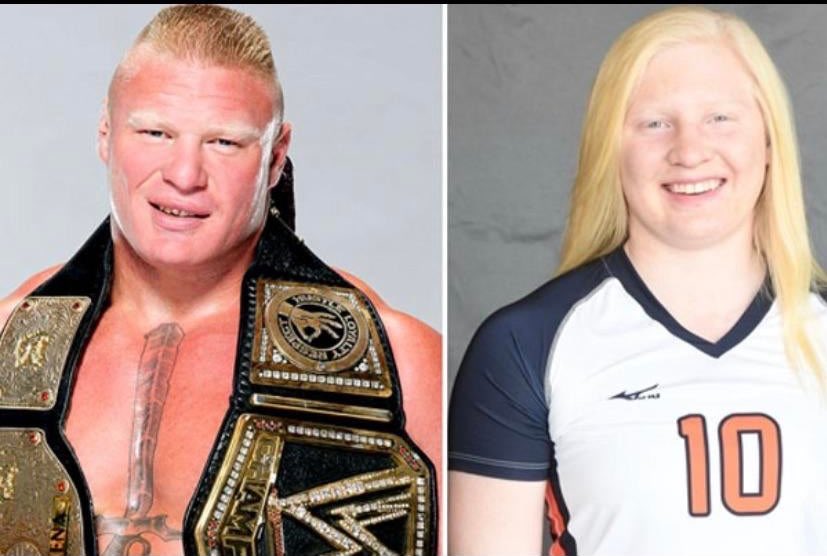 Quick Bio
Born in April 2002 in the United States, Mya is still a teenager. She is the child of Brock Lesnar and his then-girlfriend Nicole McClain. Her mother is a fitness model and a writer.
Her father, on the other hand, is a WWE superstar who created havoc inside the ring. Famous for his solid build and monstrous strength, Brock is one of the best wrestlers in the last several years.
His daughter has the same athletic traits and body. But unlike her father, she has her sight set on a different sport. A gifted volleyball player, Lynn Lesnar has emerged as a track & field athlete in recent years. For now, she wants to carve a career in shot-putting.
She is an American by nationality. Yet, she has German heritage. Her family originally descended from Germany. Mya also has a twin brother, Luke Lesnar. She has half-siblings from her father other marriage to WWE superstar, fellow wrestler Sable. Their names are Turk and Duke Lesnar.
Speaking about her formal education, there is no information about the schools and institutions she has attended. We have to remember, she is yet to make it to college.
What we do know is that she signed into Arizona State University. She is an excellent volleyball player and has the potential to make it to the professionals if she pursues that dream.
Brock Lesnar's daughter doesn't date anyone at the moment. No boyfriend in sight. Instead, she enjoys her teenage years. We also have to stress that her parents are quite protective and they encourage her to keep her affairs away from the media. They try to teach their daughter to avoid scandals and other negative consequences of fame.
Mya is a prodigy in the making and already a star athlete. With genes like hers, she has the groundwork to make it as an athlete. Her father is a famous wrestler, while her mother is a writer and a fitness model.
But Mya also has a close relationship with her stepmother. Following her parents' divorce, Brook got into a relationship with another WWE star, Sable. They got married eventually, and Mya considers her stepmother and half-siblings a family in every sense of the word.
Her twin brother, on the other hand, wants to follow in his father's footsteps. It is a fun thing to talk about. Brook's entire family is of athletes. Twin Lesner, Mya's twin brother, has aspirations of making it to the WWE like his father.
Now, Mya has to focus on another part of her life journey. She entered Arizona State University. Some newspapers and magazines speculated she got a decent scholarship. She will receive $21,000 as a scholarship fee.
Already a volleyball star, she also plans to be a star in shot-putting. She also committed to the Arizona State Sum Devils track & field cross country teams.
Net Worth
We cannot talk about Mya Lynn Lesnar's fortune without mentioning her father, WWE Star Brock Lesnar. Yes, she is already a well-known name in the industry. She might earn money as a professional volleyball player one day. She has the athletic potential for sure.
But for now, she doesn't have an income or salary. She doesn't earn money. Mya studies and tries to make it in the world.
Luckily for her, she has her father by her side. Brock Lesnar's wealth is more than $28 million and he has no problem giving to his kids. Brock earned most of his money through his wrestling career. After all, he was the second-highest paid wrestler, making $8.5 million annually in base salary. He also earned money from sales of his WWE merchandise.
Brock also has endorsements running into millions, allowing his daughter to live a lavish life. She can focus on her career for now, without having to worry about money.
Comments
0 comments