People say money cannot buy happiness. But they can sure buy you some night things and happy moments in your life. The saying goes "I would rather cry in a Ferrari than in a Golf". Anyway, money can certainly buy a stay in some of the most luxurious hotels in the world. These most expensive hotel rooms in the world are reserved for royalty.
Think celebrities, rich businessmen, sports stars, and so on. After all, not many people can afford more than $50,000 per night, right?
The list features villas with spectacular ocean views and penthouse suites that offer urban panoramas. So, with that in mind, let's check some of the pricy hotel rooms.
Empathy Suite, Palms Casino Resort, Las Vegas
Price: $100,000 per night (minimum two nights required)
Famous as the most expensive hotel room in the world, this room has everything you need. With more than 9,000 square feet of space, you can enjoy your comfort. After all, you will pay big bucks for it.
Reservations are made before official booking, and the hotel requires a minimum of two nights for this exclusive suite.
Fun fact: if you are a big gambler, you can get it for free. The Casino Resort offers it exclusively for free for guests with more than $1 million in credit.
The room is on the 34th floor of the hotel. British artist Damien Hirst designed the room, featuring several of his prominent artworks. You get two master bedrooms, a cantilevered outdoor pool overlooking the Las Vegas Strip, and a living space that can fit more than 50 people. Of course, you also get amenities like a massage room, a gym, a powder room, and a salt relaxation room.
Guests get 24-hour butler service, chauffeured car service, and a private art tour around the hotel.
Royal Penthouse Suite, Hotel President Wilson, Geneva Switzerland
Price: $80,000 per night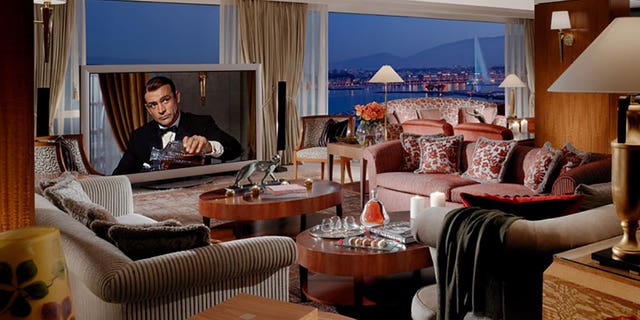 This hotel room is set against the backdrop of the Mont-Blanc and offers views of Lake Geneva. The hotel is home to the royal penthouse suite, the most expensive hotel room in Europe and second in the world.
It is all about opulence here. You have 12 bedrooms and a Jacuzzi facing the lake. Not to mention, a 103-inch TV, telescope you can use to gaze at the stars, and many more amenities.
The suite was made for heads of state in mind, equipped with bullet-proof windows and a panic button.
Mark Penthouse Suite, The Mark Hotel, New York
Price: $75,000 per night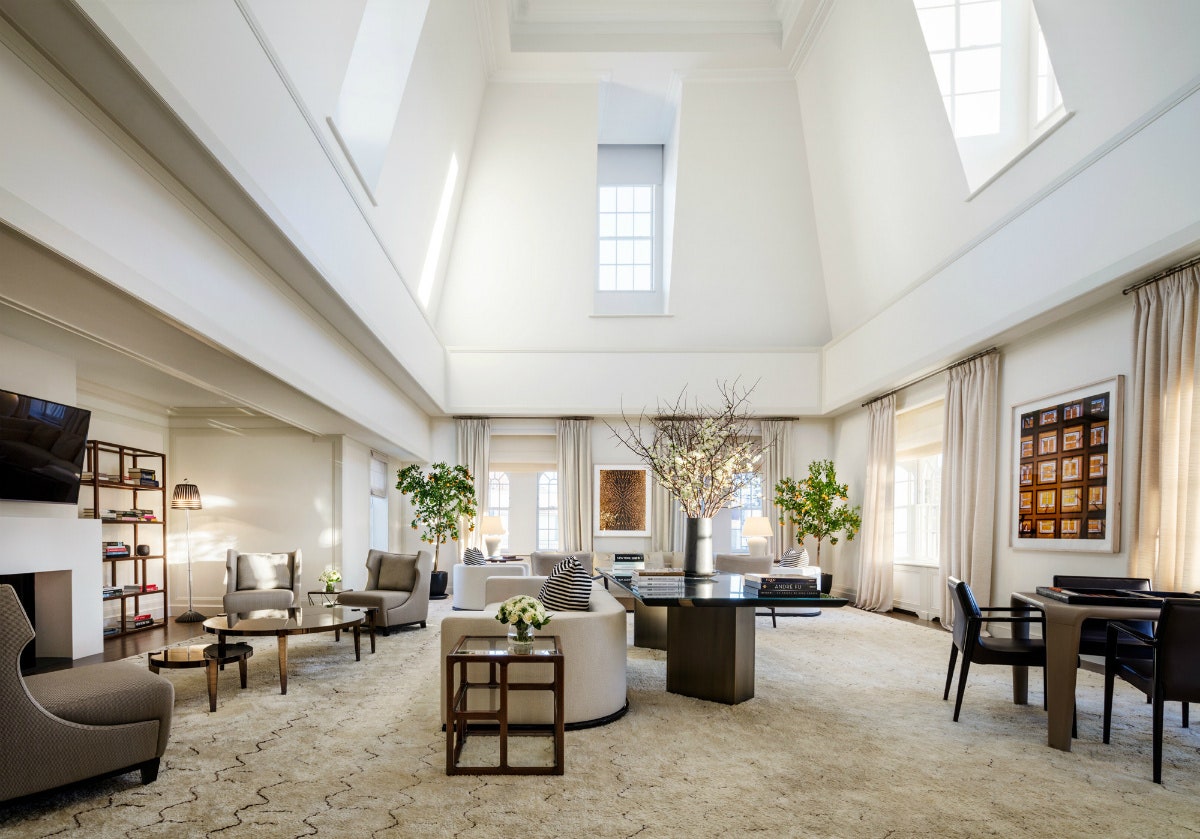 The Mark Penthouse Suite is the largest hotel penthouse suite in the US. It comes with a rooftop terrace overlooking Central Park, the Metropolitan Museum of Art, and other New York City landmarks.
The hotel is in a 1927 landmark building at the epicenter of Manhattan's social and cultural riches. Surrounded by museums, shops, restaurants, this suite gives you access to everything on the Upper East Side.
Legendary French interior designer Jacques Grange designed the suite. Some of the complimentary perks include a picnic basket prepared for two, a round of cocktails, a daily breakfast, and many more.
Harbour House, Rosewood Hong Kong
Price: $64,000 per night
With more than 12,300 square feet of space, this Presidential Suite welcomes guests with a private elevator and dedicated foyer leading to the room. Inside, you get a five-bedroom suite with two outdoor lap pools, magnificent harbor views, and landscaped gardens.
It sits on the 57th floor of Rosewood Hong Kong, the expensive living arrangement contains a curated collection of contemporary artworks, a circular soaking tub, and many more amenities.
Penthouse Suite, Hotel Martinez, Cannes, France
Price: $53,200 per night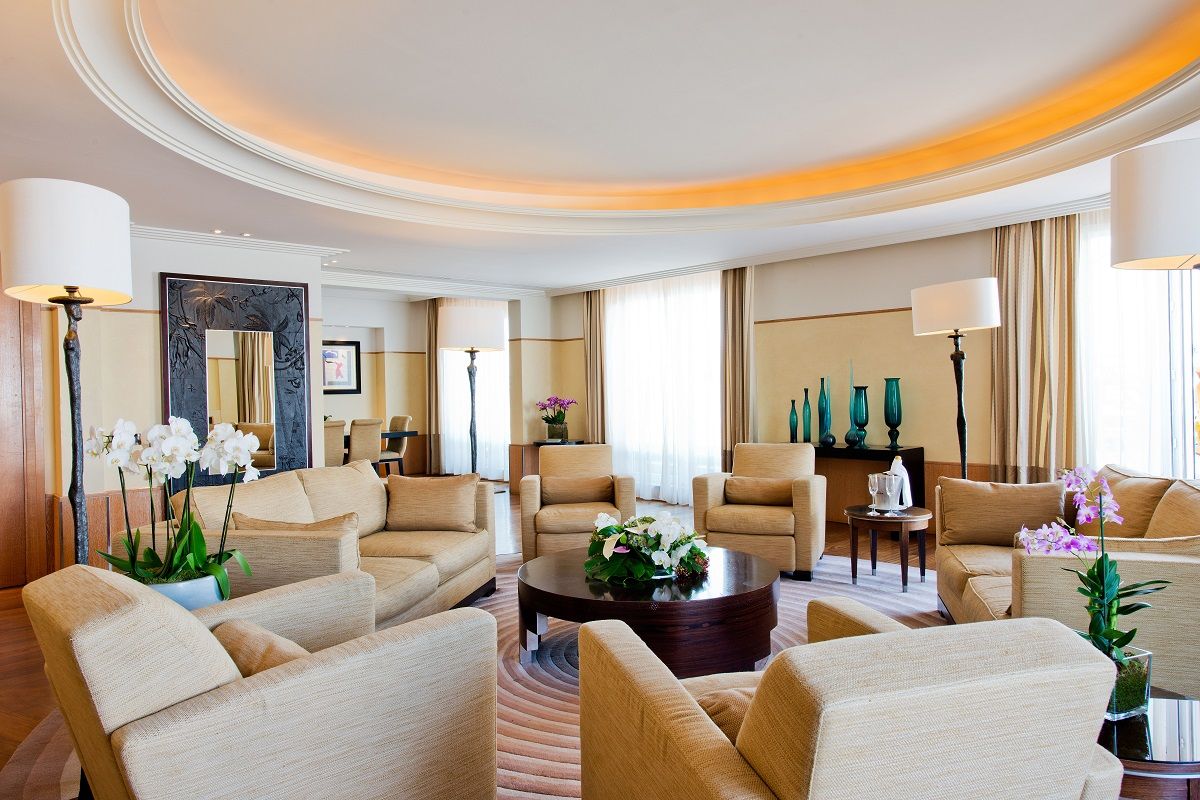 This is one of the most luxurious French Hotels. Martinez is home to the massive penthouse suite offering a wood-paneled terrace overlooking the private beach of the hotel. The room is designed in a chic style, featuring original paintings by Picasso and Matisse.
The penthouse suite has two master bedrooms, a massive living and dining room, and two bathrooms with a marble finish. As a guest, you get a 24-hour butler. And you can do that from the beach-facing Jacuzzi.
This is where Hollywood royalty resides during the Cannes film festival.
Hilltop Villa, Laucala Island, Fiji
Price: $50,000 per night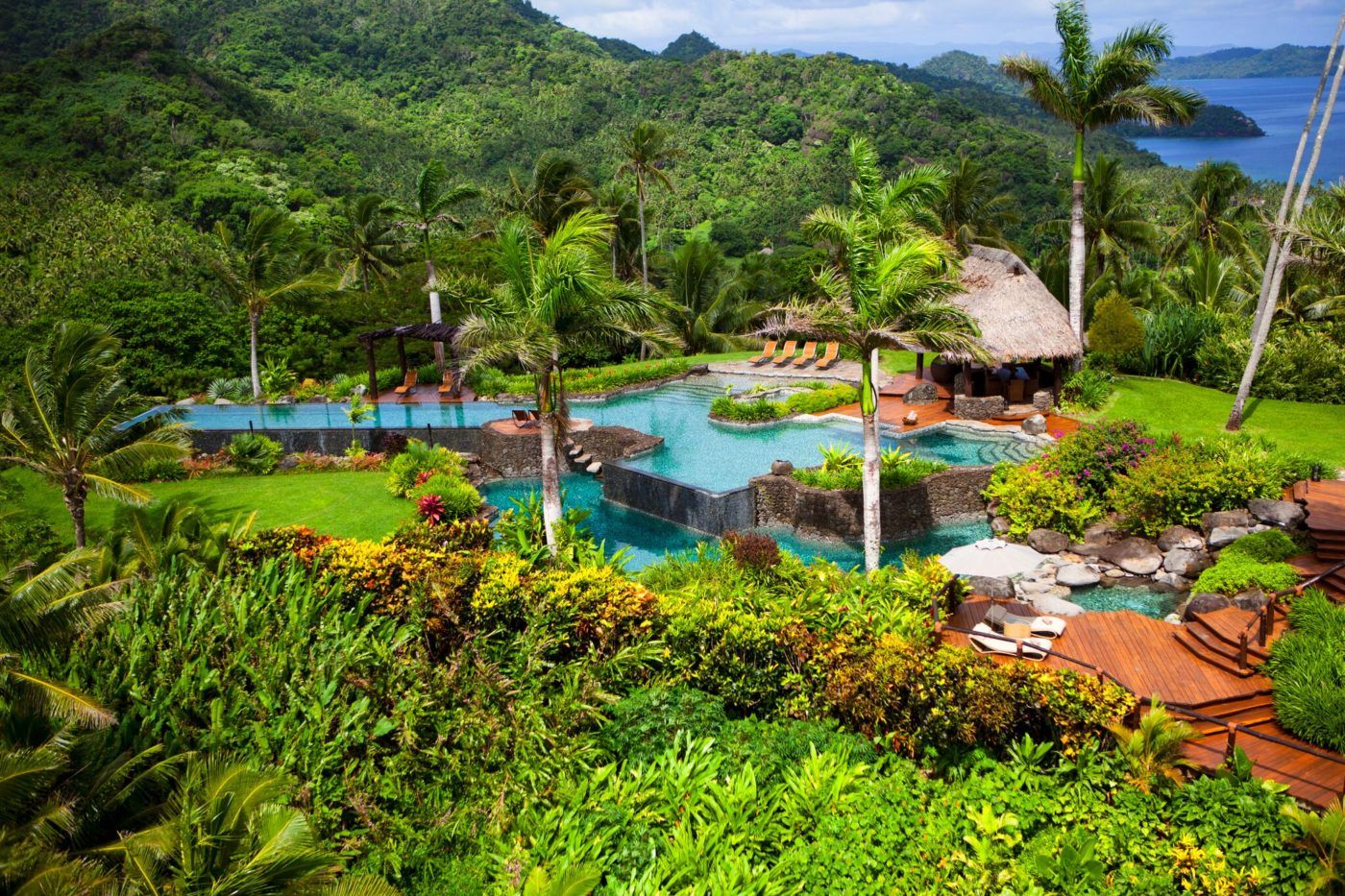 Dietrich Mateschitz, CEO of Red Bull owns this villa. The island itself offers unspoiled rain forests, beaches, and luxury living. Among the many activities, you can choose to go scuba diving, sailing, fishing, cycling, play golf, or play tennis. Yoga and culture night our tours are available as well.
The resort has actually incorporated the island's resources into its guest experience. Everything that grows on the island makes its way to the five gourmet restaurants.
The 3-bedroom villa sits at the very top of the island and comes with a private nanny, cook, and chauffeur.
TY Warner Penthouse, Four Seasons Hotel, New York
Price: $60,000 per night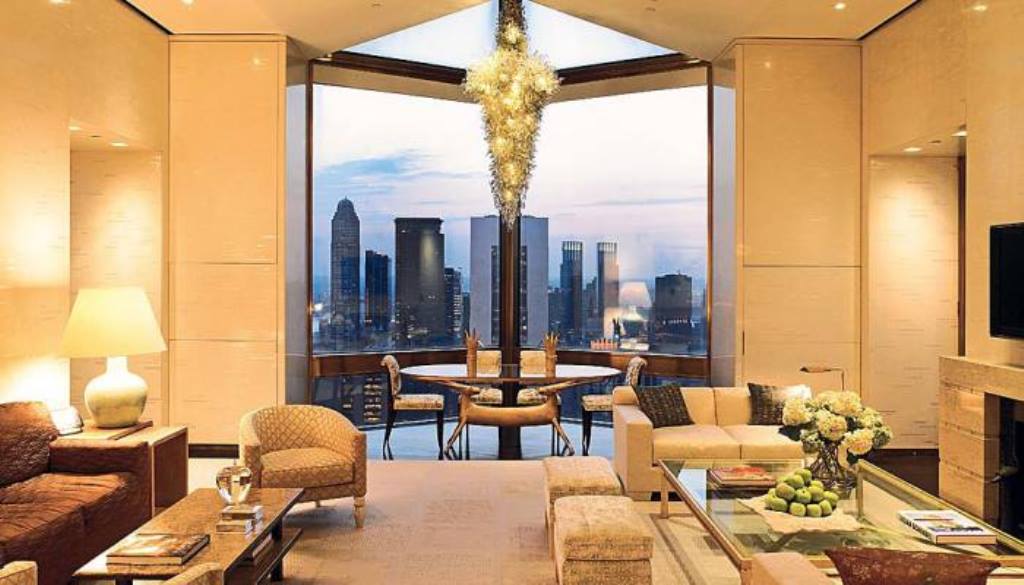 Do you want to enjoy luxury living and enjoy 360-degree views from uptown to downtown New York and beyond? That is what you get for $60,000 per night at the TY Warner Penthouse.
The name comes from the hotel's owner, Ty Warner. The suite itself spans on the entire 52nd floor. It comes with a private library, four cantilevered glass balconies, an onyx and rock crystal bathtub, and many more luxury goods.
Basically, you get a hotel room to enjoy and relax in the city. The chauffeur drives you in a private Rolls-Royce, so enjoy it.
Penthouse Suite, Faena Miami, Miami
Price: 50,000 per night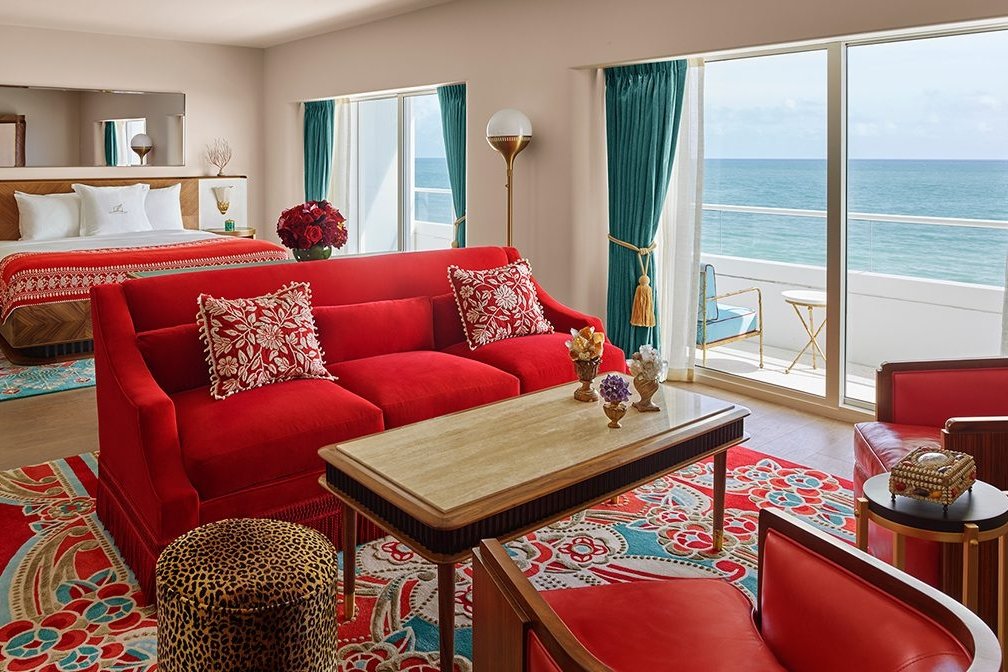 If you are looking for the most expensive hotel rooms in the world for a summer destination, Miami has it all. The five-bedroom suite comes with floor-to-ceiling windows and a balcony in each room. Staying in the suite will give you scenic views of the distant ocean from every room.
The flamboyant design is what might set you off. But some people enjoy the ivory and marble interior and tiger print decorations. As with many luxury hotel rooms, you get a personal butler and chef. And to top it all, a spa to relax your body.
Private Island, Cheval Blanc Randheli, Maldives
Price: $50,000 per night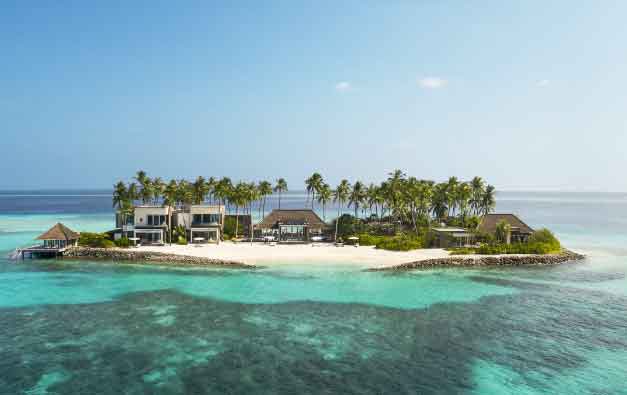 This resort is built on a handful of tiny islands protected from the ocean by a large coral reef. You have to get there using a Twin Otter or Havilland seaplane exclusively designed for the resort.
The resort offers 46 islands, water, and garden villas. The most expensive hotel room there is the Cheval Blanc private island, which is a four-bedroom villa on its own private island.
The Bulgari Villa, the Vulgari Resort & Residence, Dubai
Price: $35,000 per night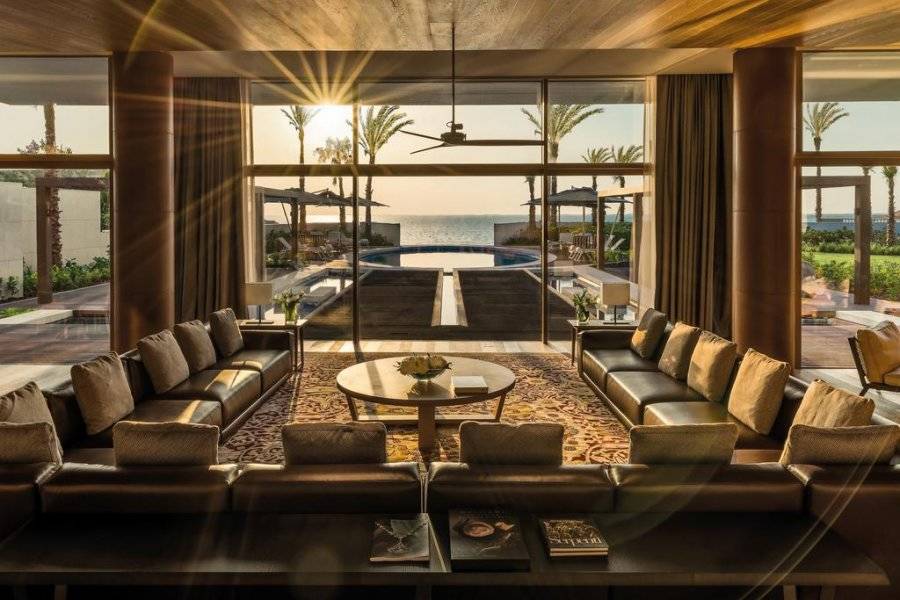 Every one of the rooms in The Bulgari Resort has a private balcony so guests can soak the sea and Dubai skyline views. But the Bulgari Villa is the biggest and most expensive on the property.
The 540 square meter villa gives you privacy and luxury at the finest level. For example, you get private home cinema, hydro massage, and many more amenities.
The Princess Grace Suite, Hotel de Paris Monte Carlo, Monaco
Price: $47,000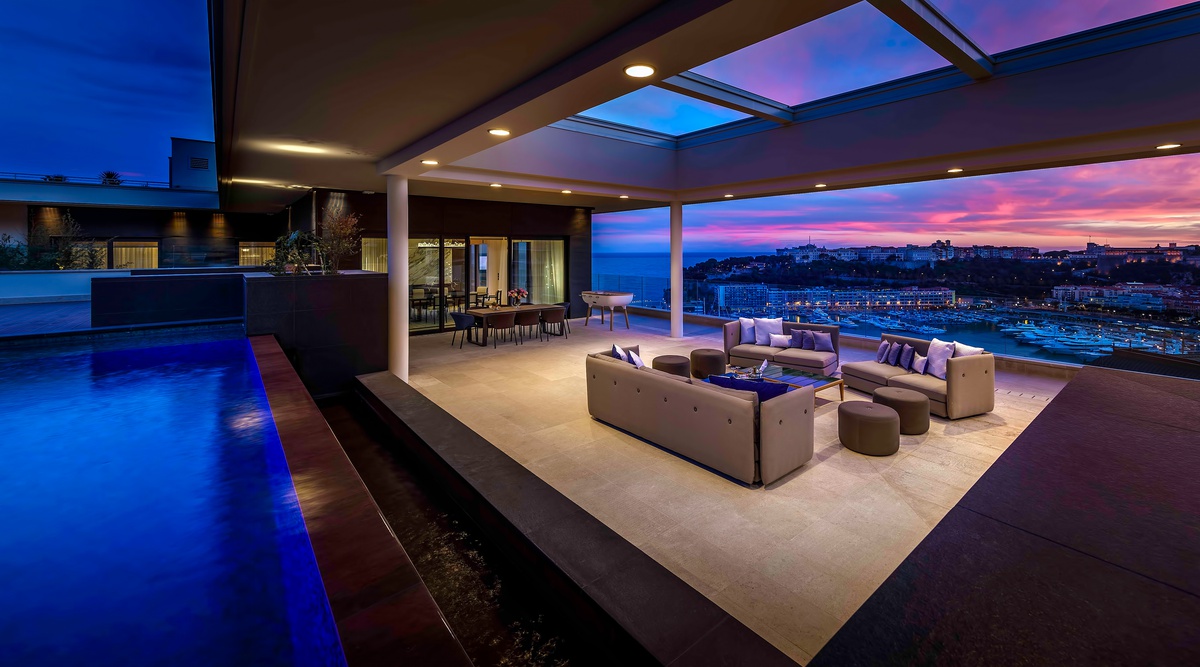 Named after the late consort of Monaco, the interior design of the suite provides elegant decoration. The room also has some of the late Princess souvenirs, including her favorite poems and books.
It is a two-floor suite that provides a majestic sea view from your bedroom. Other amenities include a Jacuzzi, heated infinity pool, private terrace, and many more.
If you want privacy, you can spend some quiet time in the study or try your cooking skills in the kitchen. The suite also has a three Michelin stars restaurant.
To top it all, you get private beach access.
The Royal Villa, Grand Resort Lagonissi, Athens, Greece
Price: $45,000 per night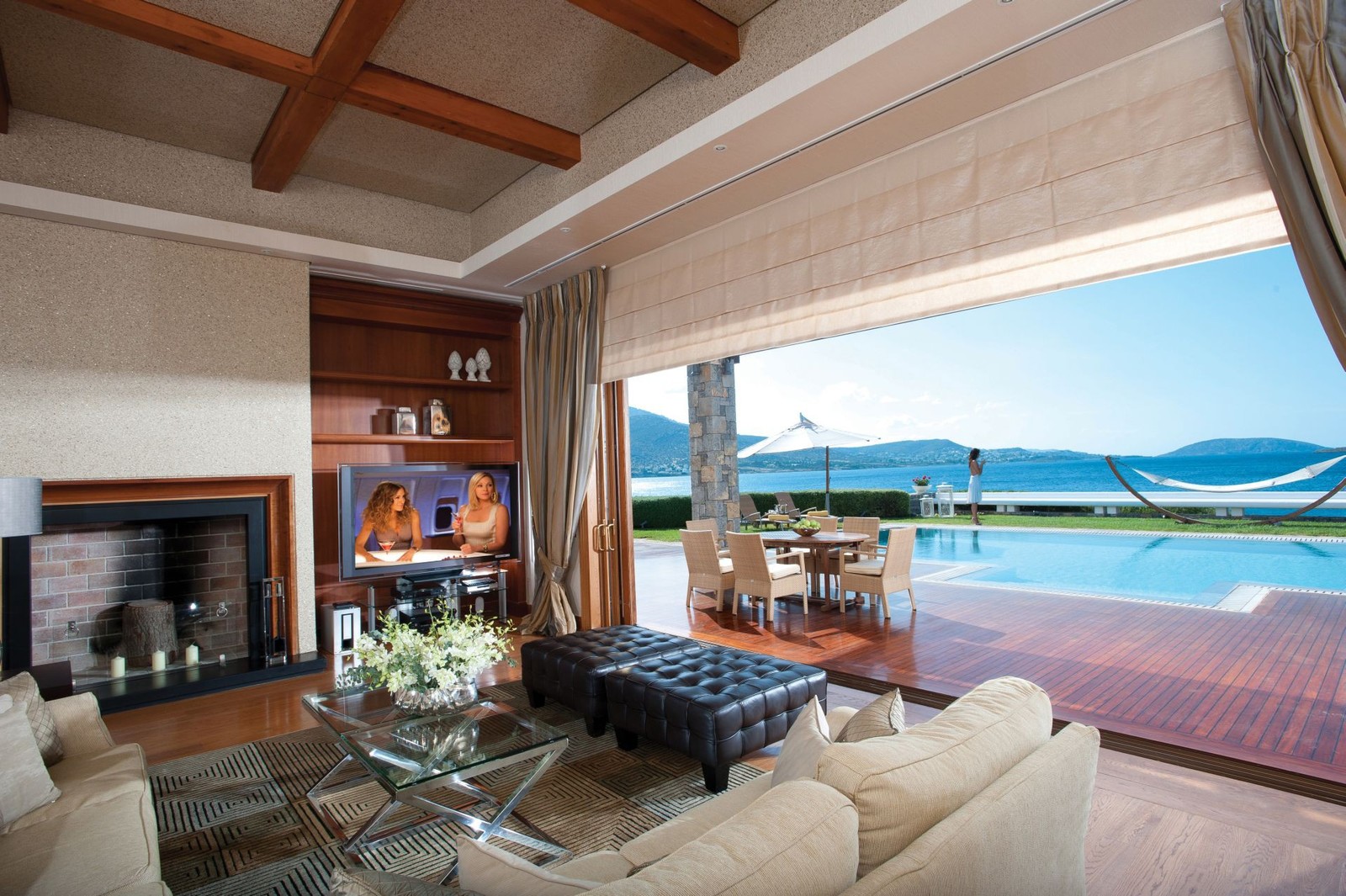 The villa frequently hosts royalty, hence the name. The hotel in the capital of Greece provides an incredible living arrangement overlooking the calm ocean. As one of the most expensive suites in the world, the villa has two ocean-facing master bedrooms, each one with a marble-finish bathroom and fireplace.
Since you are in Greece, you get a seafront bungalow, private pool, private beach, spa, and many delicious dining choices. The price buys you a butler to cater to all your needs.
The Grand Riad, The Royal Mansour, Marrakech, Morocco
Price: $30,000 per night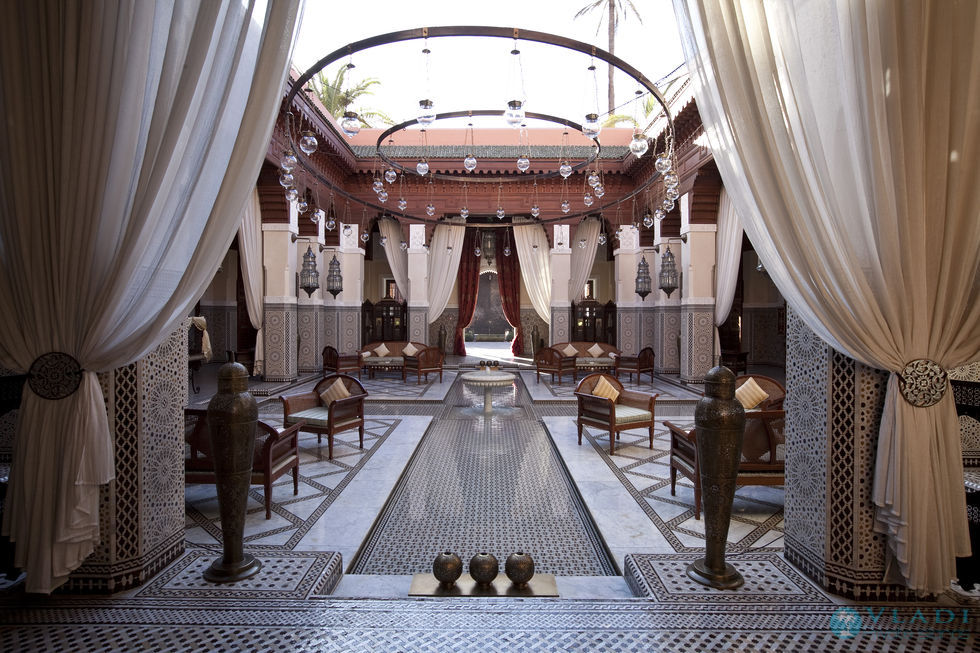 This hotel welcomes guests in an exquisite fashion. There are 53 elegant riads, which is a Moroccan-style home, with countless bolts of silk and brocade, antique furnishing, and intricate woodwork. You are in Morocco, so expect lots of handmade mosaic tiles as well.
You get a private hammam where you can enjoy time in a refined and elegant atmosphere.
Grand Apartments, Hotel de Crillon, Paris
Price: $34,000 per night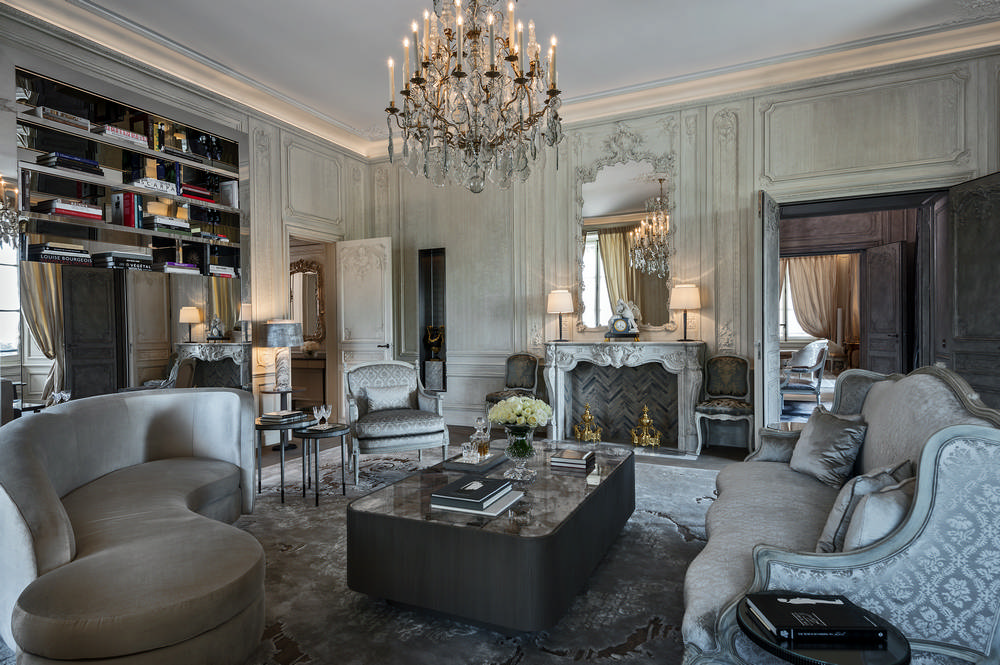 The hotel has 78, rooms, 36 suites, and 10 signature suites designed in Parisian residential style. The rooms are equally warm and refined.
On the fourth floor, you get the Grand Apartments, a two-suite apartment that gives you breathtaking views over Paris. Legendary designer Karl Lagerfeld designed the room with unique bathroom décor, contemporary dressing room, and many more.
Guests can combine together the two Grand Apartments via an adjoining door.
Suite 5000, Mandarin Oriental, New York
Price: $36,000 per night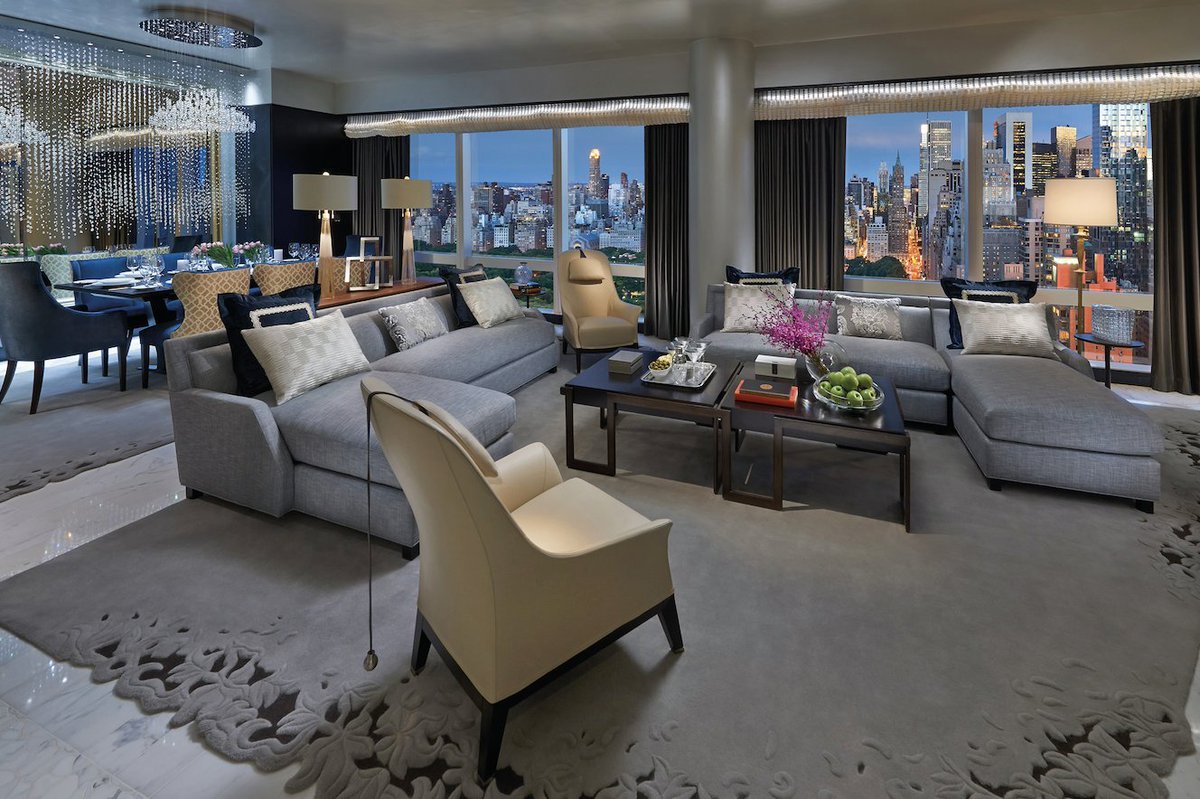 For those who want to live the high life in Manhattan, this is the hotel room to book. Located on the 50th floor, the suite offers panoramic views of the Manhattan skyline, Central Park, and the Hudson River.
Inside, you have a large living room, kitchen, and dining area that can fit eight people, a dedicated media room, and a dedicated study room.
You can also get a further guest suite with a private bathroom and dressing room.
Comments
0 comments