Beanie Babies were a huge hit in the 1990s. Yet, they quickly faded into relative obscurity. But now, the children's toys have found a new purpose. They are a collector's item. These stuffed toy animals once sold for only a few bucks. But now, they sell for thousands of dollars. What are the most expensive Beanie Babies?
The general rule for the price is that the more unique your valuable beanie baby is, the more expensive it is. So, certain versions with slight variations in styling often demand a higher price. Fun fact: even some versions with errors in production demand a higher price because of their unique factor.
Let's talk more about the Beanie Baby craze.
Do You Have An Expensive Beanie Baby To Sell?
With the newfound popularity of Beanie Babies, a lot of people have started searching through their old stuff to try and find one to sell.
Yes, people often find a trunk of old Beanie Babies. You might get excited, but that doesn't always mean you will get rich instantly.
Beanie Babies are now the dream of any collector. But you cannot fetch a high price with anyone of them. The item is worth what someone will pay(in this case a Beanie Baby collector), not what the seller asks. But if you have an original Beanie Baby in mint condition, you have a winner.
As we said before, the unique factor plays a huge role. Below are some of the most expensive Beanie Babies you can find. Now, these have reached that price on auctions. It doesn't mean it will happen again.
Curly the Bear – $9,500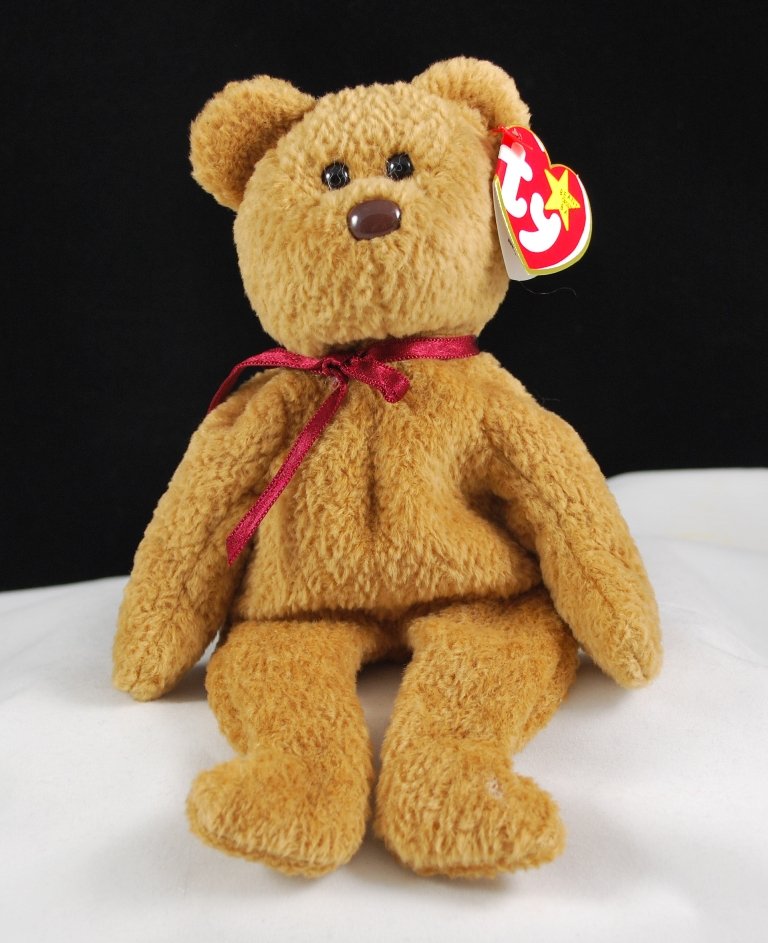 Curly is a brown bear with a dark red ribbon on his neck. He is quite a common bear. In the late 1990s, you could get one as a gift at many pro sporting events.
To this day, he remains one of the top-selling items among retired Beanie Babies.
Mystic the Unicorn – $9,861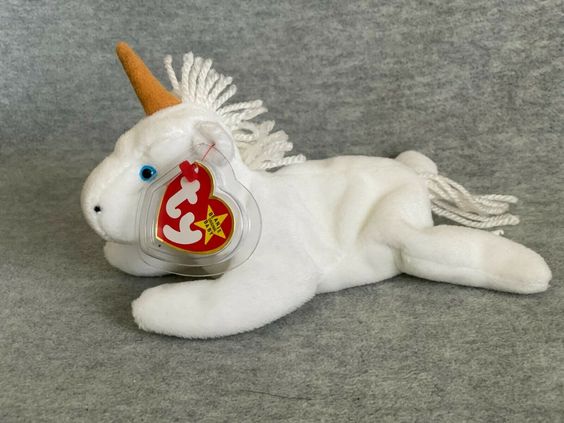 Born on May 21, 1994, with magic in her eyes, Mystic is one of the more beautiful toys. Why this one reach such a high price? Well, according to the seller, it features an iridescent horn, a coarse yarn mane, and several hang tag errors.
You see, errors make things more expensive sometimes, not cheaper.
Pinchers the Lobster – $10,000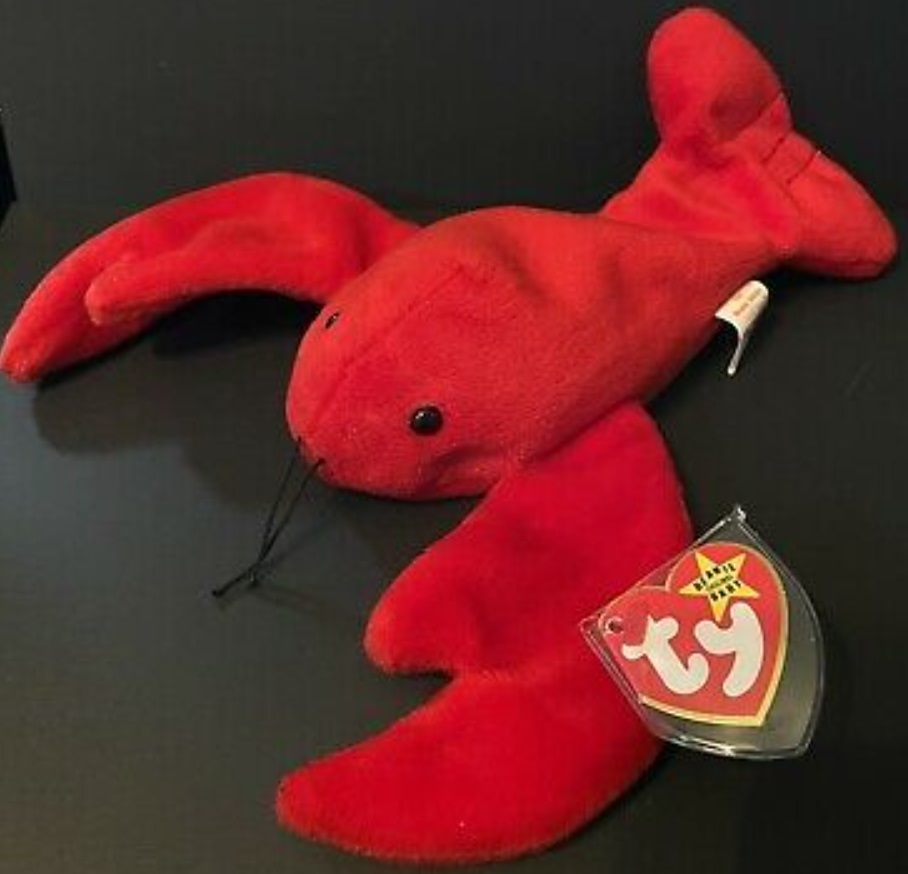 This guy was originally released as Punchers. He is one of the original nine Beanie Babies. And now, the version with the Punchers tag is highly coveted by collectors.
And one buyer placed a bid of $10,000 for this stuffed toy.
McDonald's International Bears – $10,000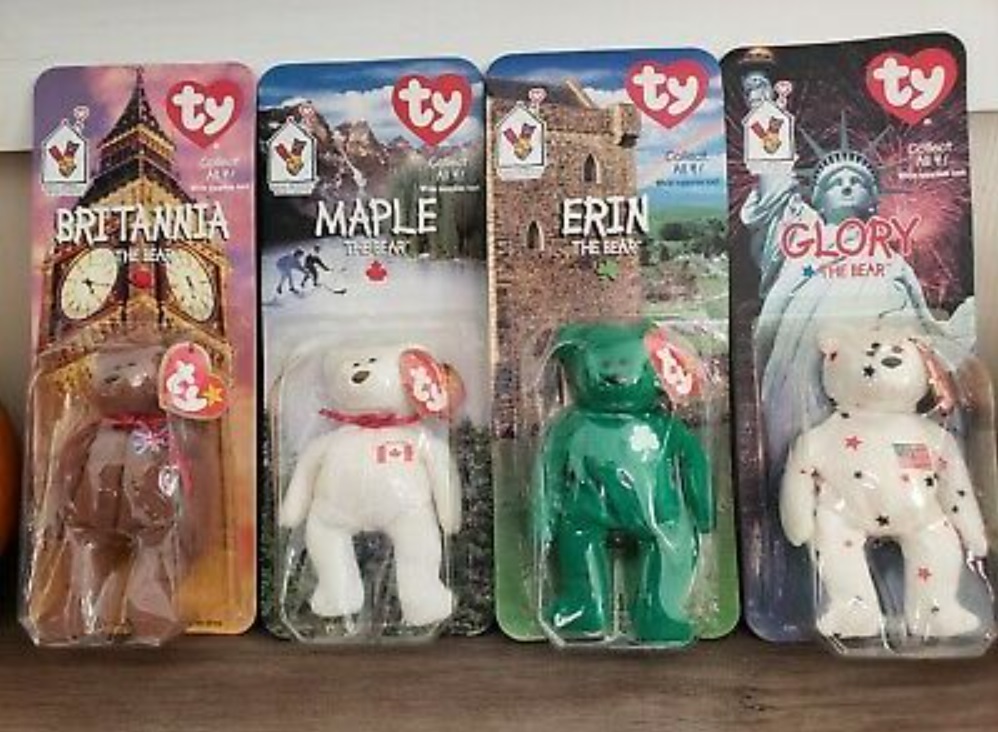 McDonald's is famous for trying to get into every popular trend or theme around the world. Seeing how popular these little beanies were, they tried to get in on the action. So, they included a scaled-down version and included in their meals, Teenie Babies. These are not worth a penny.
But the exclusive line of bears is worth a lot. The line includes four individual bears that represent four different countries, Britannia from Britain, Maple from Canada, Erin from Ireland, and Glory from the US. Those can fetch a price of $10,000.
Patti the Platypus – $10,000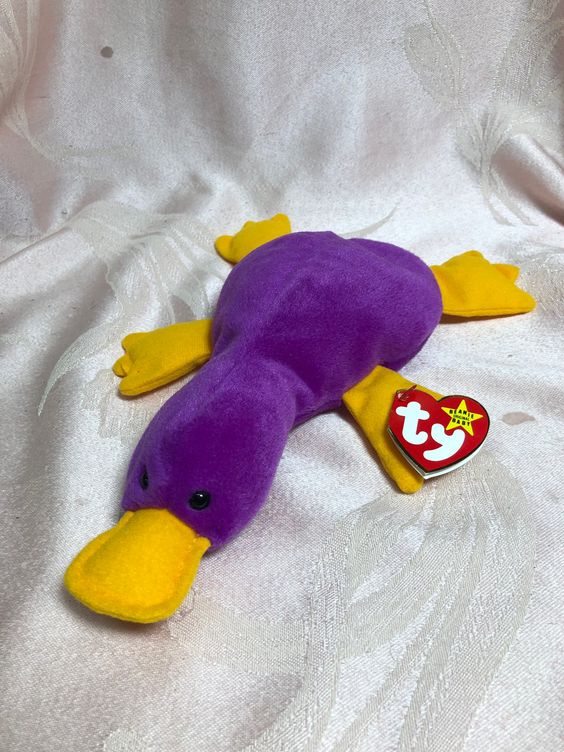 This guy was one of the original Beanie Babies. Most collectors either have him or would love to have him in their collection.
He is not worth that much. But there is one particular color variation that is very rare, magenta. Therefore, that rare Beanie Baby can fetch a higher price.
Valentina the Bear – $11,111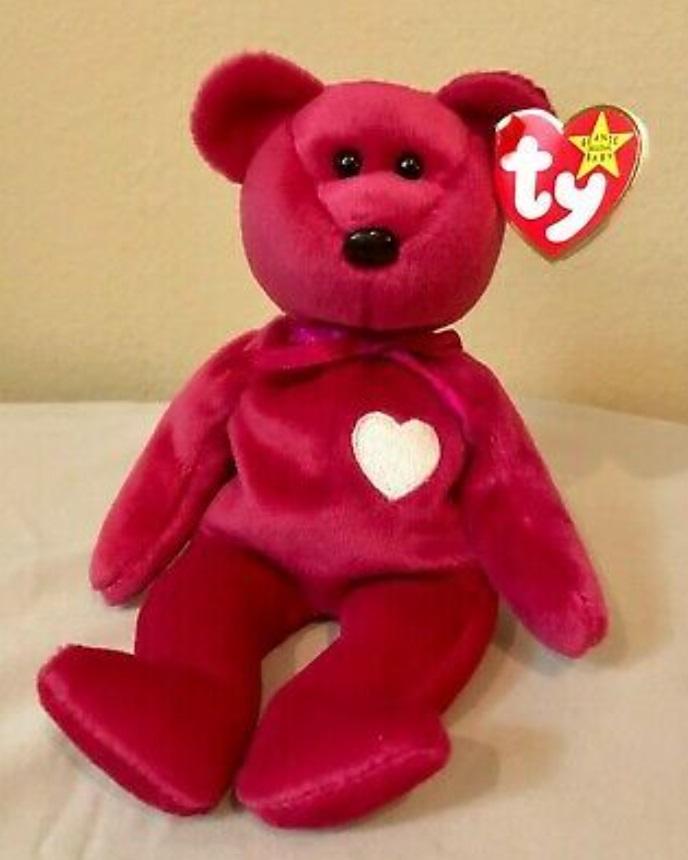 The price is quite interesting. Born on Valentine's Day in 1998, this stuffed animal was among the more popular back in the day.
This Beanie buddy reached a price because the seller claimed there were errors on the hangtag. It is hard to tell because the photo is blurry, but Valentina did reach a high price.
Halo the Bear – $12,000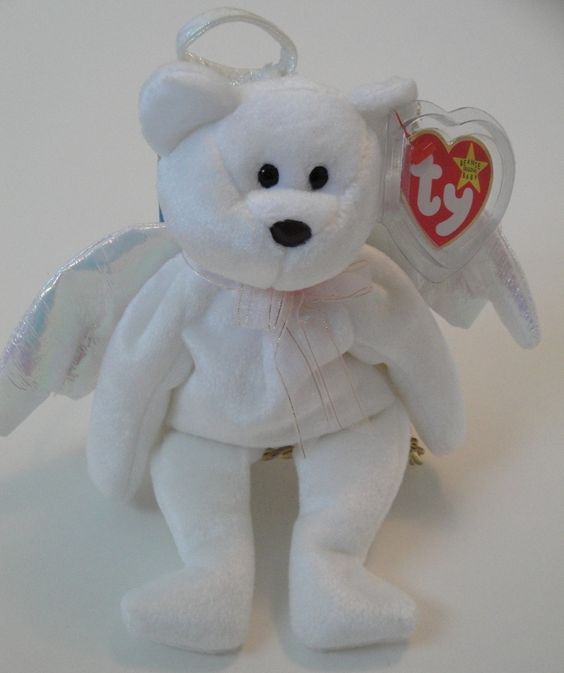 Halo is a bear in the likeness of an angel. Born on August 31, 1998, she was released 30 days later. Her poem depicts Halo as a guardian angel watching her owner from above.
Her iridescent fabric made her one of the more expensive bears to produce. Some examples of Halo have sold for thousands of dollars.
The End the Bear – $14,000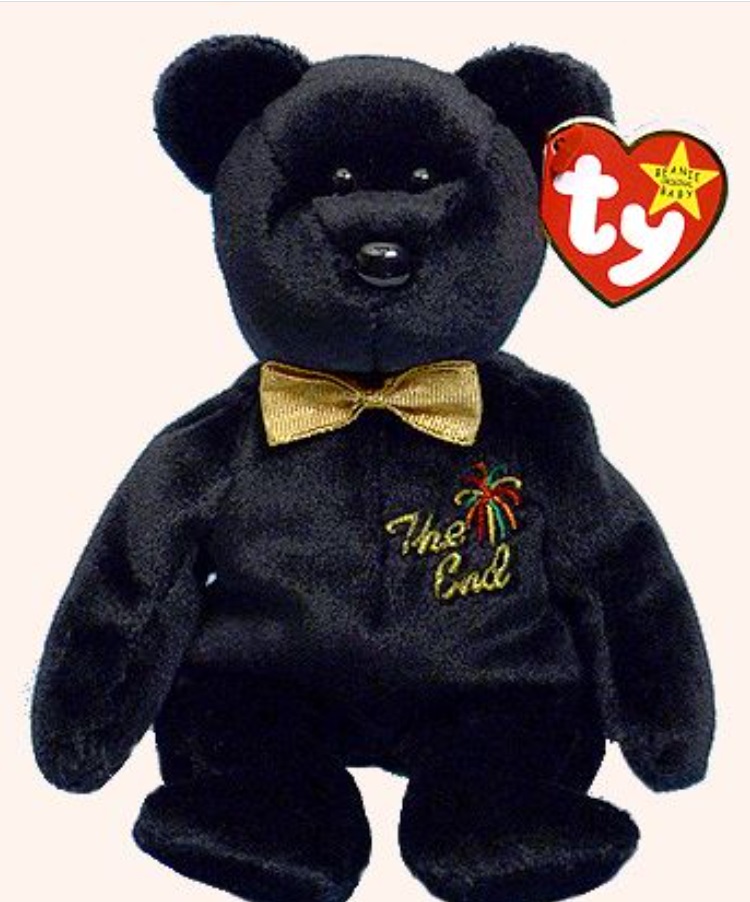 When the company announced they will shut down the Beanie Babies line, they released the End the Bear. He was a black bear with the words "The End" onto his chest. This guy was retired in December 1999.
But it turned out, he wasn't the last one. Because of worldwide protest, the soft toy company resumed production the next year. For New Year, the company produced a new bear named The Beginning. These two usually sell in a set.
But this The End was a single stuffed animal.
Iggy the Iguana – $15,000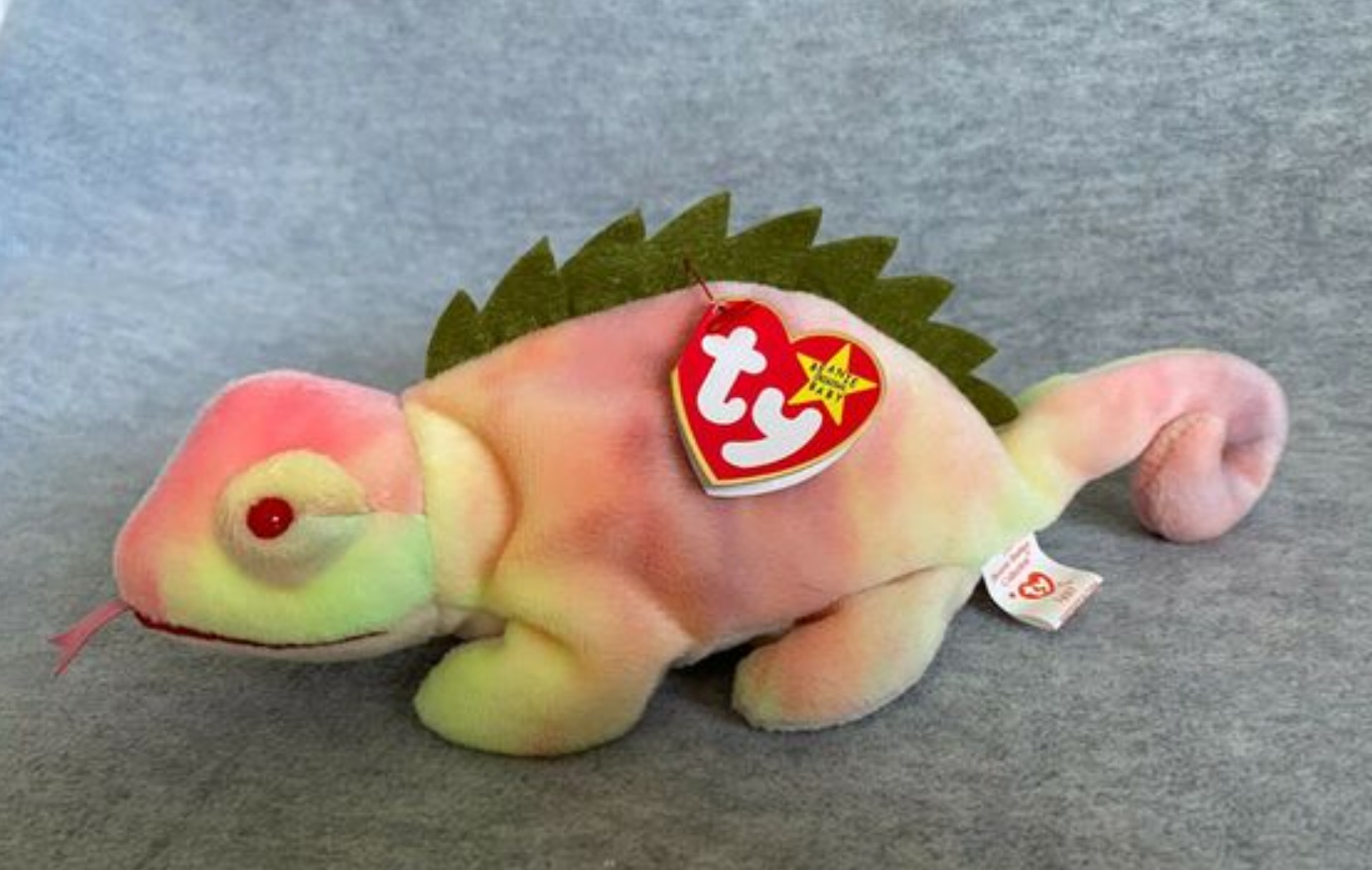 Iggy has gone through a lot of different design variations over the years. Some variations feature this toy with tongue sticking out. Some have rainbow colors. And others are dark blue. The tags can also be found in different locations, the spine, hand, or foot.
Because of the different colors, styles, and characteristics, they are popular among collectors.
Hippity the Rabbit – $19,999.99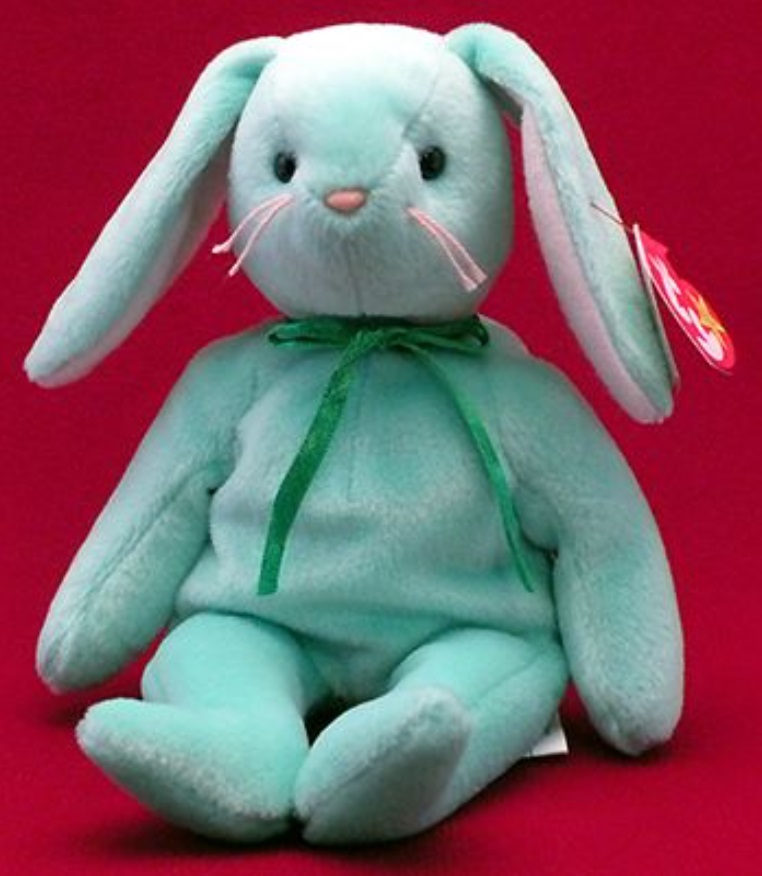 Who knows why the buyer didn't pay the full $20,000? He wanted a price a penny shy of $20,000. This guy was sold in April 2021. Hippity is an adorable mint green rabbit with pink whiskers. He also has an emerald ribbon around his neck.
For this sale, 10% of the proceeds went to St. Jude Children's Research Hospital. People are always motivated to buy things by charity.
Derby the Horse – $20,000
Here is one of the most expensive Beanie Babies that reached a price of $20,000. Originally, there were four versions of Derby the Horse. The original, with fine yarn for the mane and tail, and a version with a fluffy mane. There were also two versions with a coarse yarn for the mane and tail.
The coarse mane with a star was the most common of them all. Yet, this particular one had errors making it more unique than it normally would be.
Brownie the Bear – $20,000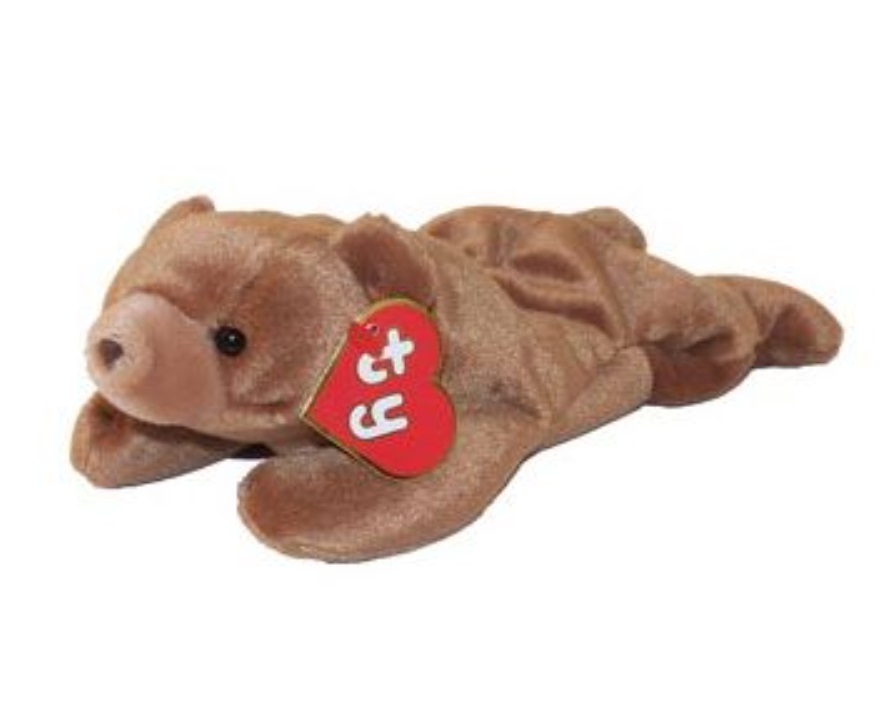 As one of the original Beanie Babies, Brownie is worth a lot. He was retired and replaced by Cubbie. This is what makes Brownie a star in any collector collection. He has brown fur and a tan snout. Brownie doesn't have a poem inside its tag.
As a featured bear in the first-ever collection, he is more valuable than some other stuffed toys.
Princess Bear + Digital Art – $25,000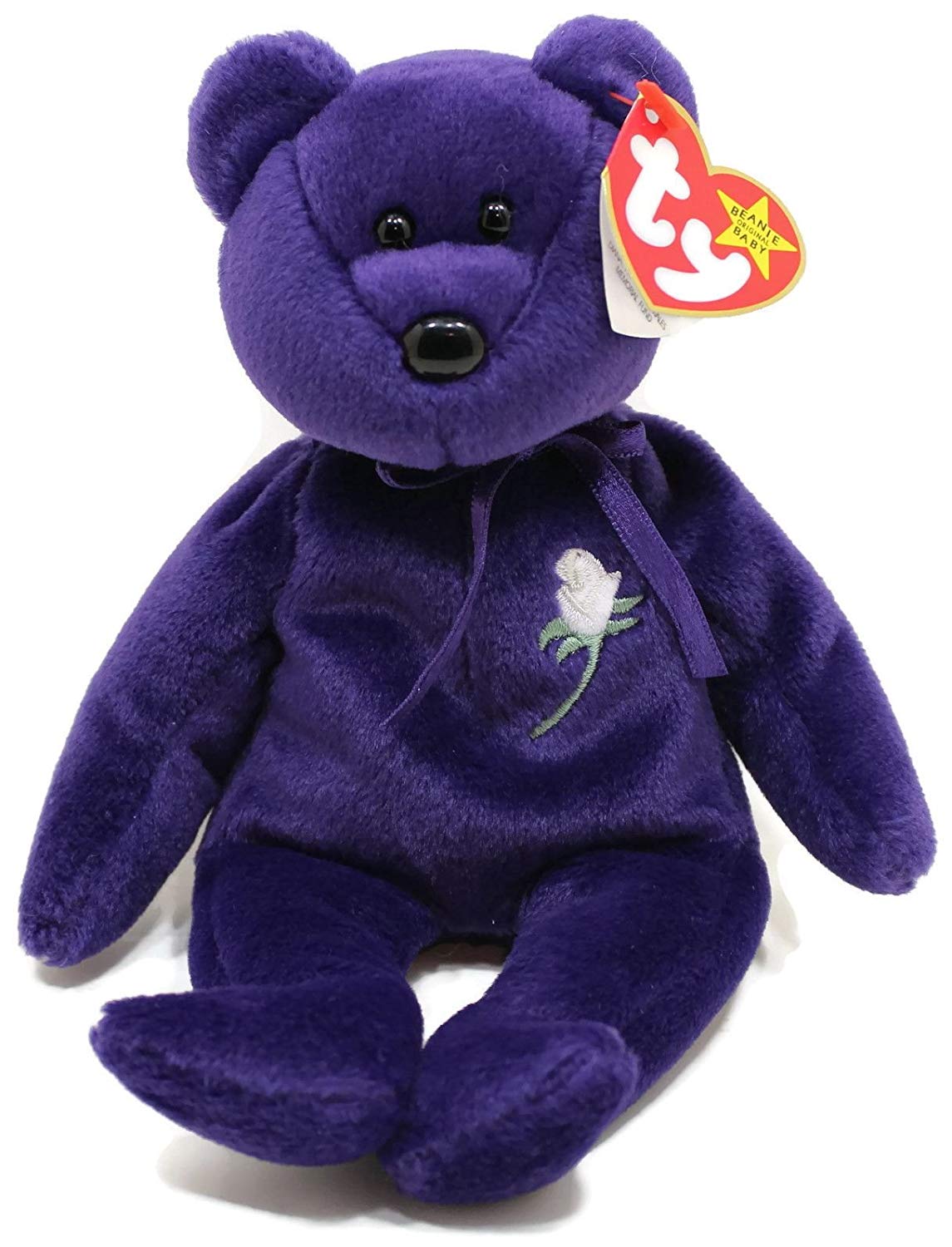 This girl is one of the most beloved Beanie Babies. The story behind is what makes it special. This purple plush toy was released in October 1997 as a limited line. The Princess was released to commemorate the death of the late Princess Diana. And the proceeds went to the Diana, Princess of Wales Memorial Fund.
Per the listing, the Princess Diana Beanie Baby came bundled with digital art in the form of an NFT, a new phenomenon in 2021.
Sparky the Dog – $25,000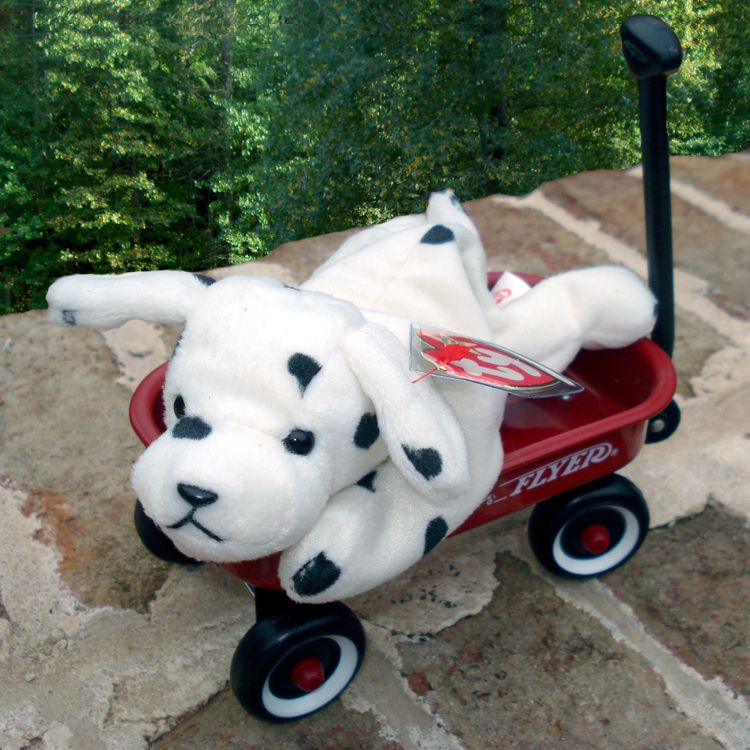 Sparky was a dog that many children and kids around the world had. This one is special because he has a rare white star on the tag. And according to the seller, he is of museum quality.
Hippity, Hoppity, and Floppity the Bunnies – $30,000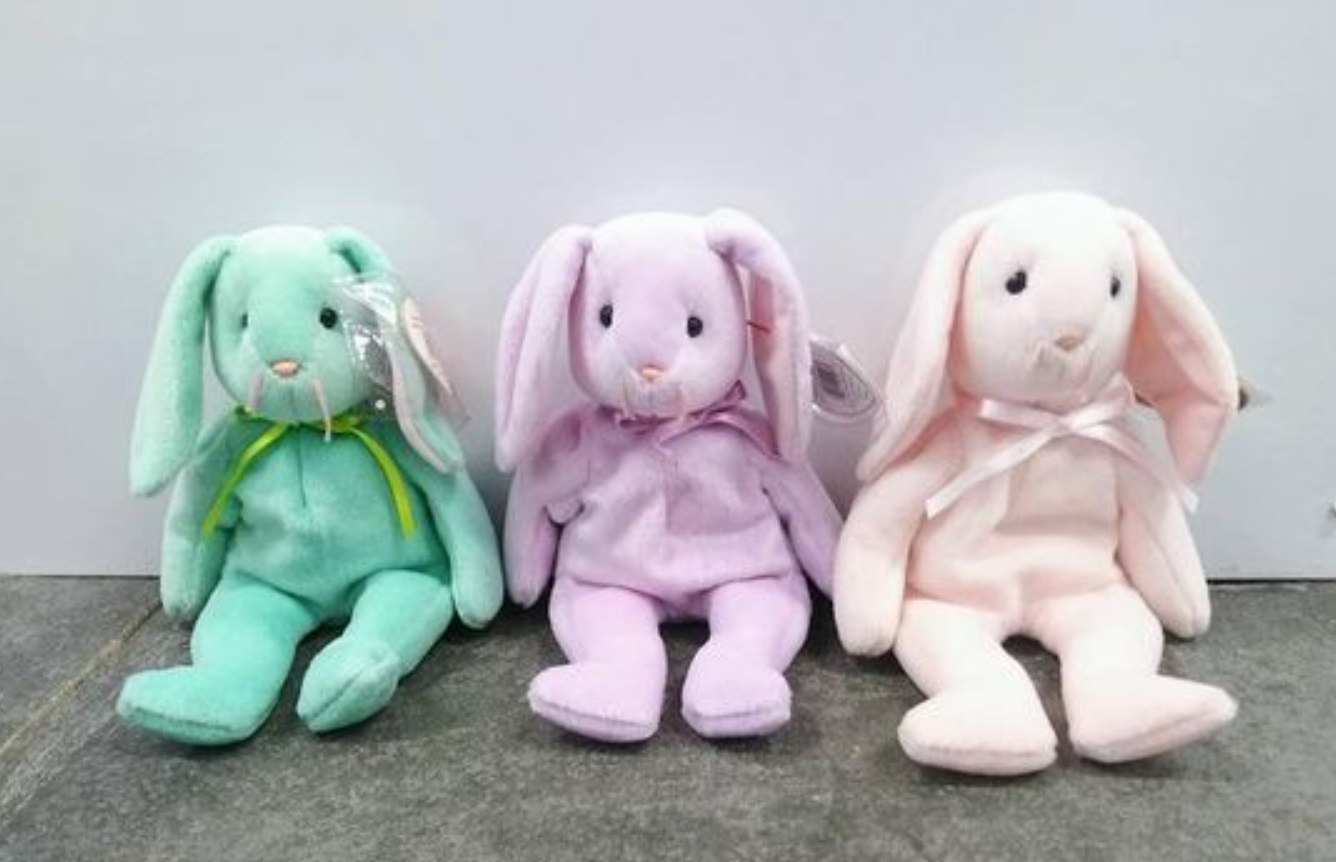 These bunny beanies are appropriately named and come as a set. We saw before that Hippity once fetched a price of almost $20,000. Well, if you have the whole set, you can fetch even more.
Steg the Stegosaurus – $40,000
Steg was born on November 1, 1994. He was released on June 3, 1995, with two other dinosaurs, Rex and Bronty.
Steg was frequently counterfeited. Collectors know that and know that Steg only came in shades of brown with green and yellow hues. This one also has the copyright year 1995 on the tush tag.
Bubbles the Fish – $90,000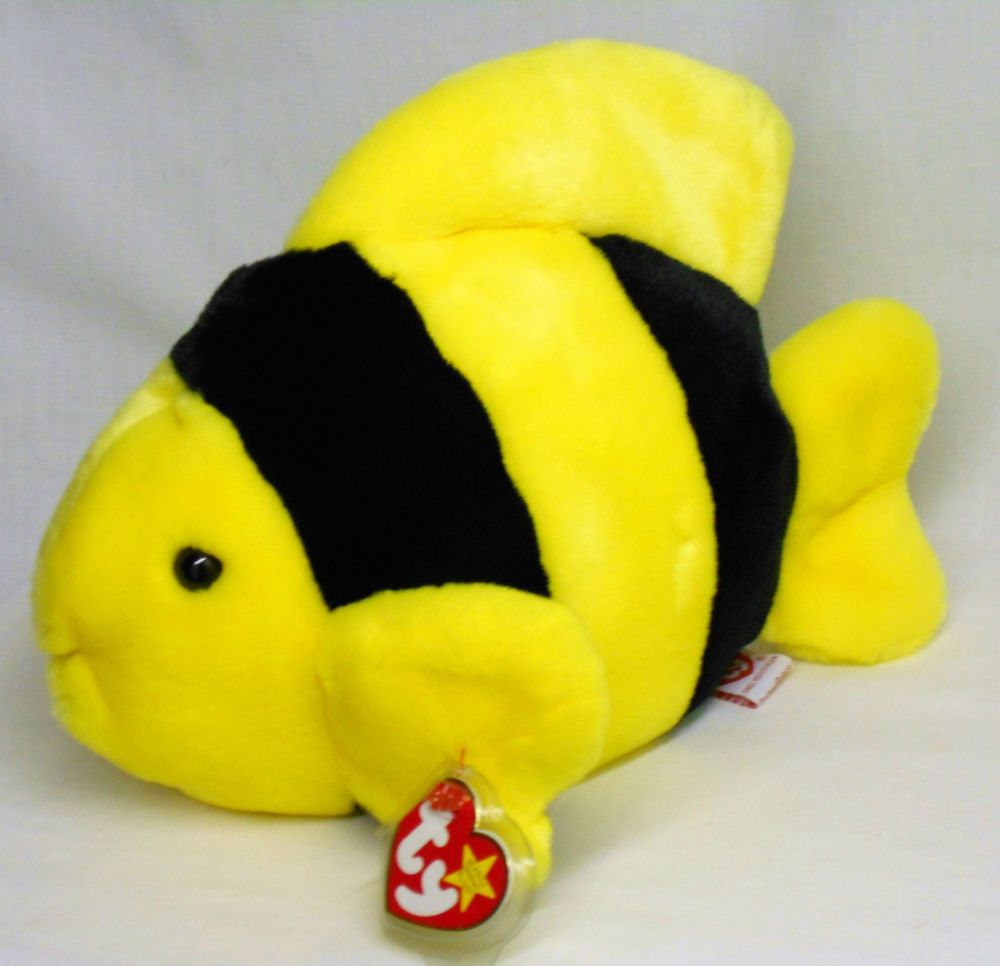 We finish off our list of most expensive stuffed Beanie Babies with Bubbles. Yes, the name is cute and adorable and everything. But would you pay $90,000 for it? Some guy on eBay asks that much for a retired stuffed fish.