Michael Mike Zimmer is an American football coach, serving as the head coach for the Minnesota Vikings. Before he coached the Vikings, he served as defensive coordinator for the Cincinnati Bengals, Atlanta Falcons, and Dallas Cowboys. Lately, the coach has been linked to the 39-year old model, Katarina Elizabeth Miketin. What else do you know about Mike Zimmer's girlfriend?
The Minnesota Vikings' head coach has been linked with the model for quite some time. They are spending more and more time together. Katarina often supports her boyfriend on social media.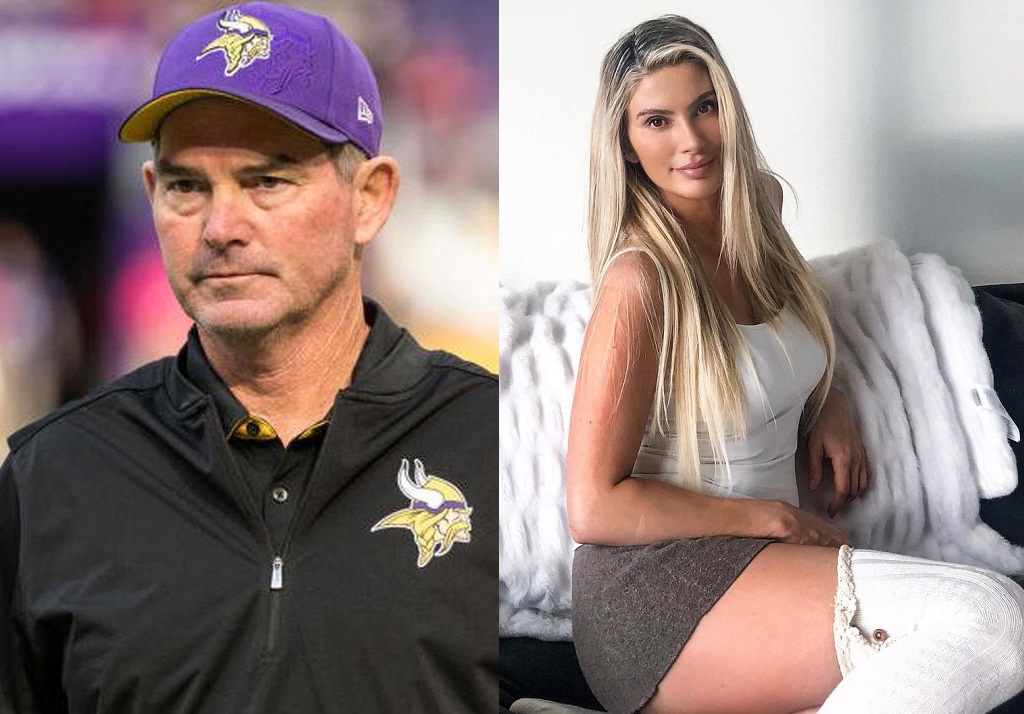 Who Is Mike Zimmer's Girlfriend?
According to some reports, Katarina is a 39-year old model. She has more than 500,000 followers on Instagram. And she has done work for magazines like Sports Illustrated and Maxim.
Reports also say she has an MBA in business and finance from North Western University and a BA in psychology from College of St. Scholastica.
The couple can be often seen together out for dinner. And Katarina is often the one sharing the photos on social media.
These days, the word model often flies easily for women on social media. But Katarina is a real deal. She has posed for several known publications. Sports Illustrated is definitely her biggest achievement. But she also posed for Maxim.
Katarina is a total package, young, beautiful, and smart. She has the brains to go with the body. The Instagram celebrity got her bachelor's degree in psychology from The College of St. Scholastica. During her college years, she also served as the President of the National Honor Society for Psychology. And then in 2015, she earned her MBA from Northwestern University in business and finance.
Born and raised in the US, Katarina's family roots trace back to Serbia. And she is proud of her heritage. You can see she is very connected to her family's culture. On her LinkedIn profile, she states that she speaks English and Serbian.
Many people often assume that she lives in Los Angeles. But she lives in her home state of Minnesota. Born and raised in a small town in Minnesota, Duluth, she has spent most of her life there. The small town has a population of just over 85,000.
While she doesn't share much information about her personal life, we do know that she is a proud mother. There is not much information about her daughter. What we know comes from her Twitter bio, where she mentions that she is a "single mother of a little girl who may be POTUS or just an awesome human". Her daughter Katia is from a previous marriage.
And unlike other Instagram celebrities, social media is not her primary source of income. She has a regular job as well. Thanks to her MBA in finance and business, she has found a job in finance and has even held high-level positions. At the moment, she serves as the Vice President of Middle-Market Lending at Frandsen Bank and Trust.
Katarina doesn't have much time to model professionally anymore, but she still keeps her body in shape. The Instagram celebrity stays active and exercises regularly. Besides gym workouts, she loves to mix in other activities as well.
And like most Instagram stars, fashion is a big part of her life. She enjoys expressing herself through her clothing. Katarina has a great sense of style and likes to put together outfits for every single occasion. Depending on whether she goes to the gym, to a football game, or to a night out in town she looks amazing in different styles.
Breaking Instagram Silence To Support Her Partner
In October 2020, Katarina broke her Instagram silence to support her partner, Vikings coach Mike Zimmer. She returned to social media after two years, announcing her comeback with a topless photo.
The fitness influencer and former Maxim cover girl is not afraid to show off her body. She has long been rumored as the partner of NFL coach Mike Zimmer. The two have quite the age gap between them, more than 20 years.
But that doesn't come as an obstacle in their relationship. She hasn't posted for more than 103 weeks before posting the racy photo.
Who Was Mike Zimmer's Wife?
Before dating Katarina, Michael Zimmer was married to Vikki Zimmer. She passed away in October 2009. The couple was married for 27 years. Vikki was 50 years old when she died unexpectedly. At the time, Zimmer was with the Cincinnati Bengals. He said his wife Vikki Zimmer "has been the sweetest, kindest, most caring who'd never say a bad word about anybody".
Following her death, he gave an emotional speech to the players who beat the Baltimore Ravens just three days after her passing. Mike and Vikki Zimmer have three children together. Their names are Adam, Corri, and Marki Zimmer.