Megan Fox has been named the sexiest woman in the world for 2008 by FHM Online. She has received many more accolades for her beauty and sexiness. So, the question is does the foxy lady need cosmetic enhancement? What do you know about Megan Fox's plastic surgery?
Born in May 1986, Megan is an American actress and model. She appeared in some of the big movie franchises. For example, she appeared in the Transformers franchise, as well as the Teenage Ninja Turtles franchise.
During her career, as a model, she has graced the cover and inside of magazines like Maxim, FHM, and Rolling Stone.
Besides movies, Megan has also appeared in television series. From 2016 to 2017, she portrayed the character Reagan Lucas in the fifth and sixth seasons of New Girl.
Speaking about her beauty, let's see what Chris Lee of the Los Angeles Times wrote once. He called Fox "a sex symbol of the highest order" and "the first bona fide sex symbol of the 21st century". The moment Megan appeared in Transformers in 2007, she completely took over the Internet. Fans love her sexy body and provocative pictures.
Fox achieved instant fame and sexiness by leaning over a Camaro while wearing a flimsy pink belly shirt and short skirt. To this day, many credit the Camaro scene in Transformers as one of the reasons for her fame.
Megan Fox Plastic Surgery Rumors
Megan Fox achieved fame thanks to the Transformers franchise. But has she transformed as well? Has she ever gone under the knife?
We have to note that the American model and actress has changed since stepping into the spotlight. For her part, the Transformers star denies the plastic surgery rumors. Yet, if you look at before and after photos, you can see some changes in her appearance.
It is also worth noting that Megan is not actually against plastic surgery. In one interview, she said, "I would encourage anyone to first speak with a therapist, to try and figure out where this want comes from. Because a lot of times it's not related to your teeth or your nose or your chin – the surgery is not going to alleviate that insecurity for you. If, then, you feel, 'This is something that I want to do,' then do it. It's amazing that we have the technology to do the stuff that we do."
She is also vocal about her body image issues. In one interview with Rolling Stone in 2009, she said, "I am really insecure about everything. I see what I look like, but there are things that I like and things that I dislike. My hair is good. The color of my eyes is good obviously. I am too short. But overall, I am not super excited about the whole thing. I never think I am worthy of anything. I have a sick feeling of being mocked all the time. I have a lot of self-loathing."
With that in mind, here are some Megan Fox plastic surgery rumors we need to cover.
Megan Fox Nose Job
Growing up, Megan had a face and nose looking quite different. Look at pictures of Megan before 2005, and her nose profile was wider. She also had a cleft, a vertical dent, at the front tip of the nose.
Now, that was a normal and pretty nose, but probably not enough for the Transformers star. Look at pictures after 2008, and the dent was gone. Her nose became thinner and more refined.
It is worth saying that rhinoplasty or nose surgery is a common surgical procedure in Hollywood. Every other celebrity gets it.
In her first Transformers role in 2007, the cleft nose is still visible. But later on, the changes are subtle, yet visible.
Megan Fox Lip Filler
Now let's move to another facial feature, her lips. Has she tried lip fillers and lip injections? Again, we have to look at before and after photos.
Before stardom and fame, Megan had a thin top lip, much thinner than what she has today. In her early photos, the top lip is thin that you can see a tendency for her front teeth to show. Look at photos after 2018, and her mouth is completely proportional.
And no, makeup, lipstick, or anything else cannot explain the difference in her lips. She probably had some hyaluronic filler added here and there. Now, the upper and lower lip are the same size.
Megan Fox Botox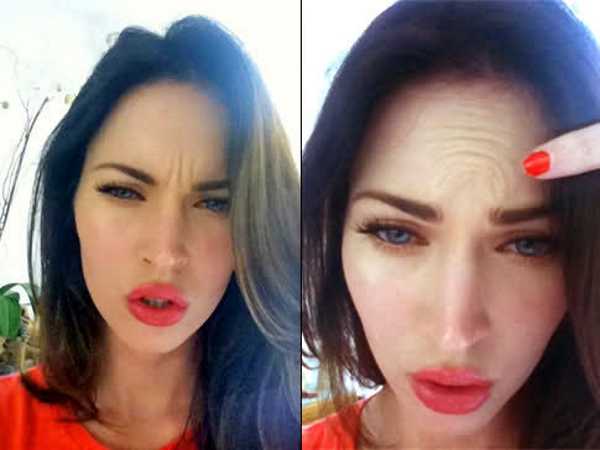 With so many injections nowadays, the question is whether the American star has also tried botox injection as well. Injected usually in the wrinkle-prone areas, botox gives the result of a smooth forehead without any wrinkles.
Fun fact: in 2011, Megan posted photos on her Facebook page, captioning it "things you cannot do with your face when you have botox".
Now, speaking about botox rumors, Megan's face looks smooth in too many photos to not suspect.
Megan Fox Boob Job
Now let's move to one of her signature features. Megan Fox has always had a perky cleavage. Her breasts are too round, too big, and too perfect. That is why some fans suspect fake boobs or breast implants surgery.
But remember, when Megan portrayed Prudence in Two and a Half Men in 2004, she already had large breasts for someone at the age of 18.
Back then, she had a breast size 34C with a C cup size. And that has not changed to this day. Some fans might point out that she probably got breast augmentation surgery before she was 18. But we do not believe that to be the case. Her breasts are as natural as possible. And she has been blessed with amazing cleavage.
Comments
0 comments