Born in November 1998 LiAngelo Ball is an American professional basketball player. As of the summer of 2021, he is a free agent. He previously played for Chino Hills High School in California where he won a state championship. There he also achieved national success as a junior alongside his brothers Lonzo and LaMelo. Speaking about LiAngelo Ball's girlfriend, he has had many over the year.
Let's see who is his current partner. Angelo and his brothers have attracted national attention since playing together in high school. And his father LaVar grew into a media personality in 2017.
In the summer of 2021, he was invited by his brother LaMelo to workout with his team, the Charlotte Hornets.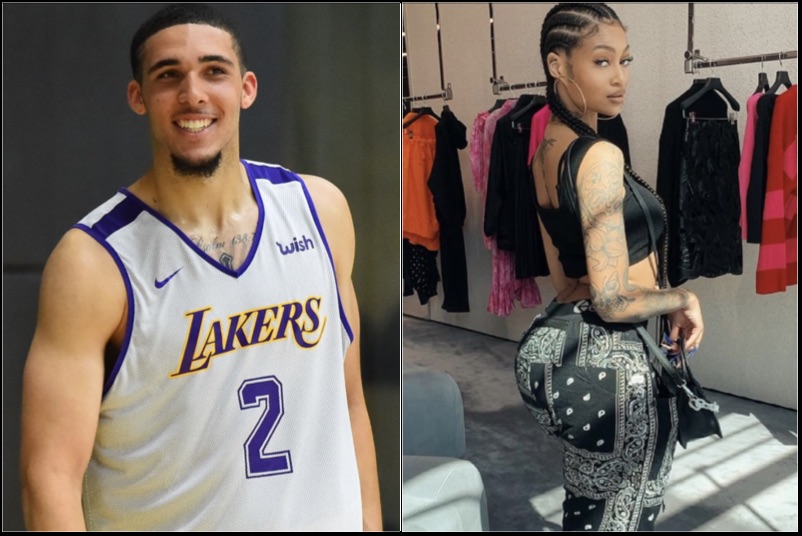 Who Is LiAngelo Ball's Girlfriend?
As we said before, LiAngelo has had many girlfriends over the years. The latest in the list of LiAngelo Ball's girlfriends is the singer Evoni. They went Instagram official in May 2021.
Unlike his brothers, he has yet to have NBA success. But LiAngelo has success with the ladies. When it comes to things outside of basketball he has no problems scoring at all.
The American basketball player is the ladies' man in the Ball family. And his latest girlfriend is Atlanta singer Evoni. Gelo has appeared on her Instagram a few times. And he also posts videos of her.
Who is Evoni? She is the latest Atlanta star singer. Growing up with three other siblings, she had challenges early on. But her siblings have different moms and they didn't live together quite as much.
The American singer embodies the grace of Alana Baraz and Lana Del Ray. And she also has the appeal that only Rihanna can rival her. Evoni is an urban pop star that reaches deep inside her soul to find inspiration for her music.
Her first single Levi amassed more than 1 million streams. It helped her burst into the Atlanta music scene. Since then, she has committed herself to record covers for her vast social media following.
Speaking about herself, she says "Evoni is a soul searcher. She dives deep into everything she does, especially creatively. I aspire to learn how to become who my soul knows I am. I speak through my music, and I also learn who I am through my music".
As one of the popular Atlanta stars, she loves creating content in one of the best cities in the US. Atlanta has so much talent and she loves seeing other black artists represent music there. But they all do it in their own way.
Evoni Shows Support For Her Man
It seems like Evoni might be the one for LiAngelo Ball. When he made his official summer league debut with the Charlotte Hornets, the singer and songwriter was there to support him. She cheered in the stands as his man connected on five 3-pointers, grabbed two rebounds, and dished two assists in 16 minutes of action.
She took to Instagram to make it loud and clear and to stop messing with her. She posted, "Shut the F*** up and let me watch this game stop worrying about what I am doing the focus should be on LiAngelo".
LiAngelo Ball Past Relationships
We said before LiAngelo is a ladies' man. And he has had quite a few celebrity girlfriend dates. The California-born athlete previously dated Jaden Owens. She was also a basketball player at the University of California, Los Angeles.
They started dating in 2018, but we cannot find much info about the relationship or Jaden. We only know they met on Instagram and then started dating in July 2018.
Before Owens, LiAngelo dated Izzy Morris. They started dating while they were juniors at Chino High School. They were together throughout high school until 2018. And they broke up when Gelo left UCLA for the Lithuanian basketball league. And similar to his current girlfriend, Izzy is also a social media personality.
When he entered the G league and made his professional basketball debut for the Oklahoma City Blue, he met a new girlfriend, Indya Marie. He then spoke about his path into the NBA, "I know I am just as good as them because I grew up training with them. If they can get it done I feel like I can do it too. That just motivates me more".
His then-girlfriend, Indya Marie gained fame on Instagram through her mesmerizing pictures. She posted a lot of selfies and lifestyle pictures, amassing thousands of fans. But she was also a decent designer, designing her own jeans at a young age.
Indya Marie was a fashion model, musician, accessories designer, stylist, and media personality.
Comments
0 comments