| | |
| --- | --- |
| Real Name: | Kimberly Anne Scott |
| Birthday: | January 9, 1975 |
| Net Worth | $2 million |
| Height: | 183 cm |
| Occupation: | Ex-Wife of Eminem |
Fans of Eminem know quite a lot about his ex-wife Kimberly Scott. And they know most of it thanks to his lyrics. The American rapper has quite a few lyrics and songs about his ex-wife. But where is she in 2021? What does she do? Are she and Eminem still communicating?
We haven't heard a lot about Kimberly following her second divorce from Marshall Mathers. The two of them met in 1988 at a house party as teenagers. Soon they started their relationship and got married two times.
Eminem has a biological kid with Kim, his daughter Hailie Jade Mathers. She is now all grown up and is a "social media influencer".
Read on to find out more about Anne Scott, her life before and after Eminem, their tumultuous relationship, and her net worth. She has been the subject of many songs by the rapper, but her story is much more.
Quick Bio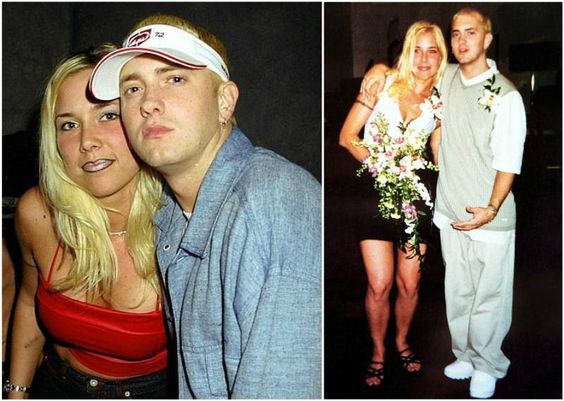 We have to start at the beginning. And in the case of Eminem and his wife, that is a house party in 1988. Both were teenagers at the time, and they dated through high school. In 1995, they welcomed their first daughter, Hailie Jade.
One year after they got their daughter, Kimberly left him and went to live in a one-bedroom apartment with Hailie. Marshall returned to his home with his mother.
At the time, they were not married. In fact, they tied the knot in 1999, only to get a divorce two years later. And then in 2006, they got married again, but then divorced the same year.
Kimberly and Marshall have one biological daughter together, but Eminem adopted her daughter Whitney from a previous relationship. And they also adopted a third daughter, Alana, the daughter of Kim's sister Dawn.
Eminem and Kimberly Anne Scott have had a rocky relationship. The former Slim Shady rapped about her in many of his songs. For example, in 2000, he released a song while they were still married.
At the time, Scott got mad that Shady rapped about their dirty laundry. In the song, the rapper talked about dreaming of murdering her. As she has said, that song took her down a dark path.
Kimberly harmed herself after seeing Slim perform the song on stage. During that performance, Eminem actually beat a blow-up doll version of his then-wife.
Kim recalled, "Seeing the crowd's response and everybody cheering, singing the words and laughing and it just felt like everyone was staring at me. I knew that it was about me and that night I went home and I tried to commit suicide."
Years before, the legendary rapper also rapped about killing Kim with the help of their daughter. In his 1997 song Bonnie & Clyde, he talks about how he and his daughter get rid of the body in the ocean.
And at the time, he took Hailie to his studio to record some of the vocals, lying to Kim where he took the little girl.
And while her marriage to Eminem was a rollercoaster ride, her childhood was even worse. Born in 1975, Kim has a twin sister, Dawn. Both of them had a difficult time with their step-father. Kim has not revealed a lot about her biological father.
But Eminem's mother wrote in her memoir that Kim often said her alcoholic stepfather sexually abused her. According to her story, Kim and Dawn ran away from home in 1988 and moved into a youth shelter outside of Detroit.
That is when she met the famous rapper at a house party. Fun fact: at the time, Marshall Mathers was only 15, while Kim was 13 years of age.
Wanting to protect her and help her, Eminem moved Kim into their home. But his mom, Debbie Nelson, was not a fan of the idea. In her 2008 book, she wrote that Kim initially told them she was 15 years of age.
But when truancy officers got in touch, Debbie found out the real age of the little girl.
Following her second divorce from Eminem in 2006, Kim struggled with mental health issues and substance abuse. Fun fact: their second marriage lasted only 41 days.
She had a couple of run-ins with the law. In October 2015, she downed some Malibu rum and prescription pills and then drove into a telephone pole. Her suicide attempt resulted in a few broken bones.
So, where is she now? Over the year, Kim has been arrested for cocaine possession, possession of illegal substances and multiple DUIs. For her crash in 2015, she received one year of probation and a fine.
And that is when Eminem helped her. Kim talks about him, saying, "He has been real supportive. We are really close friends. We are just trying to raise our kids together and make it as normal for them as possible."
As we said before, they have three kids together, one biological, one from Kim's previous relationship, and the daughter of her twin sister Dawn.
Net Worth
What is life like for Kimberly Anne Scott after her relationship with Marshall Mathers? Where is she now? What does she do for a living? It seems like her drug addiction is behind her.
After a couple of run-ins with the law, Kim found success as a writer and illustrator. In fact, Kim's fortune is more than $2 million. She wrote a children's book and has the support of her former husband. Eminem, on the other hand, has a wealth of more than $230 million.
Despite all their troubles and differences, one thing kept Shady and his high school sweetheart together, and that is their children. Despite everything, they came together for their daughter Hailie. Both of them love her immensely.
Comments
0 comments