Born in March 1970, Julie Bowen is an American actress famous for her role in the Modern Family TV comedy series. She portrayed Claire Dunphy from 2009 to 2020. Before joining the cast of Modern Family, Julie appeared in a couple of other famous television series. And she looks stunning in almost any show.
Today, we will take a look at the Julie Bowen sexy photos she has produced throughout the years. Paparazzi, red carpet events, photo shoots, we have everything you want. We also have some hot Julie Bowen bikini photos.
Before we move onto the sexy photos of Julie Bowen, let's make a quick summary of her career. Some of her notable appearances in TV include portraying Roxanne Please on ER from 1998 to 1999, Carol Vessey on Ed from 2000 to 2004, Denise Baure on Boston Legal from 2005 to 2007, and Sarah Shephard on Lost from 2005 to 2007. You can say that she has been a busy actress, right?
But while all previous roles helped her gain popularity, Modern Family launched her to the popularity stratosphere. Her portrayal of Claire Dunphy earned her six Primetime Emmy Award nominations for Outstanding Supporting Actress from 2010 to 2015. She won two of them, one in 2011 and one in 2012.
The American actress also appeared in a couple of movies throughout her career, including Happy Gilmore, Multiplicity, Venus and Mars, Kids in America, Sex and Death 101, Crazy on the Outside, Horrible Bosses, and more.
Fun fact: she suffers from a cardiovascular condition called bradycardia. It is a condition that causes her regular heartbeat to be below normal. As a result, she has to wear a pacemaker, something she has done since her early twenties. And despite that, she has managed to have a long and successful career.
Speaking about her personal life, she got married to Scott Phillips, a real estate investor in September 2004. The two have three sons, one born in April 2007, and twins born in May 2009. Fun fact: she was visibly pregnant with the twins while shooting the pilot for Modern Family. In February 2018, Julie filed for divorce from Scott.
With that in mind, let's take a look at Julie Bowen's hot photos, including Julie Bowen's bikini photos.
Julie Bowen Bikini Photo
Julie loves relaxing at the beach and spend time there. Sand, sea, and chill environment, what is there not to like? For this occasion, she opted for a sailor-design bikini, looking a bit more elegant while swimming.
At The Beach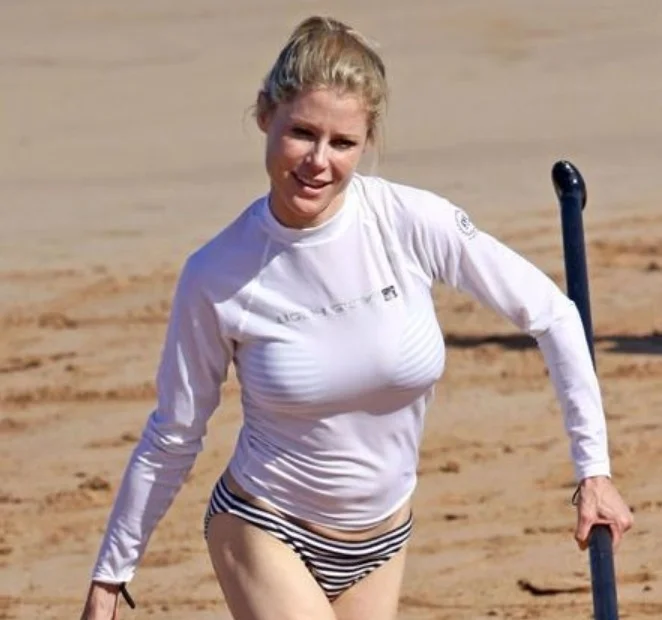 Here is another bikini photo of Julie Bowen. She can definitely apply for a role in the Baywatch series. She has everything you need for a role in the series. Smoking hot body, charisma, and even blonde hair.
She might have tried to cover her bikini with a shirt, but a wet white shirt doesn't cover a lot. Everyone knows that.
V Neck Dress
Julie has no problem revealing her bare skin. She does that at the beach, but also at red carpet events. We see her wearing a long and deep V-neck dress, revealing quite a lot of her cleavage.
Julie might not have the biggest boobs of celebrities in Hollywood, but she has no trouble showing a bit of skin.
Sparking Little Black Dress
The Little Black Dress is a must-have for celebrities. Almost everyone in Hollywood has one in their closet. Julie opts for a bit different and modern take on the LBD.
She goes for a dress with sparkles in the middle. Well, she definitely wants to shine when walking the red carpet.
The Bad Mother
This photo is from a Modern Family scene. We talked before that the show made Bowen an international star.
During the course of the series, we saw Julie in different outfits, from sexy, to some casual and suburban-mom looks, to even bikini and underwear outfits.
Shine Bright
You can never go wrong with a classic black and white outfit. Julie opts for a white top, showing a bit of her great cleavage and black skirt.
It is a classic combination, but Julie takes it to the next level thanks to her charm. She looks elegant for sure.
No Bra No Problem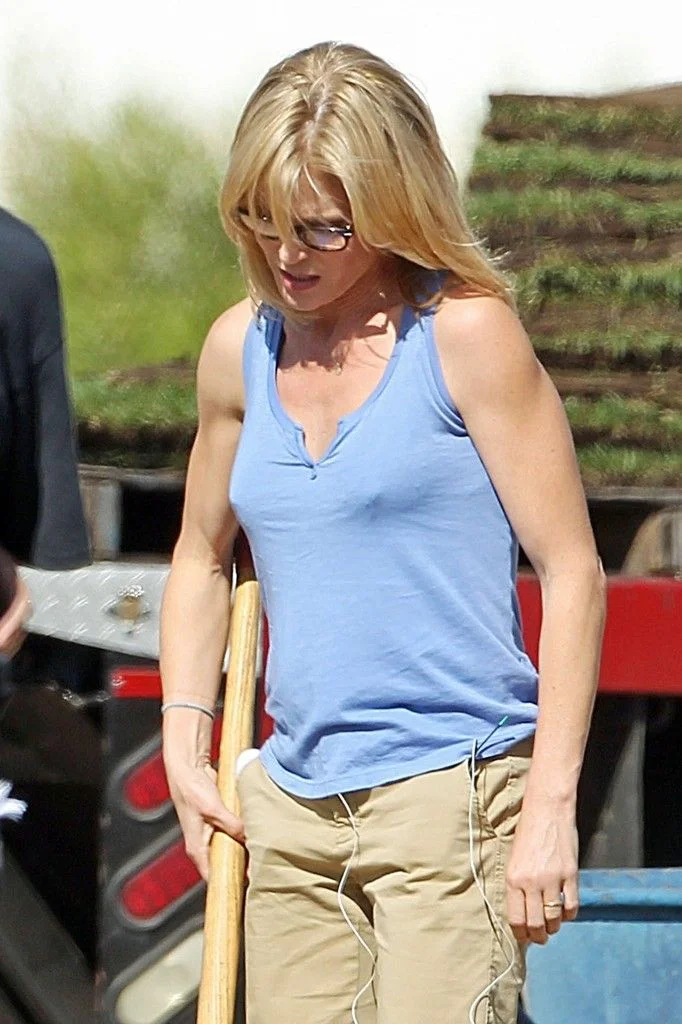 This photo is proof that celebrities are just like the rest of us. They also want to go out wearing normal clothes. And they care less about bras and similar stuff.
When going out to the local grocery shop, celebrities also wear a simple shirt with no bra beneath it. Take Julie for example.
White Dress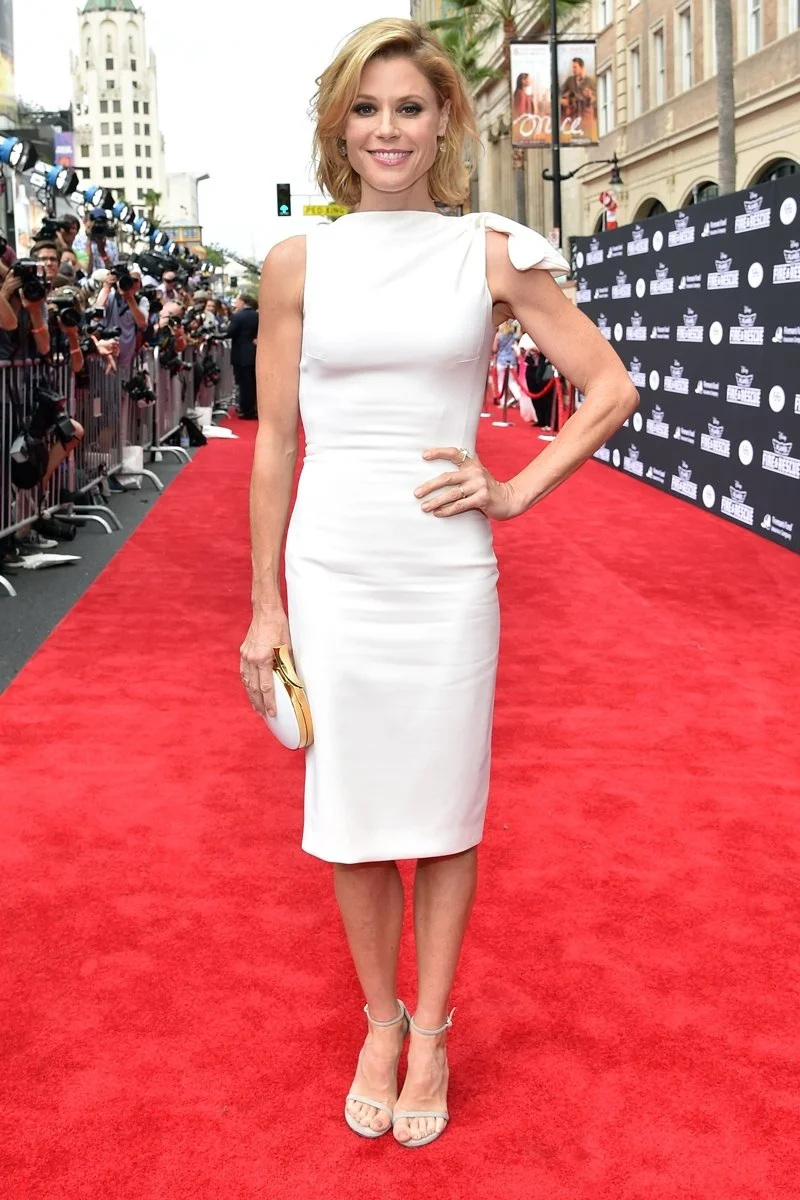 Here we have another photo of Julie Bowen on the red carpet. This time, instead of a little black dress, she went with a classic white dress.
Some would say white is a bridal color, but Julie doesn't care. She wears it with confidence.
Sexy Back
Julie is one of the most successful actresses in Hollywood. Her career spans more than 20 years, and she has remained at the top of the class. But Modern Family took her popularity to the next level.
The show opened quite a lot of doors for her, including an invitation to the Vanity Fair Oscar Party.
Relaxing At The Beach
We had some Julie Bowen bikini photos, and now we have a relaxing beach photo. You can still see her bikini. But what we love about this photo is that she is just like the rest of us.
Julie also loves to read and chill at the beach.
Mother And Daughter
Let's finish off the list of Julie Bowen's sexy pictures with a photo of Julie and her colleague and co-star, Sarah Hyland. The two play a mother and daughter in Modern Family.
And they love spending time together at events. Just look at that chemistry and their smiles.