| | |
| --- | --- |
| Real Name: | Ibrahim Chappelle |
| Birthday: | N/A |
| Net Worth | N/A |
| Height: | 175 cm |
| Occupation: | Son of Dave Chappelle |
Ibrahim Chappelle is the celebrity kid of Dave Chappelle, American stand up comedian and producer. Born in Yellow Spring, Ohio, US, Ibrahim is Dave's youngest son. Thanks to his father's fame, he gets quite the exposure during Dave's Comedy Central performances and shows.
Dave is one of the greatest and groundbreaking sketch comedy shows acts of all time. His Chappelle's Show presented him at his best and made him one of the greatest people in comedy. And he has won a Grammy Award thanks to it.
Many experts consider Dave as one of the best storytellers. He never shies away from topics, be it sensitive or mass topics. But when it comes to something unique, it is all about the delivery of jokes and punchlines. These deliveries hook the audience and make Dave a king in the comedy world.
Now, we all know about comedian Dave Chappelle. But how much do you know about his youngest son, Ibrahim Chappelle? Do you know that Dave often uses him in some of his jokes? Have you heard an Ibrahim joke? Let's talk.
Quick Bio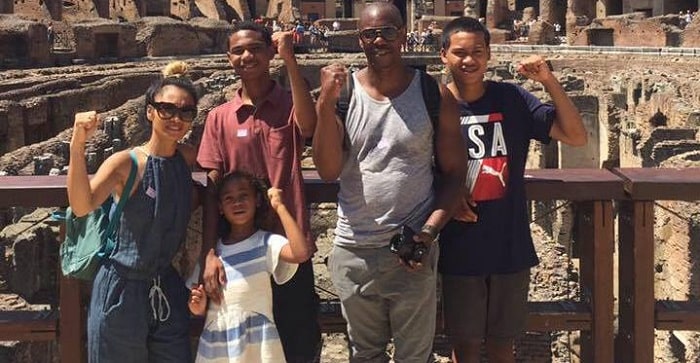 Fun fact: Dave and Ibrahim's mother didn't start their relationship after their first meeting. In fact, his mother thought Dave was not her type. She didn't like loud people. But little did she know, his loud personality was only a side effect of Dave's shyness towards her. Soon enough, Dave and Elaine started dating.
Dave proposed, and they got married in 2001. Soon after, they started welcoming new family members. Ibrahim is the second member of the family. He has two siblings, an older brother Sulayman and a younger sister Sonal.
Now, Dave has never disclosed the exact birth date of his son Ibrahim. But in a 2017 Jimmy Kimmel show, he said Ibrahim is 14 years old. That would put his birth date sometime in 2003.
Ibrahim's parents come from different backgrounds. His father, for example, was an African American who converted to Islam in 1998. His mother, on the other hand, is a Filipino and a devout Christian. In a way, Dave Chappelle's son has Filipino descent.
Fun fact: Dave's new faith is the reason for the name Ibrahim. In fact, he gave all of his children Islamic names. For example, his name means "father of faith".
Ibrahim spent his childhood days in Yellow Spring on a 65-acre farm. There is no information regarding his education. We know he is currently a student, and he has yet to show interest in any career and college education.
With the amount of attention Dave gets, it is quite amazing that he can protect his children from exposure. He and his wife made an effort to protect their children from unwanted publicity.
Elaine also stays away from the media. That is why it is hard to get any information on the Chappelle family.
But sometimes, Dave tells a joke about his kids. For example, in one comedy sketch, he revealed Ibrahim goes to a private school. But his older brother goes to a public school. Dave explained, "It is an experiment. I just want to see what happens to him".
In another show, Dave talked about how Ibrahim asked for money to see a Kevin Hart show. His son asked for $250 so he could go to a show. And Dave was surprised. He said, "I was at home when my son busted in and he said, Dad, Dad, I need $250. He's only 12 years old so I freaked out. What's going on Ni$$$? Is somebody trying to kill you? He said, No No, Kevin hart is coming for the show."
So, Dave took his son backstage to meet with Kevin. He allowed his son to meet his idol, despite being a competitor in the stand-up comedy world.
All of them then went for dinner, and Kevin gave Dave's son a custom hand-stitched jersey with K Hart printed on it. Cool, right?
Fun fact: when Kevin invited them to dinner, Ibrahim had a hilarious response. Dave explained, when asked about dinner my son went like, "Actually Mr. Hart, we haven't eaten in several hours."
Net Worth
We cannot talk about Ibrahim Chappelle fortune. He is still a teenager. And he has yet to start a professional career. Yes, some teenagers work and make it on social media or the entertainment world.
But Dave wants his second son to have a normal childhood, away from the entertainment world. He is the one providing for the family. As of June 2021, Dave Chappelle estimated wealth is more than $50 million.
Five years ago, in 2016, Dave signed a $20 million-per-release comedy special deal with Netflix. By 2019, he released five standup Netflix special comedy shows under that deal.
Comments
0 comments