| | |
| --- | --- |
| Real Name: | Heather deForest Crosby |
| Birthday: | 1967 |
| Net Worth | $100 million |
| Height: | 172 cm |
| Occupation: | Ex-wife of Steven Mnuchin |
Anybody who follows politics knows the name, Steven Mnuchin. President Donald Trump appointed him US Secretary of Treasure in February 2017. But how much do you know about his ex-wife and children? He got married to Heather deForest Crosby at the time he worked for Goldman Sachs. But their marriage didn't last forever.
Today, we will try to shed a bit of light on Heather deForest Crosby. She is the ex-wife of Steven, and the mother of his children. The two started dating when he worked for Goldman Sachs. Since their divorce, you cannot find much information about Heather. She decided to stay away from the public's eye.
Quick Bio
Daughter of Virginia Duel and Henry Ashton Crosby Jr., Heather doesn't share much info with the media. We do not know her exact birth date and birthplace. Hopefully, one day, she will share a bit more.
The former wife of Steven Mnuchin remains quiet about her education as well. What we do know is a bit about her career.
She worked as a public relations executive and reached the position of Vice President for corporate communication at Launch Media. It is internet music, music information, and news company.
Going through her rare social media posts, we can also say she loves yoga, and has her own yoga clothing line.
Heather is a private person and rarely shares information with the public. Fun fact: when she met Steven Mnuchin, she had a higher position than him. At the time of their wedding, she already rose to Vice President of corporate communication at Launch Media. The company she worked for, had a magazine, Launch, selling as a print magazine and as a disk magazine (CD-ROM).
Yahoo eventually bought off the company for $12 million. And at that point, Steven worked only as an employee at Goldman Sachs.
Once Yahoo bought the company, Heather started showing interest in yoga. Her passion helped her start a yoga clothing line. And she also joined the board of directors of the Joyful Heart Foundation.
Heather uses her yoga clothing sales to support the philanthropic organization, Joyful Heart Foundation. There, she serves on the board of directors.
Her marriage to Steven lasted from 1994 to 2014. They have three children together. And while Heather had a higher-paying position at the time of their dating and marriage, Steven rose higher.
With his successful career, he spoiled his wife with lavish apartments and travels across the world. They bought a duplex at Park Avenue for $10 million. And then they moved to a Bel Air mansion, paying $26 million for it.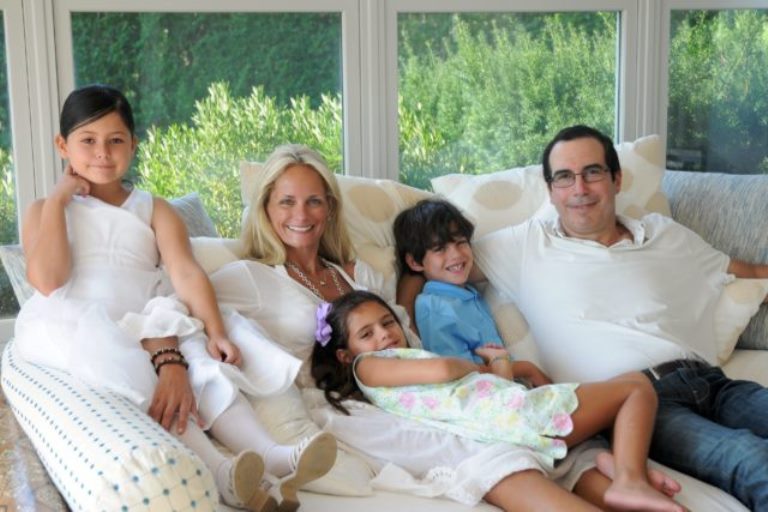 Once they got a divorce, Heather moved into a Beverly Hills mansion. Her $13 million apartment has five bedrooms, a master suite, a game room with a sports bar, a movie theater, and many other rooms.
Following her divorce from Steven, she started a new relationship with David Ford. Her former husband, on the other hand, got married to actress Louise Linton.
Heather and Steven divorced in 2014 without publicly stating the reason for their separation. Heather remains quiet even after their separation.
She does have an account on Facebook, but rarely posts. And you cannot see much activity from her on other social media platforms as well, including Instagram or Twitter.
Net Worth
Heather deForest Crosby is a rare breed of celebrity ex-wives. She earned quite a lot before, and during her marriage with a celebrity. But a large portion of her wealth does come from the divorce.
At the time of their divorce, Steven Mnuchin had a fortune of more than $300 million. Today, Heather deForest Crosby has a wealth of more than $100 million.
Steven continued his successful career. Despite the "rich divorce", he continues to earn a small fortune for himself. He has lavish houses in Beverly Hills, Manhattan, and many more high-profile locations.
And despite the divorce several years ago, he again climbed back to his cash flow $300 million. Not bad, right?
Heather, on the other hand, uses the money from her divorce and her successful yoga clothing line to fund the Joyful Hearts Foundation.
Comments
0 comments