| | |
| --- | --- |
| Real Name: | Hallie Gnatovich |
| Birthday: | January 26, 1981 |
| Net Worth | $1.3 million |
| Height: | 165 cm |
| Occupation: | American Therapist, Actress, Wife of Josh Gates |
Hallie Gnatovich is a former actress. She has appeared in a couple of small roles. But acting didn't bring her much popularity. Instead, she got popular as the wife of TV presenter and paranormal researcher Josh Gates.
The two met in 2007 on the set of Destination Truth. After dating for a while, they got married in 2014. Their marriage has produced two beautiful children.
But how much do you know about Hallie Gnatovich, Josh Gates's wife? Have you seen her in any of her small roles? Let's take a look at her life path and net worth.
Quick Bio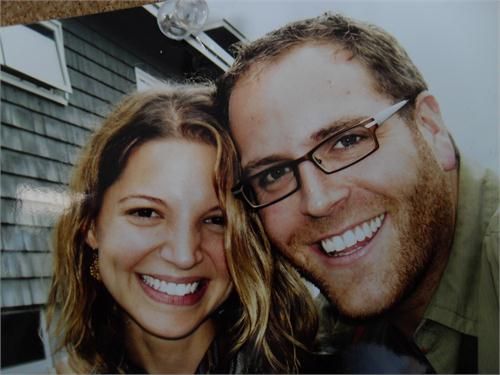 Hallie might not have the popularity of her husband. Despite appearing in a couple of small acting roles, most people recognize her as the celebrity wife of Josh Gates.
Born in January 1981 in Boston, Massachusetts, she has two siblings. Between 2000 and 2004, she studied at the Oberlin College, Ohio. There, she got a BA degree in Theatre Arts in 2004. She then earned a Master's Degree in Marriage and Family Counseling/Therapy at the Alliant University, San Diego in California.
With her education, she had a decent background in acting. And she started as an actress. Her debut role came in 2007, portraying Marnie in Archer House. The short comedy helped her gain some recognition, but nothing too much.
She then worked as a researcher in the show Destination Truth. There, she met her future husband. Following Destination Truth, Hallie started her Master's studies.
In 2009, she started practicing therapy at Genesee Center for four years until 2012. And then she got a certificate in Mindfulness, becoming a certified counselor.
Speaking of her acting credits, she appeared in season 5 of Destination Truth and Archer House. But her flourishing career as a marriage family therapist is much more successful.
She has since established her firm, Hallie G Therapy. The celebrity wife also runs her own website, Halliegtherapy.com. There, she wrote, "I love therapy. When I start this process with a client, it marks the beginning of a commitment to that person".
She added that she considers her clients' ideas from different angles, trying to find a direction that will move them along.
She now offers counseling services to a wide span of individuals, ranging from writers, actors, young people, single mothers, LGBTQ couples, and many more. On her website, she cites the following services: psychological problems in families, care about LGBT couples, help creative people, free 30-minute consultations, educating people to care about others, moral support, and more.
Speaking about her relationship with Josh, they met during the shooting of the show Destination Truth. She appeared in eight episodes in total.
During the filming of the show, their bond grew bigger and bigger. They started dating, and after a couple of years, they tied the knot on September 13th, 2014. They have two kids together, a boy and a girl. They welcomed their first child in 2016, their son Owen Gates.
Fun fact: the news of the birth of his son reached Josh while he was on-air, resulting in huge excitement from him and his colleagues.
In 2018, Hallie and Josh welcomed their daughter. But they have yet to disclose her name to the public.
Hallie uses social media, but only her Twitter account. She has close to 2,000 followers.
Net Worth
We said before that Hallie has managed to carve her own career path. Yes, she is a celebrity wife. But she also has a successful therapy and counseling firm in Los Angeles.
Gnatovich started off as an actress, but quickly shifted towards a different career path. She finally got her license in 2012 and that opened the door to set up a counseling firm in California. She resides there with her family.
Looking at her job profile, it says that she works from a Cognitive Behavioral and mindfulness perspective. Speaking of her acting job, she appeared in Archer House in 2007. And she worked as a researcher for eight episodes of Destination Truth.
As of June 2021, Hallie Gnatovich's net worth is $1.3 million. Her husband, on the other hand, has a net worth of $3 million. Explorer Josh Gates is an American television presenter and television producer. He hosted Syfy's Destination Truth and Standard. Nowadays, he produces Expedition Unknown and Legendary Locations, two shows on The Discovery Channel. Gates also appeared in Ghost Hunters as live specials host.
Comments
0 comments