Dwayne Haskins is an American Football quarterback. He set school records for most passing yards in a single game and in a single game and most passing touchdowns in one game at Ohio State University. As one of the more successful and popular football players, Dwayne often has women around him. But who is Dwayne Haskins girlfriend? How much do we know about her?
As the son of Dwayne Haskins Sr. and Tamara Haskins, Dwayne grew up alongside his sister Tamia. To this day, he considers her his best friend.
When he was in ninth grade, the popular American National Football League player shifted to Potomac, Maryland with his family. He played football at the Bullies school from 2013 to 2016. He then started his college career at the University of Maryland.
Who Is Dwayne Haskins's Girlfriend?
Quarterback Dwayne Haskins is still in his early 20s. And unlike many people in their 20s, he likes to keep his personal life private.
There is very little information about his personal life and girlfriend. What we do know is that the football player is married to Kalabrya Gondrezick Haskins. They got married in March 2021.
However, we know very little about Kalabrya and her background. The couple got engaged at TAO Asian Bistro & Nightclub at The Venetian.
Before he got married to Kalabrya, Dwayne dated his longtime girlfriend Savhana Arai Cousin.
His wife Kalabrya is from Benton Harbor, Michigan. Born in July 1997 she comes from a basketball family. Her father, Grand Gondrezck was a member of the NBA team Los Angeles Clippers and Phoenix Suns for five seasons. And her mother, Lisa Harvey, was a member of Louisiana Tech's 1988 NCA Championship team.
During her college years, Dwayne Haskins' girlfriend was also involved in basketball. She was part of the Lady Spartans of Michigan State back in 2015. She also won titles like Michigan Miss Basketball and Michigan Gatorade Player of the Year.
Following her college days, she was chosen with the fourth overall pick by the Indiana Fever. According to her LinkedIn profile, she is "a proactive licensed medical aesthetician / cosmetic laser technician with a distinguished understanding of laser treatments and skincare routines".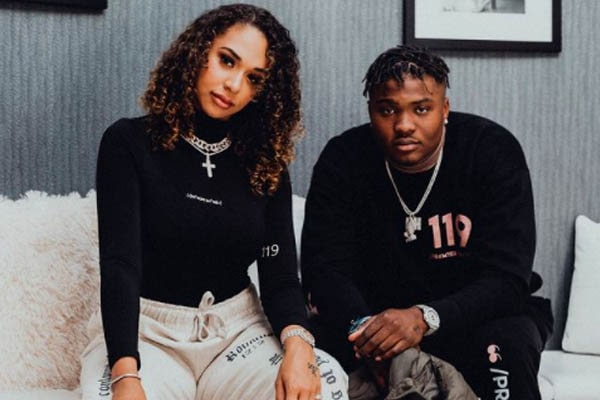 How did Dwayne and Kababrya Meet?
We do not know exactly long have these two been together. Some sources mention 2019 as the year they met for the first time. That would put the timeline on almost one and a half years together.
In the beginning, the fans found out about their relationship thanks to Instagram. The couple shared photos on social media from different locations and on different occasions.
In one Instagram post, Kalabrya wrote, "All my life I've prayed for you, My favorite dream come true. My happily ever after, My forever … I Do".
Haskins Proposed To Gondrezick With Huge Ring
On July 11, 2021, Dwayne proposed to his girlfriend with a huge ring. He might not have a Super Bowl bling yet, but his engagement ring definitely looks amazing. His fiancé has something close to a Super Bowl ring.
The NFL quarterback proposed to his girlfriend during the weekend with a huge diamond ring. And the Steelers quarterback shared the footage of the proposal on social media.
Haskins, his girlfriend, and their family and friends partied at TAO restaurant in Last Vegas. And that is when the former NFL first-round draft pick got down on one knee and popped the question. Celebrity jeweler Zo Frost made the ring.
We do not know how much Haskins paid for the ring. But he can surely afford it. After all, he made more than $14 million since he started his NFL career.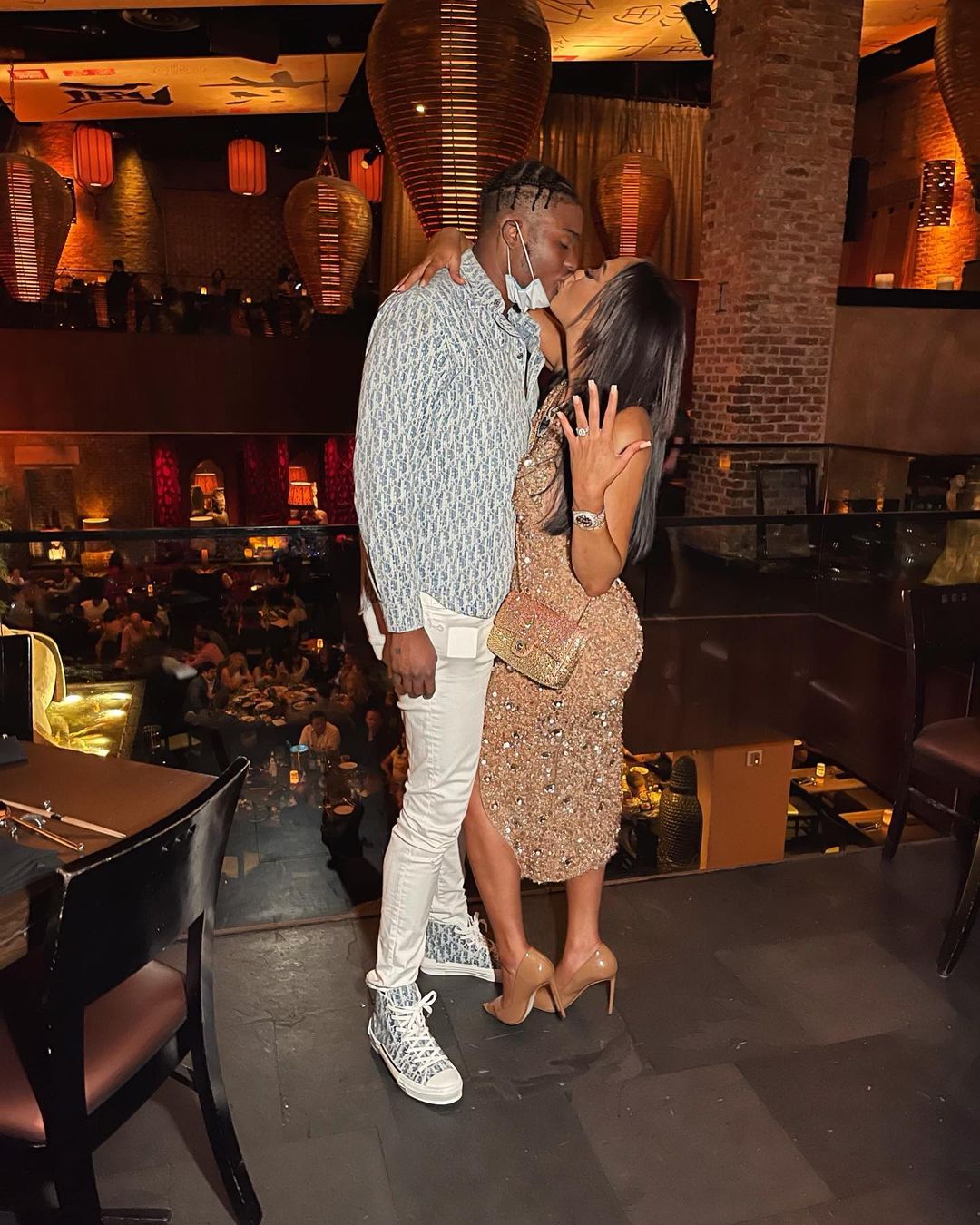 Dwayne's Wife Punches Him In The Mouth
And when everything seemed magical and amazing, things took a turn for the worst. On July 15, just a few days after they got engaged, Dwayne Haskins' girlfriend allegedly punched him in the mouth. She is facing domestic violence charges after a fight with the Pittsburgh Steelers quarterback in a Las Vegas hotel room.
According to ESPN reports, Kalabrya is facing a felony charge of battery and domestic violence resulting in bodily harm. She is accused of punching her man in the mouth and causing facial injuries during a fight.
The reports say that Dwayne had a split upper lip and a missing tooth. He might need dental work to repair the damage. Officers at the spot found a piece of tooth and blood when they searched the room.
The Steelers did not comment about the situation initially.
Who Is Dwayne Haskins's Ex-Girlfriend Savhana Aria Cousin?
Before he dated and married Kalabrya Gondrezick, Dwayne was in a longtime relationship with Savhana Arai Cousin.
The former girlfriend of the football player was born in July 1998 in Green Springs, Ohio. She is the daughter of Earlene Jordan and Stanley-Sewell. As the only child of her parents, she enrolled in the Freemont Ross High School.
In 2014, she was in a car accident and suffered a horrific injury on her face. Savhana and Dwayne dated for a long time, but nobody knows why did they break up. In the end, Dwayne got married to Kalabrya, the woman that later punched him in the mouth.
We can safely say that Haskins cannot catch a break.
Comments
0 comments