Derrick Henry Jr. is an American football running back playing for the Tennessee Titans of the National Football League. Born in January 1994 in Yulee, Florida, he is also famous as King Henry. Fans call him like that because of his imposing rushing game. But how much do you know about Derrick Henry's girlfriend?
Born to Derrick Henry Sr. and Stacy Veal, Derrick was mainly raised by his grandmother Gladys. She nicknamed him Shocka because his birth shocked the family. At the time of his birth, his parents were 16 and 15 years old respectively. His father was absent for most of his childhood because he got arrested often for crimes, mainly drug and prostitution-related offenses.
Derrick developed a close relationship with his grandmother, citing her as one of the most influential people in his life. He attended Yulee High School where he played football, track, and basketball. Then he went to the University of Alabama and graduated in May 2018 with a Bachelor's degree in communications. He attended Alabama as a promise he had made to his late grandmother.
Who is Derrick Henry's Girlfriend Adrianna Rivas?
As of September 2021, Derrick Henry is in a relationship with Adrianna Rivas. There is no information about previous serious relationships. We do not know about any casual affairs as well.
Derrick and Adrianna are together since 2016. Before she met Derrick, she supported the Dallas Cowboys. But since she and Derrick are together, she changed her allegiance.
Born in May 1994 in Odessa, Texas, Rivas is a middle child. She has two brothers. Her older brother is a partnership manager at Digital Media Ninja in Dallas, while her younger brother is in his teenage years.
Adrianna graduated from the University of Texas Arlington in May 2016 with a Bachelor of Arts in public relations.
When she started her working career, she first worked as a guest service representative at Marriot International. She then moved to account executive at Technifax Office Solutions. Now she is the CEO of her own company, Attraction by Adrianna. Her business provides eyelash extension services.
As with most celebrity wives and girlfriends, Adrianna supports her football player boyfriend from the stands. And when she cannot make the trip to the stadium, she roots for him while watching TV.
In December 2018 Adrianna took to Instagram to share a video of her boyfriend Derrick Henry's famous 99-yard run.
Derrick Henry's Girlfriend Gives Birth to a Daughter
Derrick and Adrianna have been together since 2016. While there are no plans for a wedding yet, they have become parents of a baby girl.
In January 2020, Rivas shared an online photo of a sonogram and announced that she expects a baby. She wrote in the caption, "My body may have made her heart but she made my heart complete. She's my reason and my strength. Thank you, God, for our baby girl".
Valentina Allure Henry was born on May 18. From that point on, Derrick had to change his routine. Talking to Kevin Hart on his show Cold as Balls: Cold Calls, the NFL star said that when he doesn't hold or feed his daughter, that is when he can work out and chill. He also confessed that his sleeping changed dramatically.
Derrick Henry and Adriana Rivas Dog Parents
Before they became parents of a baby girl, Derrick and his girlfriend Adrianna Rivas were pet parents. They took care of their two dogs, Nala the Golden Doodle and Nino the Rottweiler mix.
For Nino's second birthday, the couple uploaded images of the dog wearing a birthday hat and waiting for his cake.
As of September 2021, Derrick Henry net worth is around $5.5 million. The NFL player is an up-and-coming star. He earns enough to take care of his family and dogs.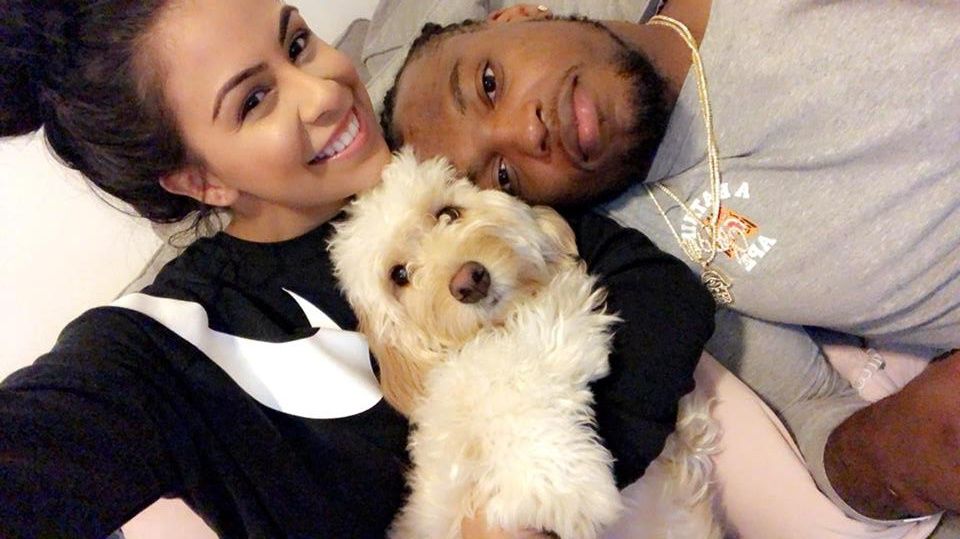 Derrick Henry Grandmother
Derrick Henry has a portrait tattoo of his late grandmother, Gladys. He says she was the most influential person in his childhood and adolescence.
In 2018, he left college for the NFL after three seasons, a national championship, and a Heisman Trophy win. He still managed to fulfill the promise he made to his late grandmother when he graduated from Alabama.
In an entry published in The Player's Tribune, Henry told the story. Titled "I did it Grandma", the article told the emotional story about the relationship with his grandmother and how she emphasized the importance of education to him.
His grandmother was hospitalized with a respiratory infection in 2016 during his rookie season. Derrick says, "It killed me that I couldn't be there with you".
Here is an excerpt from his article for The Player's Tribune:
You were my best friend.
Even when I left Yulee, Florida, for Alabama, you called me all the time, telling me how much you missed me.
"When you comin' home, Shocka?"
I'd be like, "Grandma, I miss you, too … but I can't come home. I got football. I got school."
"You doin' your lessons?"
"Yes, ma'am."
"You better be."
You always made sure I understood the importance of education. "Football ain't gonna last forever," you'd say. So I always told you that no matter what else happened in my life, I would make sure that I got my college degree. I made that promise to you.
Well, Grandma … I want you to know that I did it.
Today, I'm going to walk across the stage and receive my degree from the University of Alabama.
Graduating is something that I've wanted to do for myself, but also, for you. I always wanted you to be proud of me, and I know that you are. I just admired you so much growing up.