Denis Shapovalov is a Canadian professional tennis player. Born in April 1999, he was the youngest to enter the top 30 in 1028. On 21st September, he achieved his career-high ATP singles ranking at No.10. He rose to prominence after reaching a Masters semifinal at the 2017 Canadian Open as an 18-year old. He has had a successful career so far. Who is Shapovalov's girlfriend helping him on his path?
Let's talk about Denis Shapovalov's professional career and the woman by his side. In 2017 at the Canadian Open, Shapovalov managed to beat two former Grand Slam Champions in Rafael Nadal and Juan Martin delPotro.
Shapovalov has reached the Final of the 2019 Rolex Paris Masters and three more Masters semifinals at the 2018 Madrid Open, 2019 Miami Open, and the 2020 Italian Open.
At the 2021 Wimbledon Championship, he reached the semifinal. To be a successful tennis player, you need support from everyone around you. And Denis has that thanks to his stunning girlfriend.
Born in Tel Aviv, Israel to Russian and Ukrainian parents, Denis has a sibling, his elder brother Evgeniy. His mother also was a tennis player. She moved to Israel with his father when the Soviet Union collapsed and then started a tennis coach career there.
Who is Shapovalov's Girlfriend?
As of June 2019, Denis Shapovalov's girlfriend is Mirjam Bjorklund. The two celebrated their two-year anniversary on June 26, 2021. Denis remains the youngest player to break the ATP rankings in Top 30 since 2005.
He is a Canadian born in Israel. As of September 2021, he is the 13 best tennis player in the world. He hopes to win Grand Slam in 2022 with his girlfriend by his side. And of course, with the help and support of his family and coaches.
Denis's girlfriend Mirjam Bjorklund is also a tennis player. Born in July 1998, she is a year older than her boyfriend. Born in Stockholm, Sweden, she has won 6 singles titles in the ITF Women's circuit. She cracked the WTA Ranking, reaching the top 300.
Mirjam has a sister, Tanja. Her sister works as a marketing coordinator at Good to Treat Tennis Academy in Stockholm. Tanja also studies in sports management at the Swedish School of Sports and Health Science.
Bjorklund reached her career-high in August 2019 by making it to 298 on the WTA ranking. She also reached No.515 in September 2018 in doubles. But she is far from the ATP rankings of her boyfriend Denis.
To this day, Shapovalov's girlfriend has won 94 professional tennis matches in her tennis career. She has played 148 professional matches.
Mirjam played her last match on June 15 in 2021. She had to retire and forfeit the match after playing against world No.378 Carole Monnet in the first round with the score at 5-0.
In 2021, Mirjam has a record of 7-13.
How Did They Meet?
Denis and his lovely girlfriend met for the first time in 2019. They started dating on June 26, 2019. But the Swedish tennis player didn't make it to Denis's Instagram until November 2019. Since then, the Canadian tennis player and his girlfriend have made numerous appearances on social media. They look loved up in sweet pictures.
Denis and Mirjam also share vacation pictures. They live in the Bahamas. He met the Swede when he was only 20 years old. And he says it was love at first sight.
Their relationship became public on October 20, 2019. Denis won his first and only tournament, the Stockholm Open. His stunning girlfriend was in attendance and the two of them hugged after Denis won the trophy.
Denis Shares A Romantic Message For His Girlfriend
Denis says he is a very lucky guy to have Mirjam by his side. He often shares pictures of the two of them during trips, city breaks, romantic getaways, or just chilling together. Ranked at Number 13 as of September 2021, Shapovalov and his romantic girlfriend have been together for a while.
He often says and credits Mirjam for his success. And every chance he gets, he posts a picture or a lovely message for her on social media.
In June 2021, he posted again celebrating their two years together. This time, he wrote, "Happy 2 Years (and 1 day) with my bestie and to many more". Yes, he wrote the message on June 27, one day after their anniversary.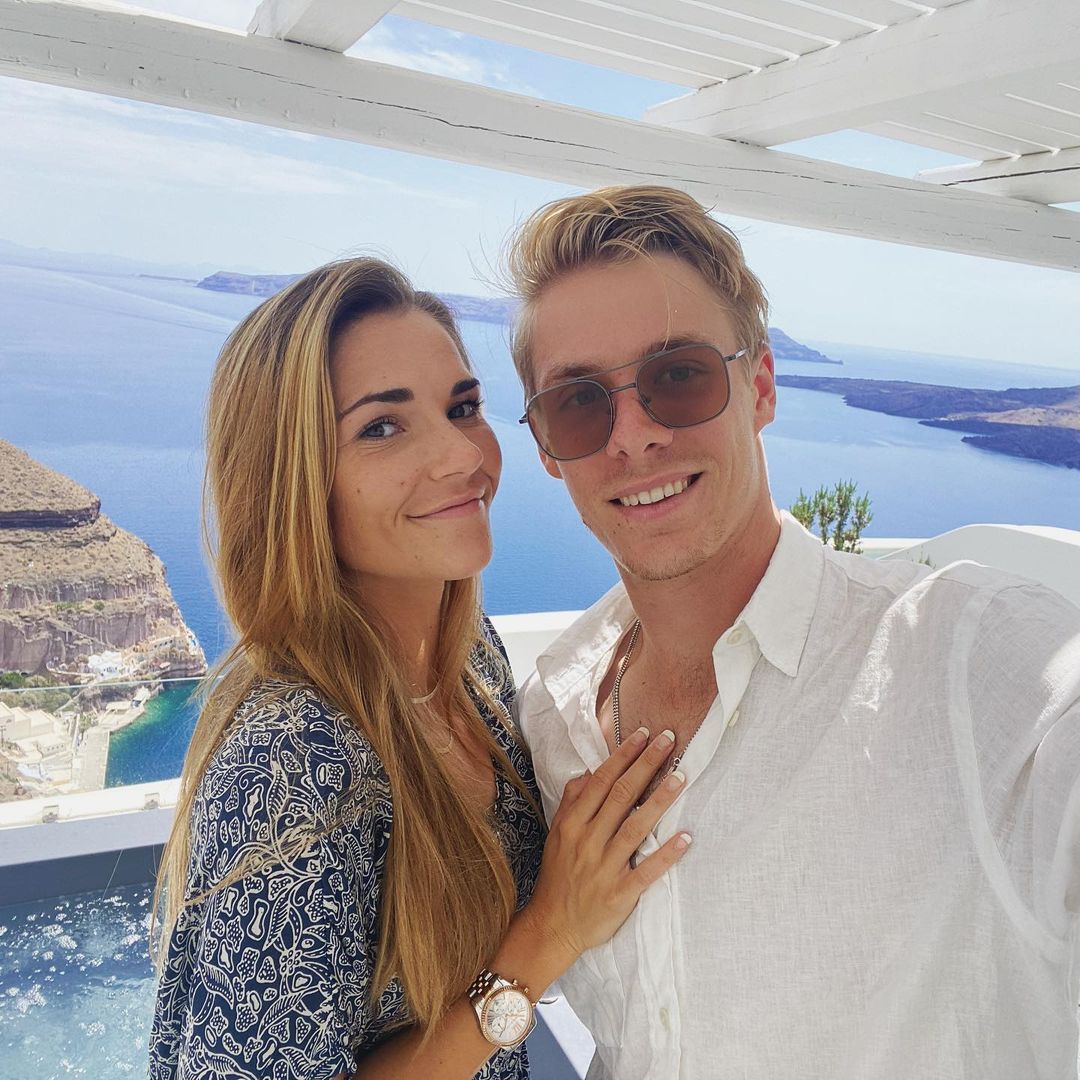 Denis Shapovalov Ex-girlfriend Penny Oleksiak
Mirjam is not the only athletic girlfriend Denis has had. Before dating her, he dated Penny Oleksiak. Born in June 2000 in Toronto, Ontario, she has a whole family with an athletic background. She is the youngest of five siblings.
Penny is a Candian competitive swimmer and she specializes in freestyle and butterfly events. She is the youngest Olympic champion in Canada with a gold medal in 100m freestyle.
Penny and Denis dated when they were very young. They met through sporting connections. While they were one of the cutest young power couples in the sports fraternity, their relationship didn't last.
Now, Shapovalov is with Mirjam. There is no info on Penny's boyfriend or any other dating choice.