James Dansby Swanson is an American professional baseball shortstop for the Atlanta Braves of the Major League Baseball. Born in 1994, the professional baseball player attended Vanderbilt University and played college baseball there. He went first overall in the 2015 Major League Baseball Draft. Dansby Swanson's girlfriend has been by his side through all the ups and downs in his baseball career.
The Arizona Diamondbacks selected him but traded him to the Braves during the 2015-16 offseason. Dansby made his MLB debut in 2016.
Born in Kennesaw, Georgia, he grew up in Marietta with his two old siblings. He has a sister, Lindsey, and a brother Chase. He comes from an athletic and sports family. His brother and father played college baseball while his mother played college basketball.
During his childhood, he played baseball and basketball while attending Marietta High School. But since his university days and college baseball career, he focused only on baseball.
Who is Dansby Swanson's Girlfriend?
Dansby has had an up and down career since being selected as the Number 1 pick at the 2015 MLB Draft. His career was derailed by injuries. These injuries have caused his hitting to be inconsistent. Sometimes he offers glimpses of what was promised. But 2021 has not been kind to the American professional baseball player.
Still, he believes that he can recapture his form with god and his girlfriend by his side. He has been dating girlfriend Mallory Pugh of the Chicago Red Stars since December 2017. She is also part of the United States women's national soccer team.
Born in April 1998 in Littleton, Colorado, Pugh is a soccer player. Similar to her boyfriend, she comes from a family of sportspeople. Mallory attended Mountain Vista High School in Colorado. Since middle school, she plays internationally.
After finishing high school, she planned on attending UCLA. Yet, she chose to pursue a professional soccer career instead.
She and Dansby do not have any kids.
How did he and his girlfriend meet?
So how did Dansby Swanson and his lovely girlfriend meet? As a religious person, Dansby believes that everything in life happens for a reason. He puts most of the credit for his career on his girlfriend.
He was the Number 1 pick, a selection that brings pride but also a level of expectations. Yet, his team traded him to the Atlanta Braves. And that was the best thing that could have happened to him.
When he arrived in Atlanta, he started hanging up and befriending Jace Peterson. He was the one who played the role of cupid for the baseball player and his girlfriend.
Dansby Swanson's girlfriend met the player through his teammate, Jace Peterson. He is Mallory's brother-in-law and introduced them to each other. Swanson and Pugh started dating in December 2017. They often share pictures on Instagram.
Before their meeting, the couple ran in completely different circles. Change of fate in Dansby's professional career made this relationship possible.
Speaking about Jace, Swanson had this to say, "Her brother in law and me are pretty much family, as close as you can be without being an actual family. Ride or die. So I knew Jace before I knew anything about her. She plays soccer for the US Soccer Team. We never would have met if I didn't get traded to Atlanta. Would never have met Jace, the whole thing".
He says that he is thankful for what happened and all the little things that led to that. Dansby says, "Would never have met her, never have had that blessing. When we met was after the worst year of my life, and that completely did a 180. For whatever reason, there's a reason. You may not see it when you're going through it, but then all of a sudden the floodgates open up. It's pretty awesome".
That interview took place in 2019 when the two were still starting up. Since then, they have become even closer than ever. Scrolling through their social media feed you can find lots of comments and pictures of the two together.
Dansby and his girlfriend often make public appearances together. Fun fact: They also educate each other for the respective sport they play. The Braves star said he learned more about football and he loved supporting his girlfriend during the World Cup.
Dansby Shares a Message for His Girlfriend on Her Birthday
We said before that the Atlanta Braves star often shares pictures with him and his lovely girlfriend. Well, on April 29, 2021, he shared a special birthday message for her.
Dansby captioned the picture with, "Happy birthday to my best friend, and the most incredible woman I know! Thank you for showing me how to live out your faith in Jesus each and every day. I love you".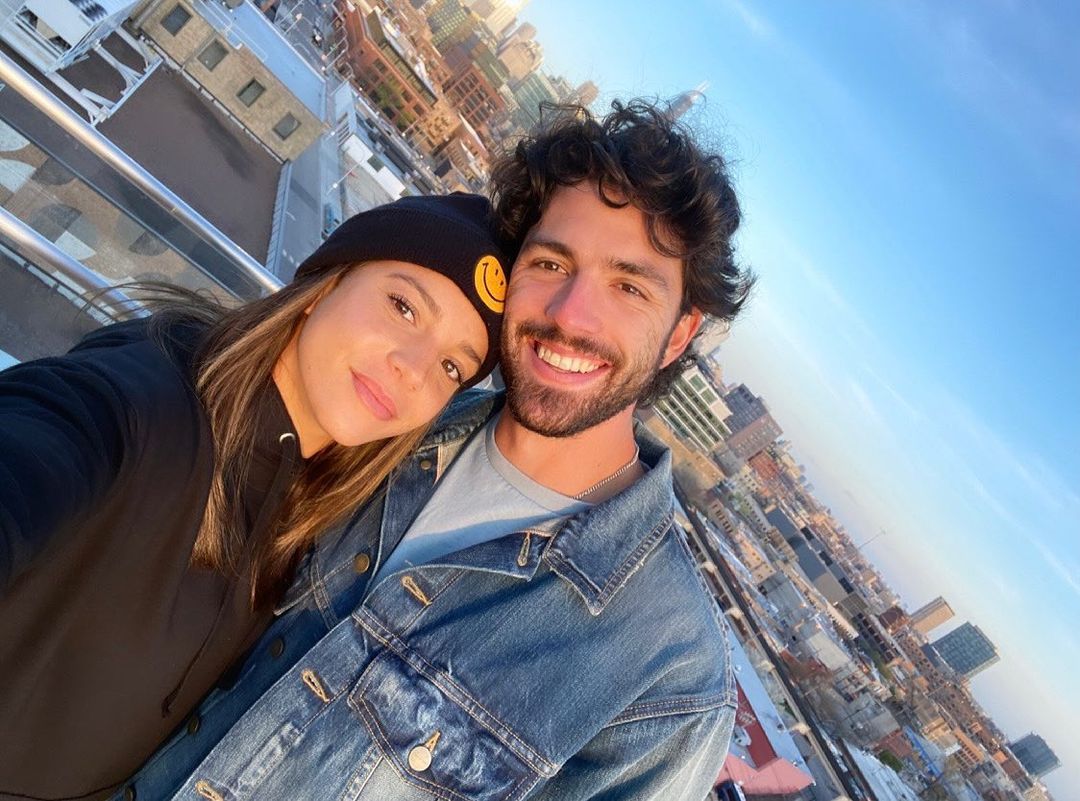 Dansby Swanson ex-girlfriend
Dansby Swanson has had a few girlfriends in his life. But none of them managed to capture his heart the way Pugh did.
Before dating the soccer star, he dated fellow student Kara Sheft during his time at Vanderbilt University. She was a student of physical therapy. They dated for a while but broke up after graduation.
Before dating Kara, Swanson dated a woman by the name Katy Huffman. According to reports, they dated for two years before calling it quits. She works as an advertising executive.
While Swanson is a baseball star with many beautiful girls around him he is picky in terms of dating.
Comments
0 comments