Daniel Radcliffe is an English actor famous for playing Harry Potter in the Harry Potter series. Born and raised in London, he made his acting debut at the age of 10 in the BBC One television movie, David Copperfield. Since his popularity grew, Daniel has been the subject of sexuality rumors, precisely, homosexuality rumors. But who is Daniel Radcliffe's girlfriend?
The Harry Potter star is one of the most famous faces in the world, and according to many, the most famous gay face. Even the English actor in one interview said he was thrilled that newspapers suspect he was gay simply because of his face. He said, "I had to smile when stories emerged questioning whether I was gay. Obviously I know I wasn't but people were curiously desperate to suggest I was".
But as know, he has had a girlfriend for quite some time. And no, it is not a mask. So, how much do you know about Daniel Radcliffe's girlfriend?
Who is Daniel Radcliffe's Girlfriend?
Harry Potter fans love to keep up with their favorite Hogwarts students. And they do that by following their personal life and romantic relationships. These days, most of the Harry Potter cast has been in romantic love with someone.
Daniel Radcliffe, the actor playing Harry Potter, has been dating another actress. He and Erin Darke have been dating for a while. What do we know about Daniel's girlfriend?
Well, Darke is an actress. Born in Flint, Michigan, you might recognize her for the many movies and TV shows. She appeared in the Beach Boys biopic Love & Mercy. She also appeared in the Oscar-nominated Still Alice. Speaking on the TV side, she has appeared in Good Girls Revolt.
The role of Cindy in the TV series Good Girls Revolt remains her most famous to this day. She describes herself as a girl from Flint. Erin came to New York at the age of 21. She and Daniel have been dating since 2012. The two met at the set of Kill Your Darlings.
When she is not acting, she follows her second passion, sports. According to her Twitter bio, Erin Darke is a "Fantasy football enthusiast" and "devoted Red Wings fan".
How did Daniel and his Girlfriend Meet?
So, how did Daniel Radcliffe and Erin Darke met? The two shared the set on Kill Your Darlings, a movie that appeared in 2013. But they filmed it in 2012. Daniel talked more about their first meeting.
In one interview with People magazine, he said, "it will be a hell of a story to tell our kids one day because of what our characters do with each other. Our characters are meeting and flirting with each other, so there is this kind of sweet record of us just meeting for the first time and flirting".
Daniel referenced a sex scene in that interview. But the chemistry between them was apparent since Day 1. In another interview, he talked about the immediate attraction to his fellow colleague actress during the first scene.
Radcliffe said to Playboy magazine, "There is no acting going on, not from my end anyway. There is a moment when she makes me laugh, and I am laughing as me and not as my character. She was incredibly funny and smart. I knew I was in trouble". Even from the very beginning, they bonded over how much they love what they do.
While they do not make many public appearances or tabloids appearances, Daniel has never been shy about professing his love for the actress. He refers to her as his best friend. In a US Weekly magazine interview, he said, "I think that's the kind of relationship I always aspire to have with someone I am in a relationship with. You want that person to be your best friend".
Several years later, they are still going strong.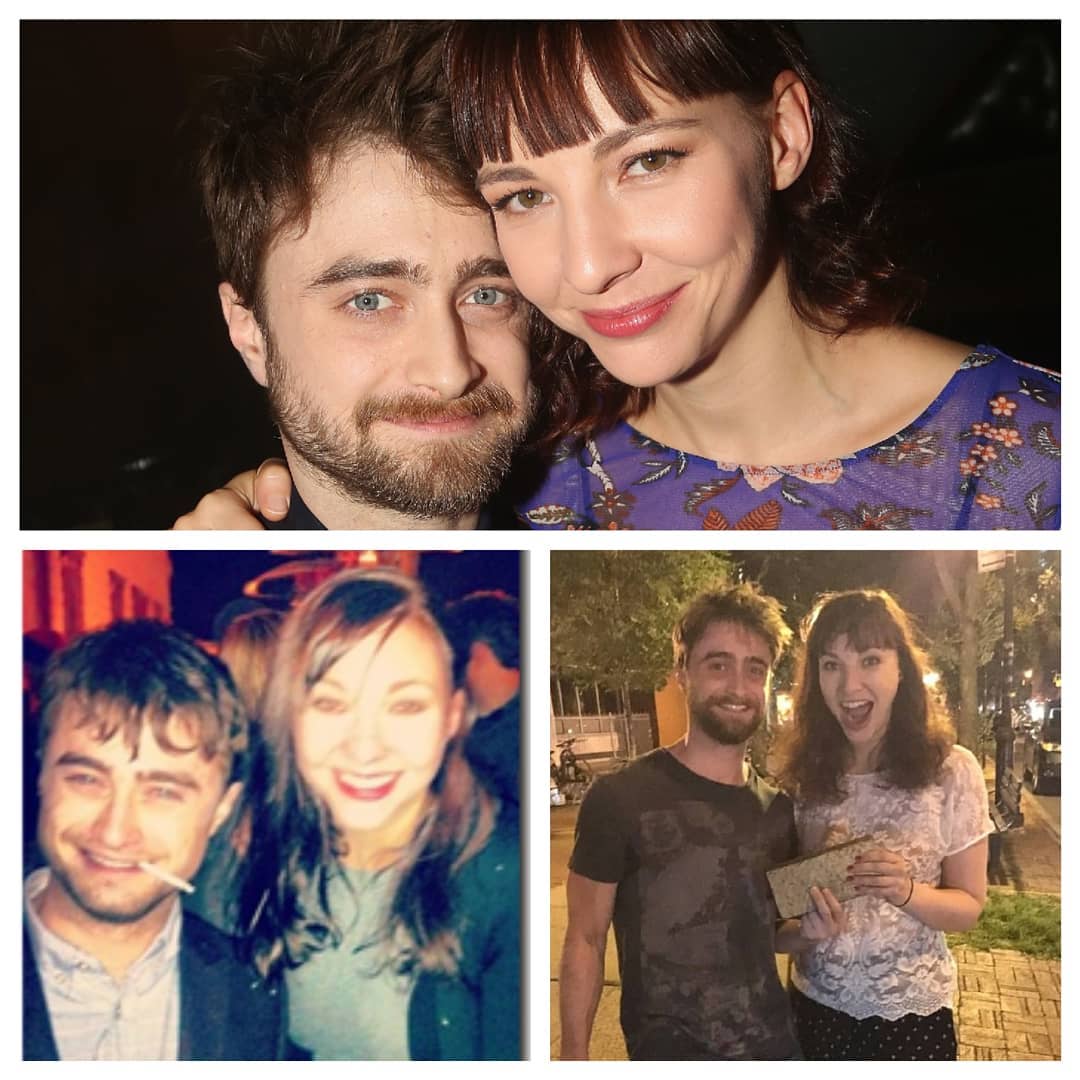 No Wedding Plans Yet
While the couple is going strong, there is still no plan for a wedding. They have been together for the better part of the past decade. Darke once jokingly said, "We are at the point now where I've seen my own wedding reported several times".
But she continued, "You do start to dismiss things you read about your partner if you are pretty sure they are not true. I spent a week once having to text all my family members being like 'I promise if I am getting married, you will find out from me and not US Weekly'".
Daniel also echoed the statement, saying that many times his co-stars get thrown into their fictional wedding. At least several times, tabloids wrote that Emma Watson will be the maid of honor and Rupert Grint the best man.
Is Daniel Radcliffe Gay?
All this talk about Daniel Radcliffe's girlfriend and we almost forgot about the many rumors about his sexuality.
Those started appearing in the late 2000s when he faced gay rumors because he has a gay face. But he quickly shut down the rumors. In one interview, he said, "I had to smile when stories emerged questioning whether I was gay. Obviously, I knew I wasn't but people were curiously desperate to suggest I was."
And he took that compliment about his face as a good thing. In 2011, Daniel started dating Rosie Coker, shutting down the rumors completely. The couple met at the set of Harry Potter in 2007 but went public with the relationship in 2011.
He affirmed he is not gay, but voiced his support for the gay community. In one interview, he said, "When you know a gay guy has a crush on you it's the most flattering thing".
Daniel and Rosie broke up in October 2012. Neither party wanted to discuss the split. Soon after, he started dating Erin Darke.
Coronavirus Hoax
Daniel Radcliffe and his girlfriend Erin Darke were the first celebrity couple to fall victim to a coronavirus hoax. In mid-March in 2020, when the current Covid-19 pandemic was starting, he and his girlfriend were rumored to be affected by the virus.
A Twitter account reported fake news that the actor had contacted coronavirus, making him the first famous person to be publicly confirmed. Users started sharing the Tweet before Twitter suspended the account.
Soon afterward, BuzzFeed interviewed the people behind the hoax. The group of anonymous people said they did it because it was funny. And they choose Daniel because he was famous, but not famous enough to be unbelievable.