Cameron Diaz is only 48 years old as of December 2020. Yet, she retired from acting in 2018. She did say that a return might happen one day. But as of now, she is a retired American actress and a former model. Now, she works as a producer and author. Comedies helped her gain recognition in Hollywood, yet Cameron had a couple of dramatic movies as well. Today, we will take a look back in time.
Let's check some of the photos of young Cameron Diaz. Have you seen these photos? Born in San Diego, California, Cameron spent her childhood in Long Beach. During her high school years, she signed a modeling contract with Elite Model Management. At the time, she was this cute and adorable teenage star. Since then, she grew up to a sexy, handsome, mature woman.
Her movie accolades include four Golden Globe Award nominations, three Screen Actors Guild Award nominations, and one memorable red dress.
Diaz started her movie career at the age of 21 in the hit comedy The Mask. Starring opposite Jim Carrey helped her learn from the best. Since then, she appeared in Charlie's Angels, Vanilla Sky, and voiced Princess Fiona in the Shrek series. Let's take a look at rare Cameron Diaz young photos.
1. Charlie's Angels Beginnings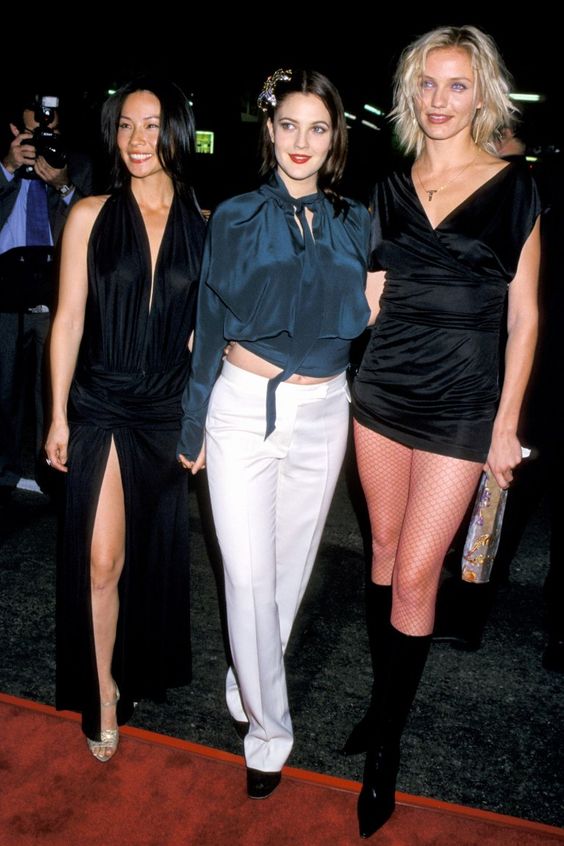 Cameron appeared in three Charlie's Angels movies alongside Drew Barrymore and Lucy Liu. These movies put a mark on the 2000s, with these three earning accolades as sexiest women alive. In this photo, we see them appearing together for an event.
2. The Classic 90s Girl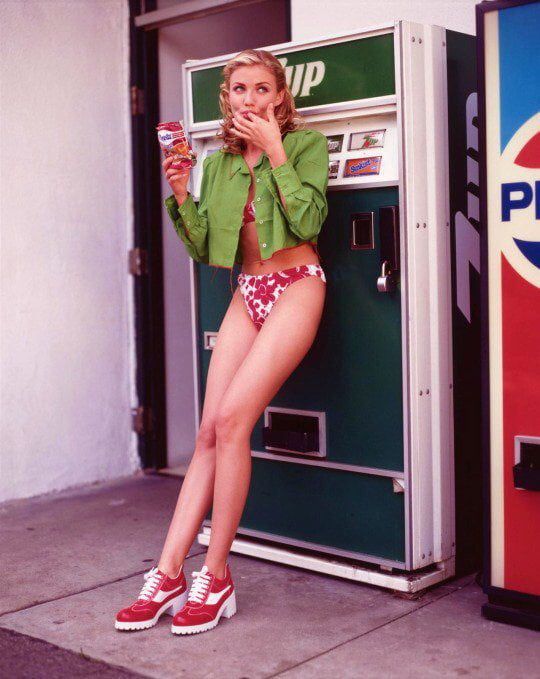 Cameron started her career in the early 1990s. Here, we see her as a classic 90s girl. Even the bikini look cute and adorable, unlike the sexy stuff she put on later in her career. And taking a photo next to a vending machine is a great idea. Can it get more 90s than this?
3. First Famous Relationship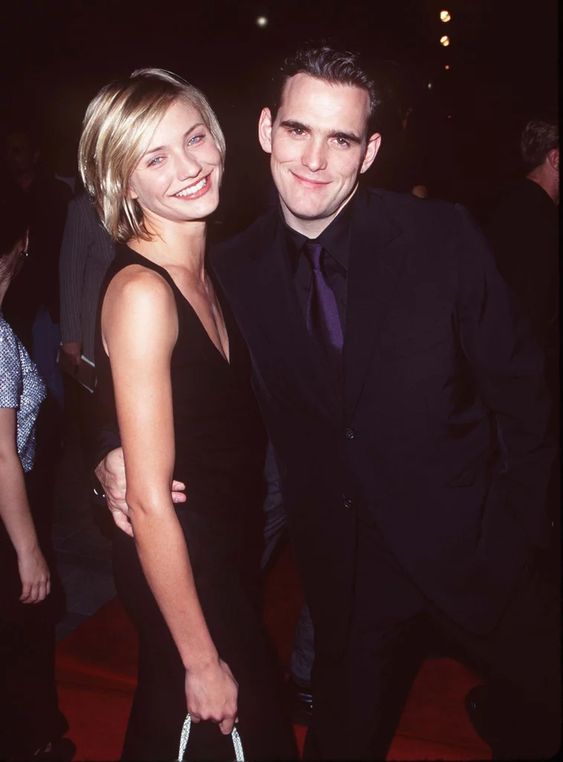 Before the Britney Spears and Justin Timberlake relationship in the 2000s, Cameron had a high profile relationship. Yes, we've seen celebrities getting together before in the 1970s, 1980s, and even earlier.
Cameron dated Matt Dillon from 1995 to 1998. That was her first famous relationship. After that, Diaz dated other celebrities as well. And they all fell in love with her. Dillon once said, "Cameron was a muse for me".
4. Cameron And Her Dog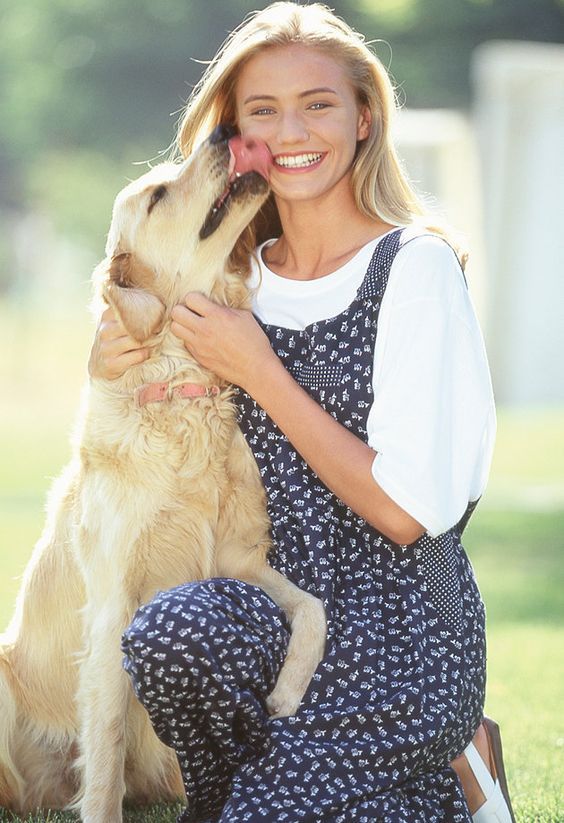 No, Cameron Diaz doesn't own a dog. At least not one we know of. But during her early teenage years, Cameron did a lot of photoshoots. For this particular photoshoot, she had a Golden co-star.
You can see the grinning golden girl nowadays as well. This image dates from 1989. She had two fun-filled sessions. For the second one, she put on a baggy white T-shirt beneath baggier navy-patterned overalls.
And she flashed her smile alongside a very affectionate co-star, a Golden Retriever.
5. Movie Debut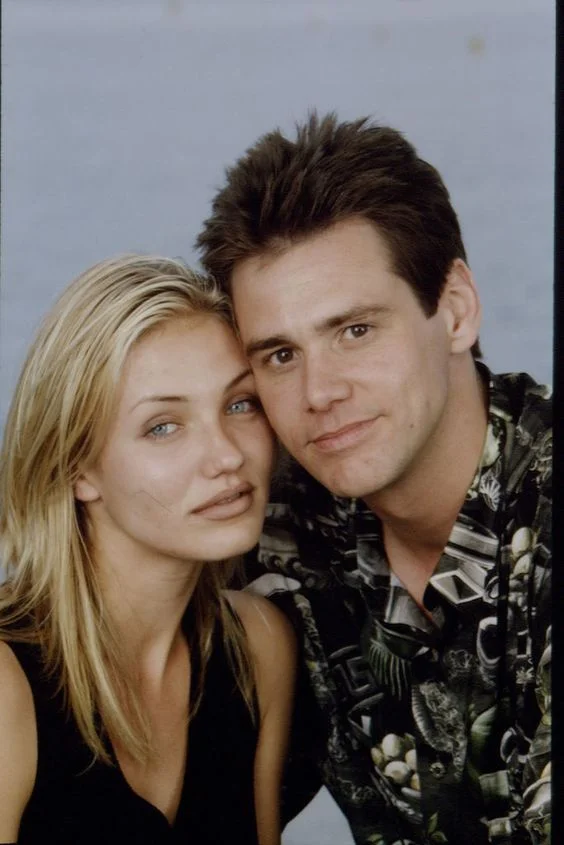 Cameron had her movie debut in The Mask. She auditioned to play a jazz singer, Tina Carlyle. Her agent for Elite recommended her for the movie. The rest is history. She was only 21 years of age when she made her movie debut opposite Jim Carrey. Here are the two on set, smiling and having fun.
6. First Movie Premiere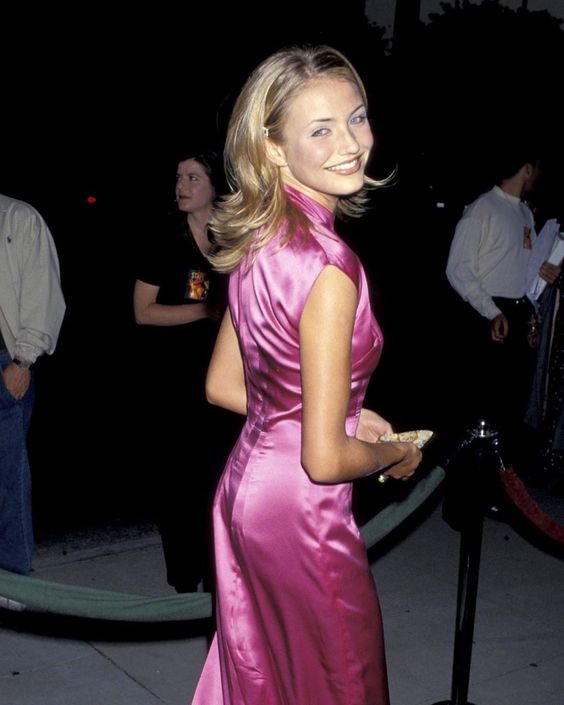 This is the dress Cameron wore for her movie premiere of The Mask. Do you like it? No, it doesn't look like anything she would wear today. But you have to remember, Cameron was only 22 years of age when the movie premiered. She hadn't developed a fashion style yet.
7. That 90s Vibe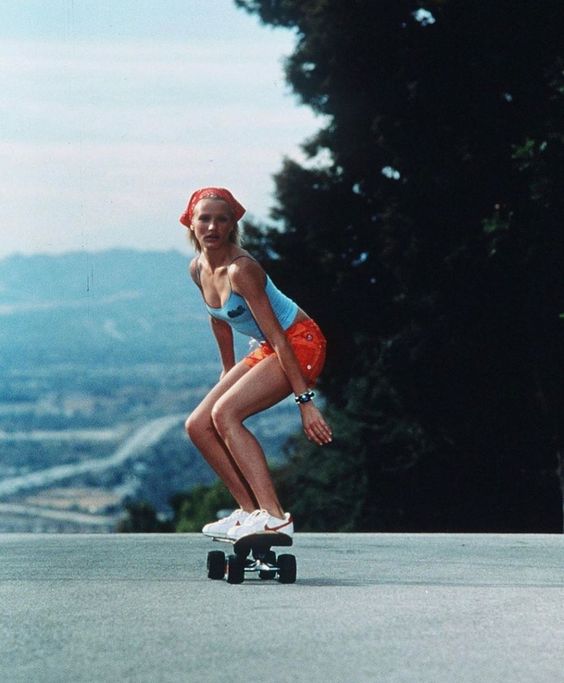 When you think about the 1990s, there are a couple of things that come to mind. And rollerblades and skateboards certainly fit that category. We can safely say Cameron had a good childhood and teenage years.
She was active then, and she is active now. Skateboarding certainly kept her in shape during her young years.
8. The Young Adorable Teenager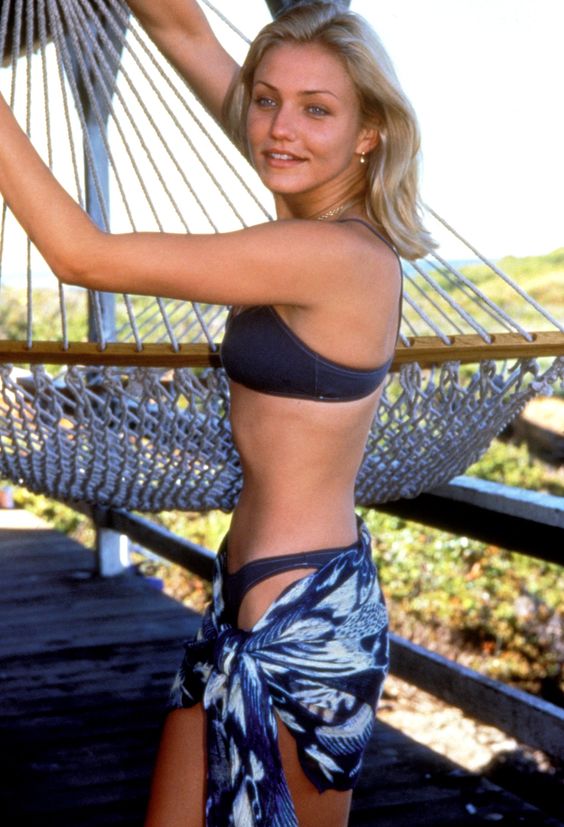 When you think of Cameron Diaz, you think of her beautiful smile. And here she flashes that smile for the camera during a vacation. You can always recognize that smile. Look at her bikini, they are certainly far from sexy. It took her a couple of years to really enter the world of sexiest women in the world. That title came after appearing in Charlie's Angels.
But back in the days, Cameron was this shy, cute, and adorable little girl.
9. Yearbook Photo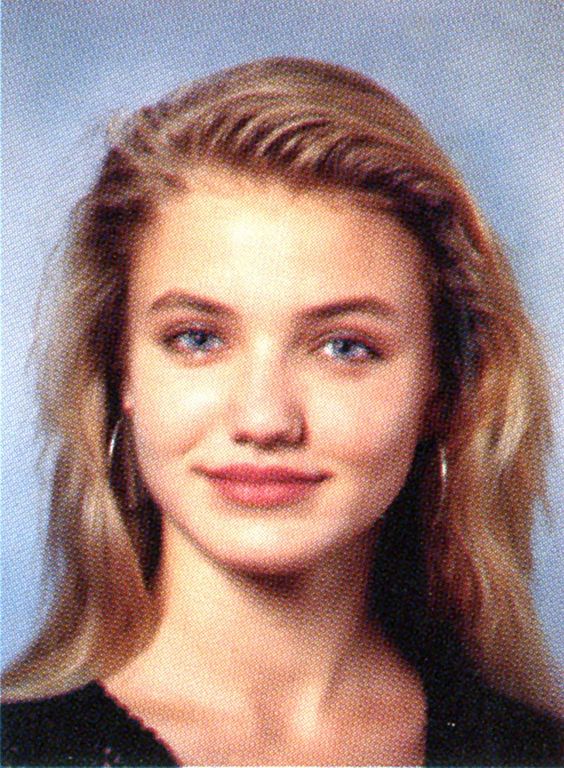 We can safely say Cameron hasn't changed a lot since her prom. Her face looks the same, her hair looks the same, and her eyes stare at you with the same depth.
Her best feature is her smile. And she flashed it for the camera for her Yearbook photo.
Comments
0 comments