Eating ice cream in the summer is a godsend activity. With the temperature as high as possible, you definitely want something to cool yourself down. Ice cream is probably among everyone's top 3 choices. With that in mind, ice cream makers have not been popular in the past several years. They were not considered an essential kitchen item. But thanks to the rise in popularity of frozen yogurt, ice cream makers have seen its own rise in popularity. Why? Because the best ice cream maker can make both ice cream and frozen yogurt.
With that in mind, we've conducted deep and thorough research, tested a couple of machines, and come up with the top 10 best ice cream maker devices available on the market. All of these are great choices for an ice cream maker. It really comes down to what you prefer in a machine, what type of machine you need, how much you are willing to spend, and what occasion will you use the machine for.
Just keep in mind, with every ice cream maker, you end up with more soft-serve ice cream than a traditional store-bought ice cream. Once you are done making the ice cream, you have to let it firm up in the freezer if you want harder ice cream.
Different types and styles of ice cream makers
Depending on how often you intend to use the machine, and what occasion you will use it for, there are different styles and types. Generally speaking, there are three different styles of the best ice cream maker.
Those are:
Ice and salt
This is the classic and old-fashioned ice cream maker. In most cases, this is the most affordable and budget option. Basically, an ice and salt maker is a canister filled with ice cream base in a bucket of ice and salt. You churn the mixture either by hand or with a motor clamped onto the top of the machine.
If your goal is to make ice cream just for a few times during the summer months, and you are not willing to spend a lot, this is the machine for you. Bear in mind, you won't get the smoothest texture, but you will get ice cream. Things can get pretty messy with ice and salt machine, so it is best to use it outside.
Prefrozen bowl
This version is for more common use. Usually, this type of ice cream maker is basically a liquid-filled insert bowl, which you have to freeze between 8 and 24 hours. After that, you put the bowl into a separate machine that churns the ice cream base. It is also a budget-friendly option. The downside is that the bowl takes up valuable space in the freezer. And you cannot make back-to-back batches, since you need to prefreeze the bowl. You can make only between 1 and 2 quarts of ice cream at a time.
Compressor
If you need to make large batches of ice cream, and you want to do it easily, there is nothing better than the compressor type. It is so easy to use, you just flip a switch, and you can get batch after batch of ice cream. There are just a few buttons, and some are even loaded with automatic settings. The compressor type is the closest you can get to professional ice cream maker at the convenience of your home.
What to look for in an ice cream maker?
There are a couple of factors that will determine which maker is the best ice cream maker. And which one suits you. Here are some factors to consider before making a purchase.
Freezing style
We touched on this topic previously. There are three common freezing styles. If you want cheap, go for ice and salt, or the prefreezing bowl. But if you are short on freezer space, the prefreezing bowl is not convenient. If you need to make batch after batch, go for compressor model.
Power source
There are two different power sources. Electric machines make the job easier. You have to understand, that churning ice cream can take up to 20 minutes, or sometimes even more. Doing it with a manual machine can be tiring, and the job will become more difficult as the ice cream hardens. On the positive side, manual machines do not need electricity, and you can bring yours anywhere you go.
Batch size
In most cases, this is the deciding factor. How much ice cream do you want to make at once? If you have big family, or you throw ice cream parties often, you need a larger-capacity unit. But if you want to experiment with new recipes on a daily basis, go for a machine that makes smaller batches and is easier to clean.
Price
For many consumers, price is the biggest factor. Truth be told, you can get a decent ice cream maker for just $20 or $30. But the motors on budget-friendly machines are not made to withstand extended use. If you make ice cream two or three times per week, you will burn the machine by the end of the season. Spending more upfront ensures your machine lasts longer.
Tips for making ice cream
Even if you buy the best ice cream maker, you are not guaranteed perfect results. That is, because, you need to do the work after all. While most machines come with an instruction manual, we want to give you some extra tips for making perfect ice cream at home.
Before you spin the base, thoroughly chill it in an ice bath, or in the fridge overnight. The colder the base is, the sooner it starts to freeze, and it will produce smaller ice crystals. Some machines do this for you, but they cost a lot
Once you make the ice cream, it is edible, but not scoopable. That is why you should put it in a container and then in the freezer for a few hours. Additional freezing reduces formation of ice crystals
Add mix-ins and flavors before "ripening" the ice cream, which is the step of putting the ice cream in the freezer
Make sure the outside of the bowl is dry before placing it in the machine
Top 9 Ice Cream Maker Devices
Cuisinart ICE100BCU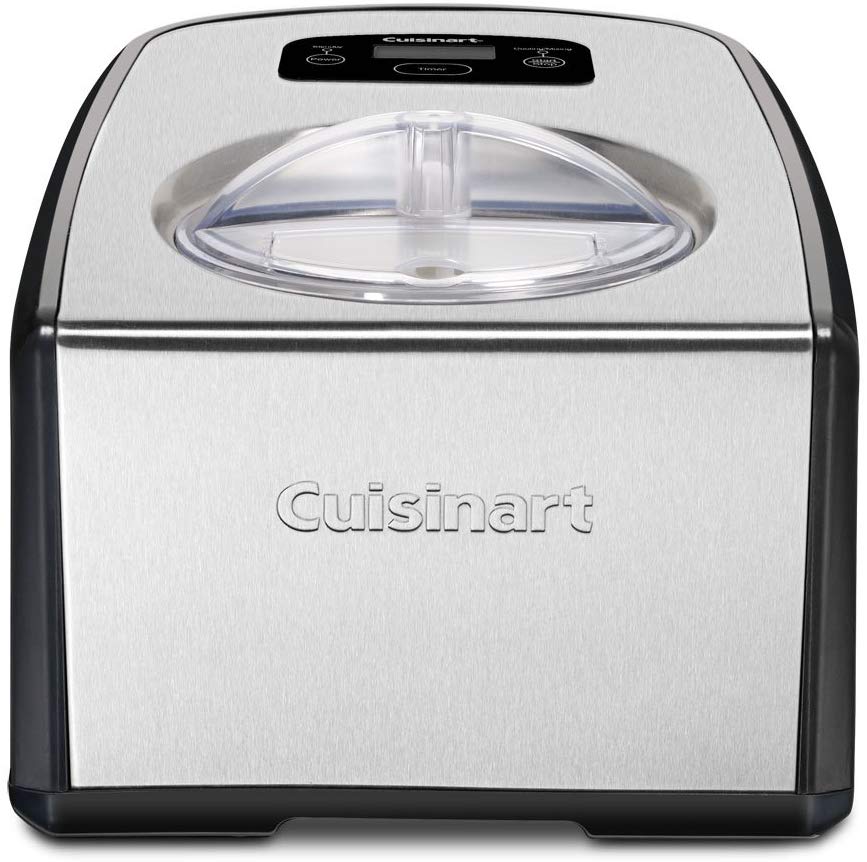 If you are looking to make lots and lots of batches of ice cream, you cannot go wrong with Cuisinart. Truth be told, this ice cream maker is so good, you will crave making more ice cream. The maximum capacity is 1.5L, and it comes with its own built-in freezer.
All you have to do is bring in ingredients, switch on, and wait for the mixer to do its job. Usually, it takes up to 90 minutes on average to prepare the ice cream. And that is faster than some higher priced models.
One downside is that the metal parts cannot be cleaned in the dishwasher. But it is not that much of a chore to do it manually.
Pros:
Large capacity
Quick turnaround
Built-in freezer
Cons:
Cannot wash in the dishwasher
Large and bulky, eats up a lot of space
Whynter ICM-15LS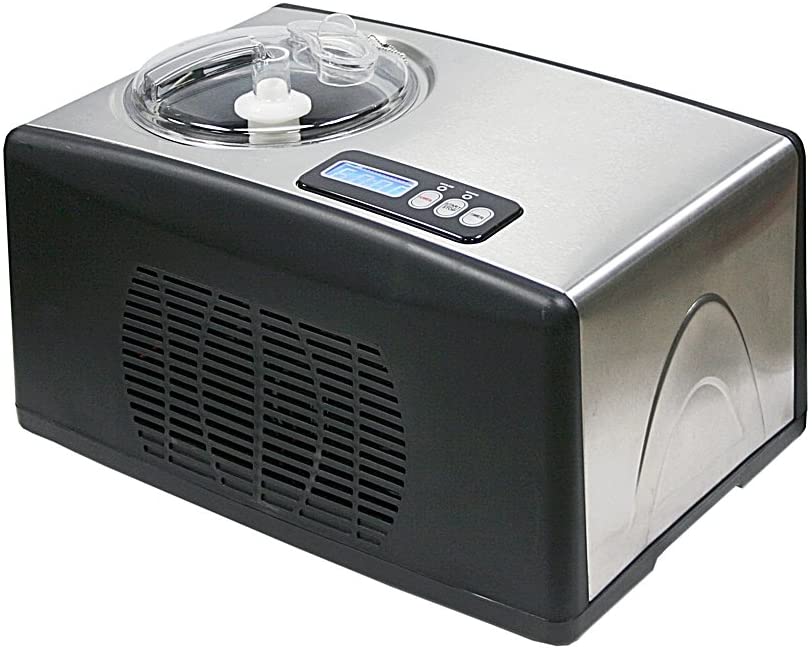 Among compressor machines, the Whynter is one of the easiest to use, but also clean. And for the price, it is cheaper than higher-end models.
Whynter makes smoother ice cream in a shorter amount of time than rival models. While it doesn't produce the smoothest texture, it does hit a sweet spot between results and price. One of the biggest benefits is noise, or the lack of it. It is one of the quietest machines you will find, producing almost no noise. The mixture you get is very rich, and the machine gets the job done quicker than Cuisinart.
Simplicity of usage is another bonus. Comes with a removable bowl that is easy to lift out, and thanks to the built-in handle, you can get all of the ice cream with ease.
Pros:
Quietest machine
Affordable price among compressor models
Cons:
Smaller capacity than rivals
The opening for adding mix-ins is very tiny
Breville BCI600XL Smart Scoop Ice Cream Maker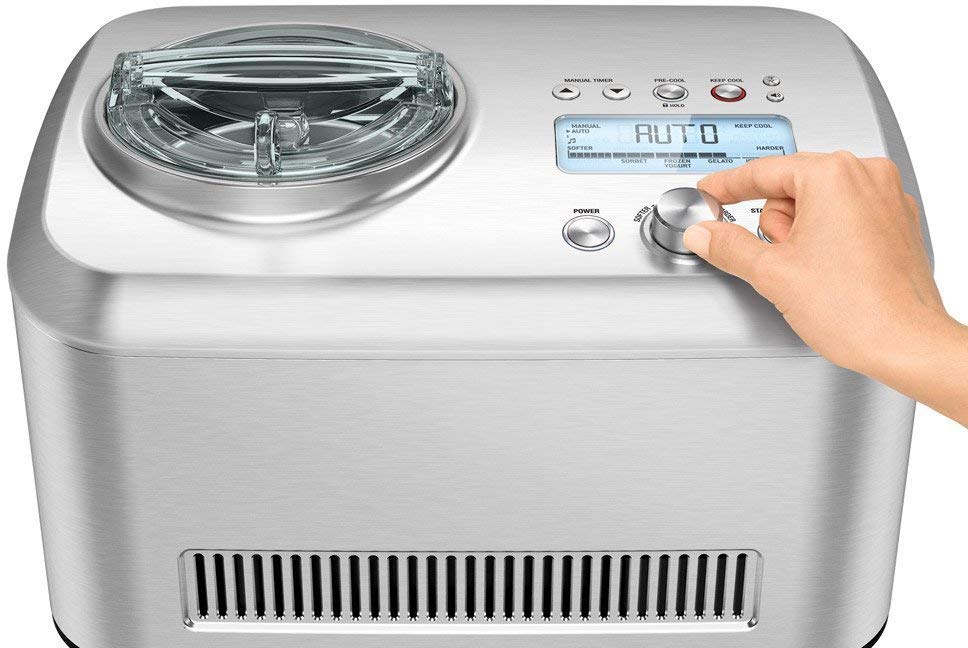 If you are serious about making ice cream, nothing beats Breville. This product is worth splurging on, because it is easy to use, and you can start immediately when you feel like eating ice cream. Yes, it comes with a high price tag, but a lot of benefits.
Similar as other compressor models, it comes with a compressor, and you do not have to worry about freezing and refreezing a bowl between batches.
But the biggest benefit is the 12 different specifically calibrated settings for different levels of softness. The pre-cool setting prepares the machine to start churning immediately.
One downside is this machine takes up a lot of room. That makes it a no-go for people with small kitchens. And it is one of the heaviest machines, weighing 30 pounds.
Pros:
Attractive design
12 calibrated settings
Unique features
Cons:
Heavy
Takes up a lot of space
High price tag
Cuisinart ICE-21 Frozen Yogurt, Ice Cream, and Sorbet Maker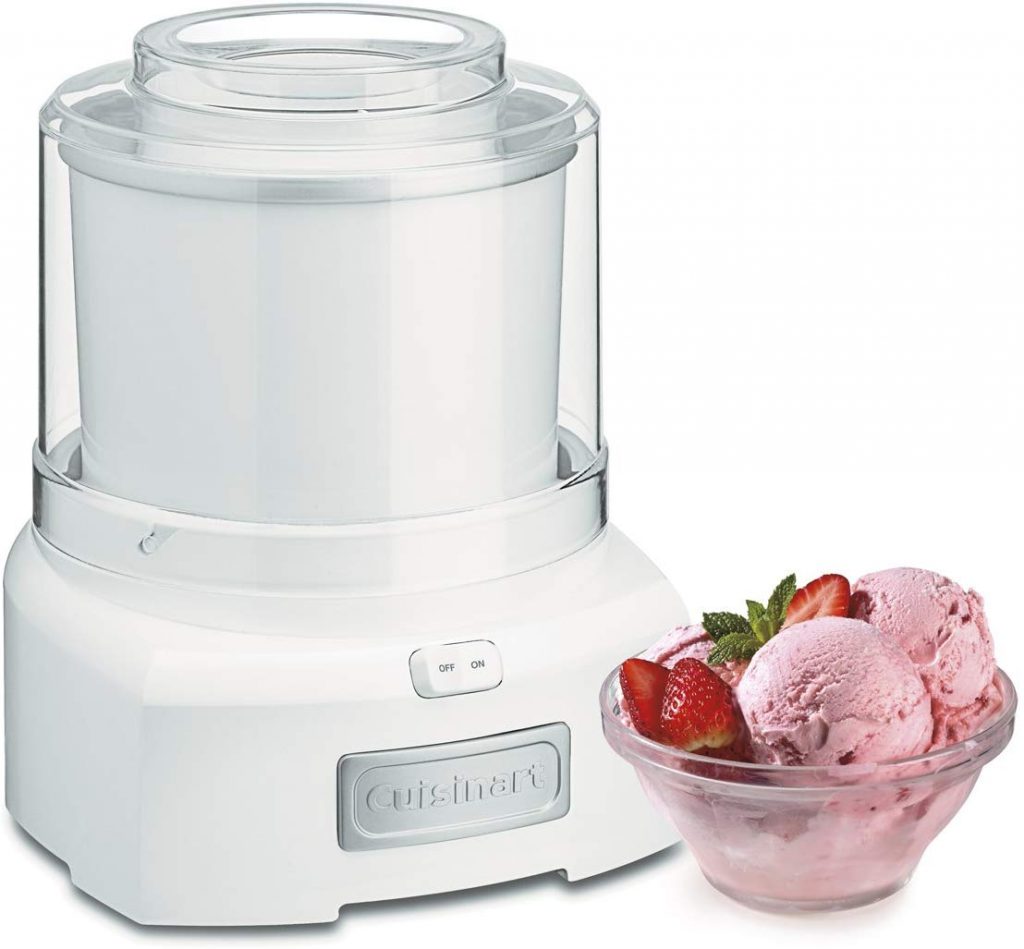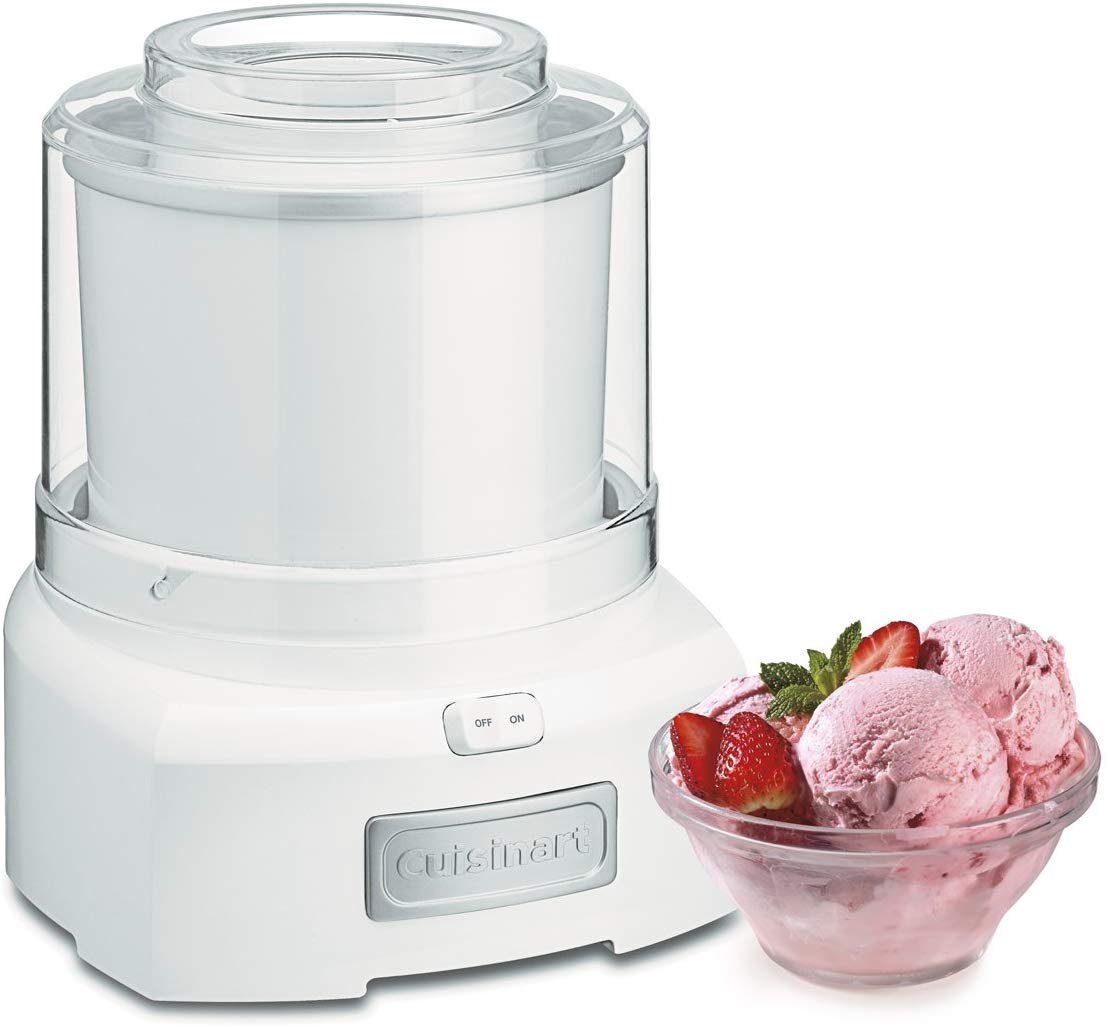 Cuisinart has an ice cream maker for every occasion. If you need a maker with a prefreezing bowl that doesn't cost a lot, Cuisinart has the one for you. The Ice-21 is one of the most well-regarded models on the market. There are more than 5,000 positive reviews on Amazon.
The long-lasting product can make an ice cream in 20 minutes or less. Of course, that requires 16 hours of prefreezing the bowl. You have to plan it to use it the day before.
You also get a recipe booklet, giving you options for trying and experimenting with new flavors. The only downside is the amount of ice cream you get. The machine produces only 1 ½ quarts of ice cream at a time, meaning a family of four or five will get one use only, and no leftovers.
Pros:
Makes ice cream in 20 minutes, with 16 hours of prefreezing
Comes with a recipe booklet
Lots of satisfied customers
Cons:
Low capacity
Low quality ice cream
Hamilton Beach 68330N 4-Quart Automatic Ice-Cream Maker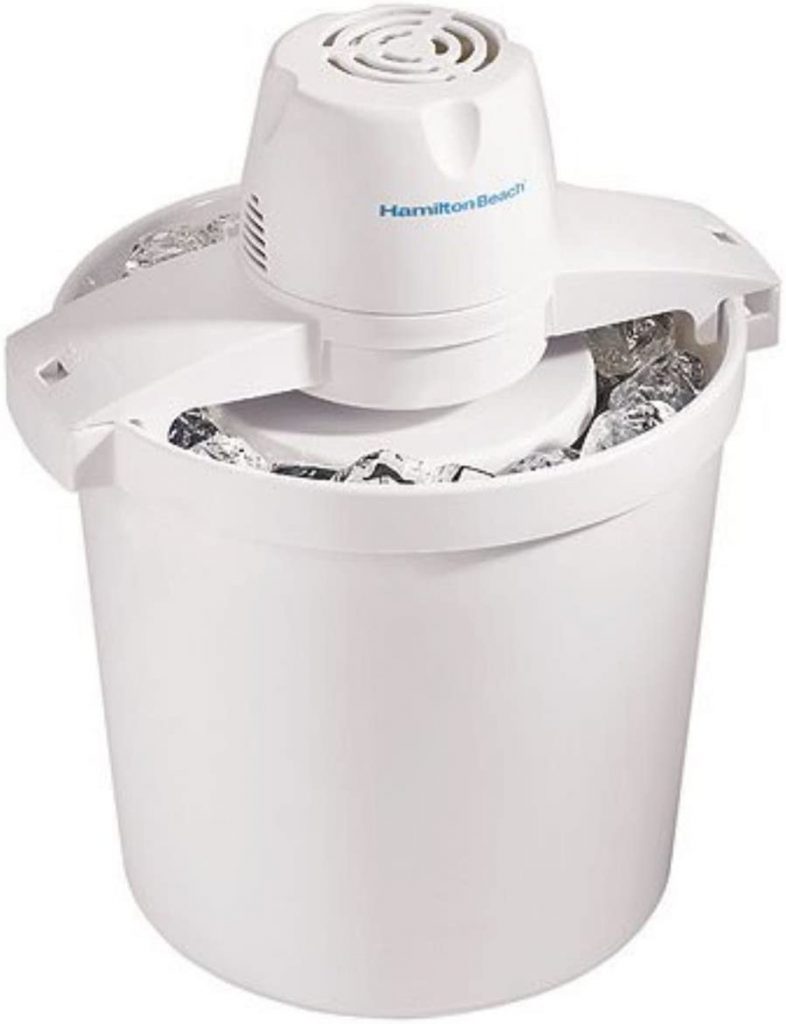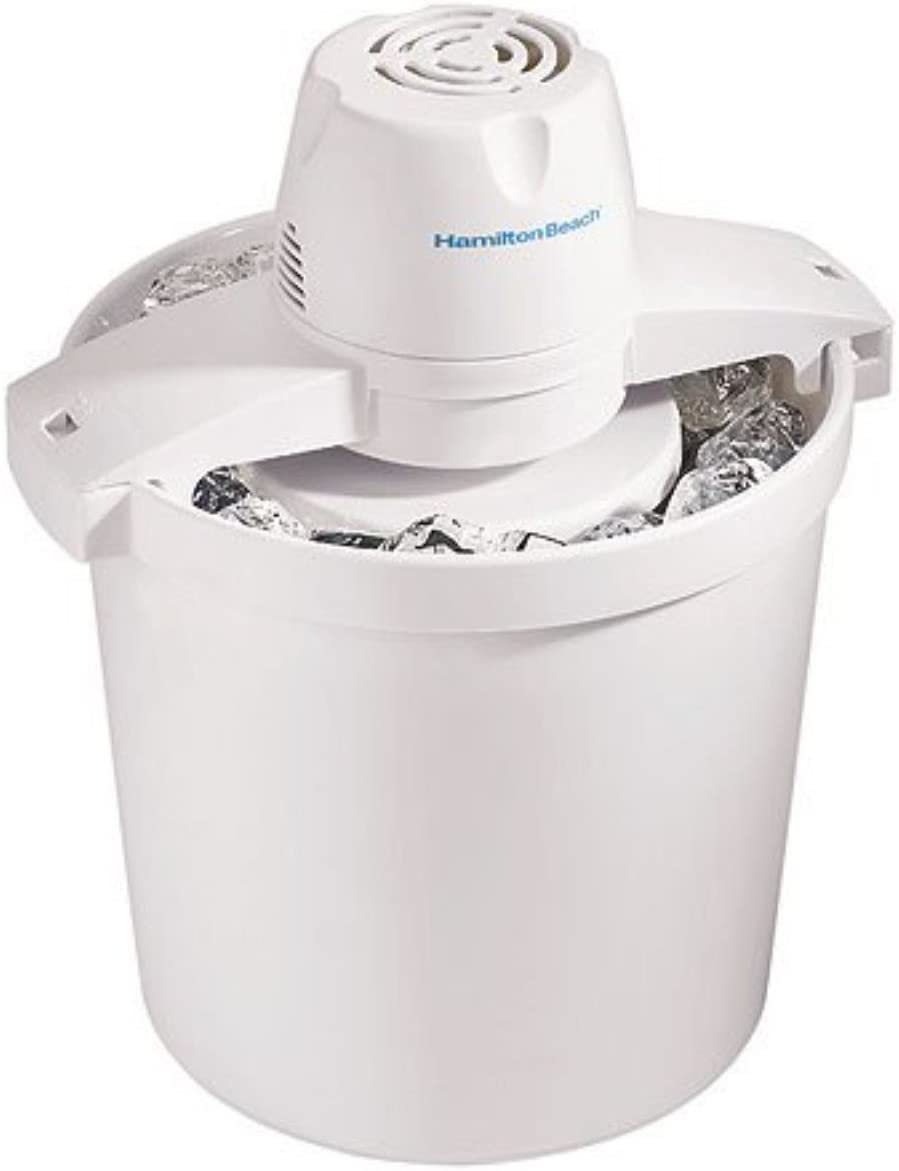 We had a prefreezing bowl model, and now let's talk about an ice and salt model. This model comes without a freezer bowl, meaning you have to use the ice and rock salt method for the chilling. You have to plan ahead and have sufficient amount of ice available.
The good news is that this freezer takes almost no space. It is perfect for those living in a small space. And it produces a lot of ice cream. One serving produces four quarts of ice cream, which is almost three times more than the Cuisinart prefreezing bowl model.
The downside is there are no settings or controls. You plug the machine and begin the churning. Once the mixture is thick, you put the mixture into the freezer.
Pros:
Large amount of ice cream produced
Takes little to no space in the home
Cons:
No settings or controls
Bad durability
Sage by Heston Blumenthal The Smart Scoop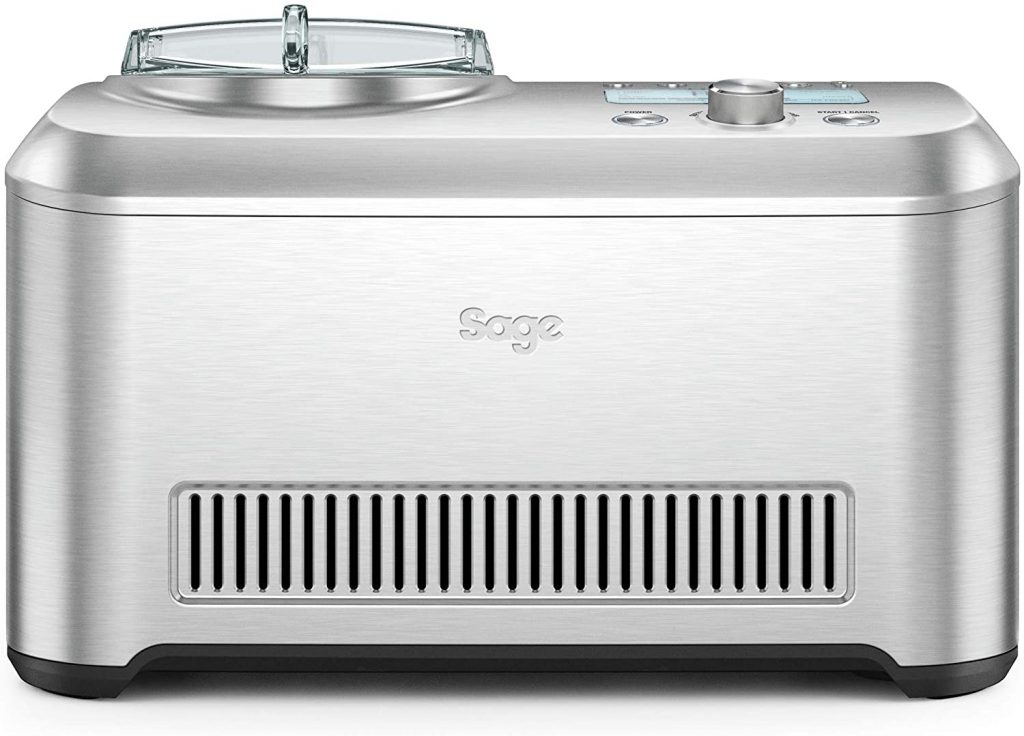 Made of stylish stainless steel, this machine will bring visual appeal to your home as well. Some people want appliances that work, but also look amazing. Sage by Heston Blumenthal is definitely such device.
This best ice cream maker automatically senses hardness for your choice. And you can keep the hardness of your desert for up to 3 hours, as the machine tests hardness every 3 minutes.
As with the Cuisinart, it comes with 12 different hardness settings. Fun part: just like an old school ice cream van, this machine plays music when it is ready.
One downside is the low capacity of just 1L, and the lower speed than Cuisinart. But on the positive side, it comes with automatic hardness setting.
Pros:
Automatic hardness check
12 different hardness settings
Plays music when ready
Cons:
Low capacity
Slow churning
Lello 4080 Musso Lussino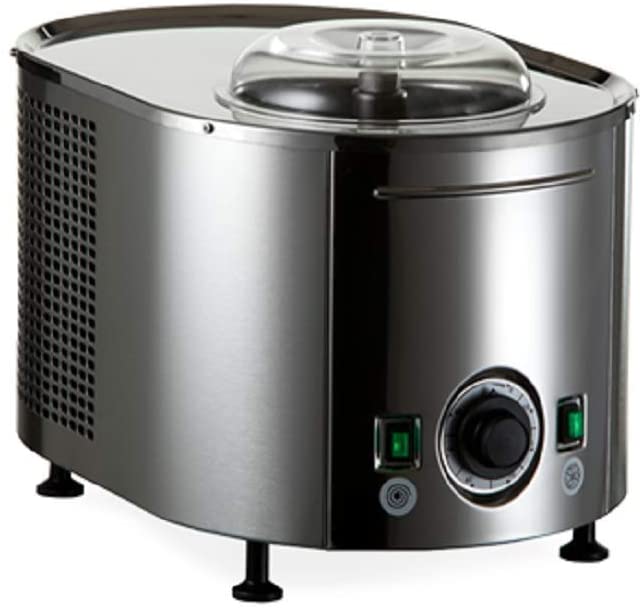 If you have the money to invest in a professional ice cream maker, this is it. The machine makes the smoothest homemade ice cream you will ever try. However, it is hard to justify the high price tag, considering how hard it is to clean after usage.
It is truly a luxurious home ice cream maker. If you are a serious ice cream consumer, you should invest it. But you have to make 1 ounce of ice cream once per week for three years to make it worth an investment.
Another downside is the measurements. Weighing 40 pounds, this machine is big, and takes up a lot of space.
Pros:
Smoothest texture of ice cream
Luxurious looking machine
Cons:
Weighs 40 pounds
Very high price tag
KitchenAid Ice Cream Stand Mixer Attachment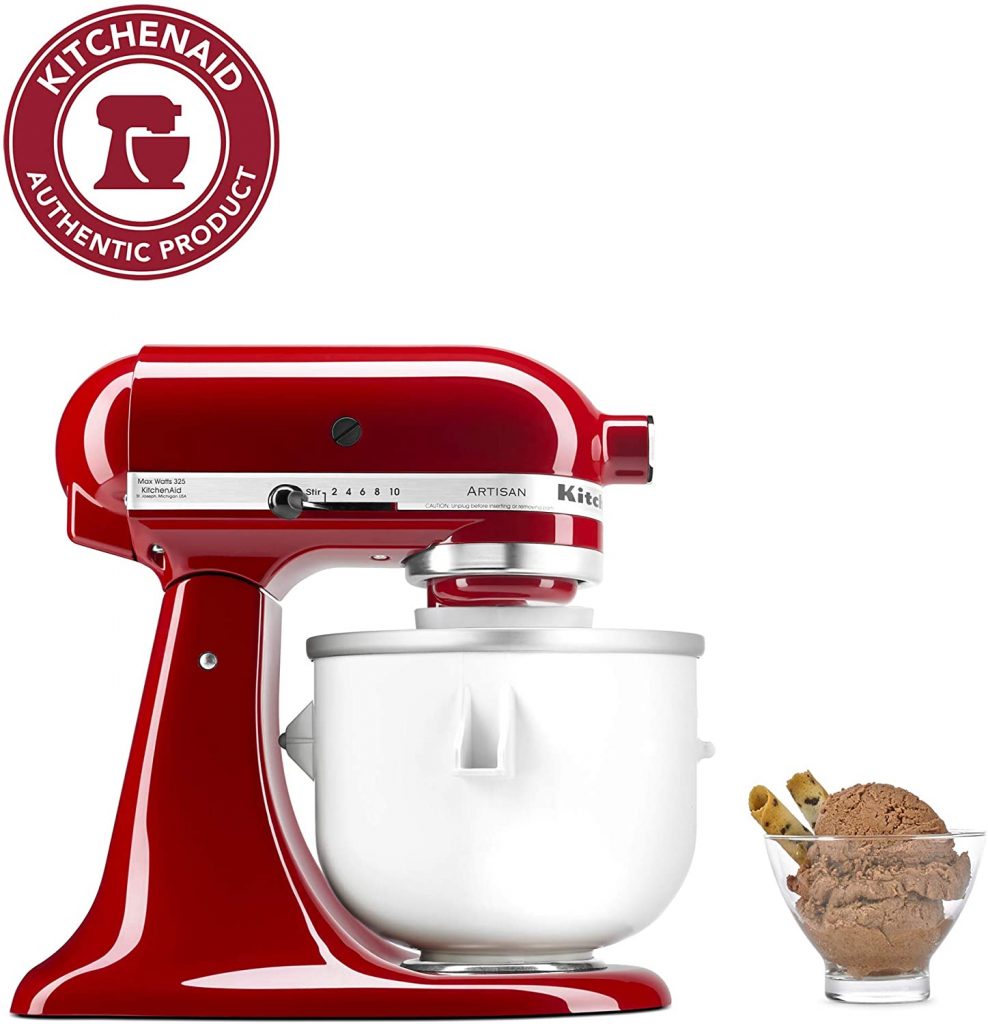 This is more of an attachment for a mixer than an ice cream maker. The attachment works great for making frozen delights in just 30 minutes. But you have to freeze them afterward. And you get a recipe booklet. One bonus is the customer service, which is one of the best.
Of course, as with most prefreezing bowl devices, there are limitations. In this case, that is that the attachment does not come with a lid.
Pros:
Simple and easy to store
Quick
Cheap for occasional users
Cons:
No lid for the attachment
Does not last long
Nostalgia ICMP400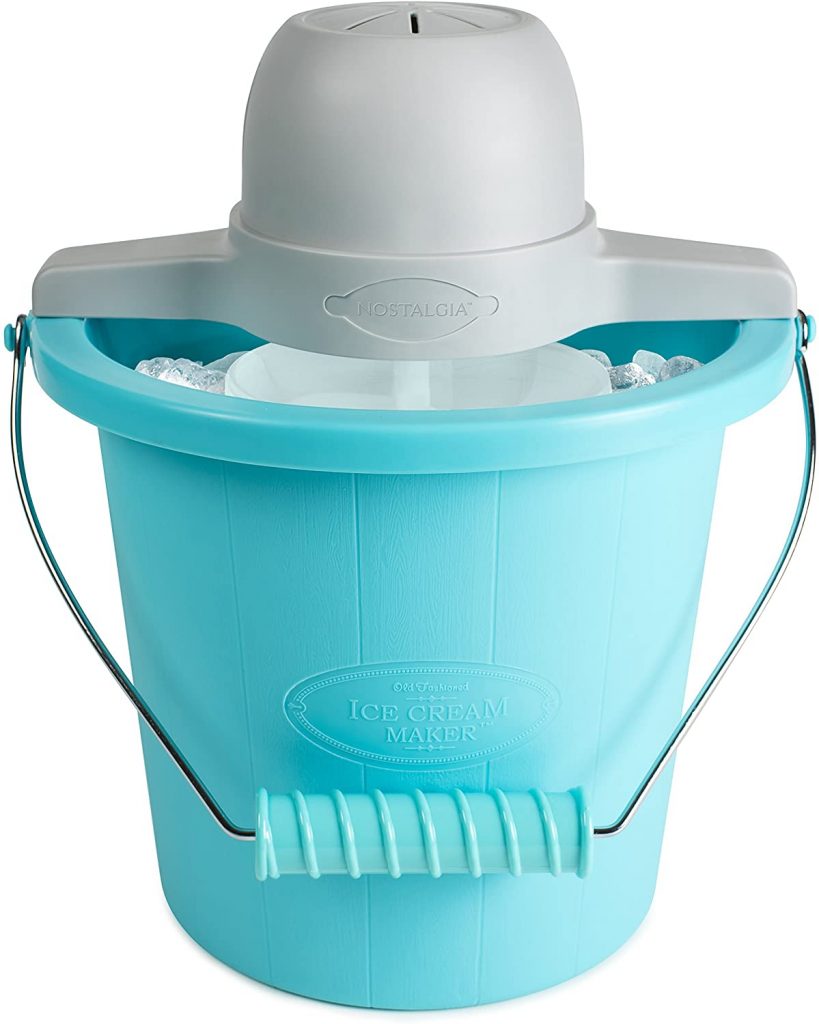 Classified as the best budget-friendly ice cream maker on the market, the Nostalgia definitely earns its reputation. You get good results for a very low price. Works on the ice and salt method. You get ice cream that is a bit icy, but good for an occasional batch.
The texture is on the dense side, so that is a plus. The downside is that this machine requires more work to get the ice cream done. On the positive side, you get 4 quarts of ice cream, which is more than competitors can produce.
Pros:
Large amount of ice cream produced
Amazing texture for a budget-friendly device
Cons:
Ice cream is a bit icy
Requires a lot of work