New York Yankees outfielder Aaron Judge is one of the biggest stars in the majors. He made his debut with the Bronx Bombers back in 2017. The same year, he was named the American League Rookie of the Year. Since then he continues to produce solid numbers for the club. And with popularity like that, he has attracted several famous women. But who is Aaron Judge's girlfriend?
It is well-documented what the New York Yankee star has been doing on the Major League baseball field. But not much is known about his life off the baseball field. For example, how much do you know about Aaron Judge's girlfriend, Samantha Bracksieck?
Today, we will talk more about the lady in Judge's life. Find out more about the relationship between Aaron Judge and his girlfriend
.
Who Is Aaron Judge's Girlfriend?
The first time we spotted Aaron and his girlfriend Samantha Bracksieck was back in February 2019. They were at the Fanatics Super Bowl party together. According to sources, the two knew each other since high school. But they didn't start dating until later on.
Born in August 1993 in San Joaquin, California, Samantha is in her high 20s. She has an American nationality and belongs to the White ethnicity. She has two siblings, Greg and Joseph.
And she recently came to the spotlight because of her extreme DUI arrest. In February 2020, she was arrested for extreme DUI and four other charges. Following an alcohol abuse screening, the police report stated her blood contented about .15 – .19 levels of alcohol after taking the Breathalyzer test. When police stopped her, she was driving 10mph over the speeding limit.
Samantha was sentenced to 10 days in jail because of the DUI charge. But nine were suspended and she was given credit for one day.
During her university years, she studied exercise science. Bracksieck is an aspiring college professor. New York media started a rumor that Aaron broke up with her after the DUI arrest incident. But the two are still together.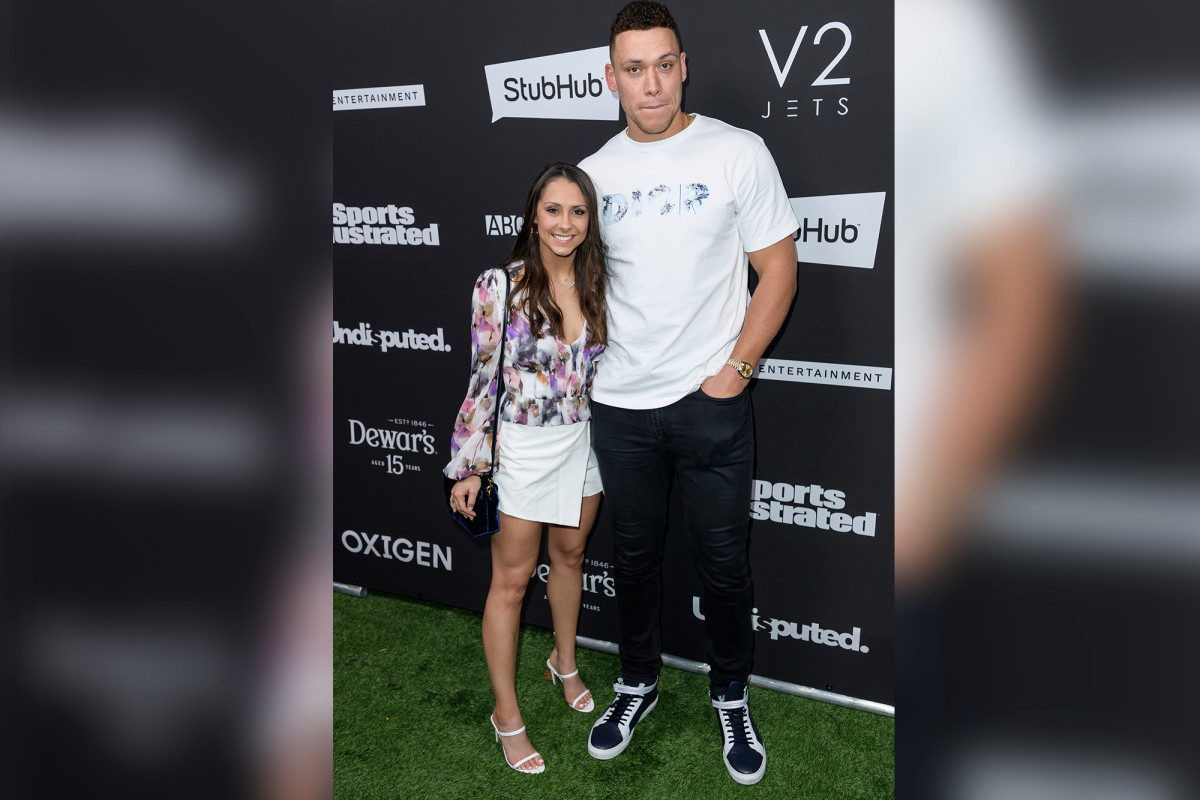 How did Aaron Judge And Samantha Bracksieck Meet?
These two have had an on-and-off relationship for years. They were first spotted at a high-profile event in February 2019, when they attended the Fanatics Super Bowl party.
According to many sources, they knew each other since high school. Samantha and her boyfriend also attended the same college, California State University. Their first picture together on social media dates from 2014.
According to some rumors, Yankees star Aaron Judge and his girlfriend had an on-and-off relationship before breaking up in 2016. But they got back together, as we saw from that 2019 picture at the Super Bowl party.
They began their relationship during their days at California State University. To this day, they have never confirmed when they actually started seeing each other.
Fun fact: during their pause from 2016 to 2019, Samantha was engaged to another man. The couple broke up in October 2016 and she started seeing Luke Heinrichs two months later. Samantha and Luke were serious and she even got engaged to him while they were on a vacation in May 2018.
Things get even spicier. According to some sources, Samantha and Luke were supposed to get married on January 5, 2019. Yet, she was already Judge's date to his All Rise Foundation dinner on January 26th.
Following her broken engagement with Luke, she deleted her Instagram account. But then, in October 2019, she got back to Instagram, showing in a picture with swimsuit model Chase Carter.
Aaron Judge's Previous Relationships
Samantha is not the only one with previous relationships. Judge dated other women as well. During the time apart, the baseball player was in a romantic relationship with a woman by the name of Jen Flaun. They dated for a few months in 2017. They allegedly split up, but then reports surfaced again in 2018.
As for his college dating life, Yankees star Aaron Judge dated Margaret Woods in 2013, an underwear model. She was the one revealing the relationship to the media, saying they broke up right after Aaron got drafted by the Yankees. She is now a Maxim model.
In 2018, there was a rumor about the Yankees star being romantically involved with the Instagram model, Jen Selter. She followed him on social media, but the New York Yankee baseball player did not follow back. And in April 2018, he was linked to Britt Hodges, an old friend from high school. They were spotted in New York, wandering around the city and visiting some tour stops.
Comments
0 comments